BIG APPLE CIRCUS Tickets On Sale This Sunday September 26!
Daredevil Nik Wallenda and family return with an all-new highwire act.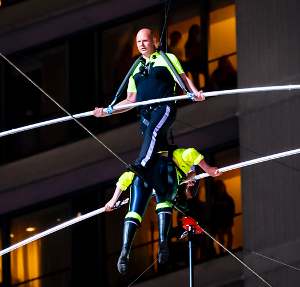 Tickets are finally going on sale this Sunday for the reinvented, reimagined and reinvigorated Big Apple Circus production "Making the Impossible, Possible!'' including exciting new VIP packages where fans can learn some of the circus tricks! Tickets go on sale Sunday, September 26th at noon EST at www.bigapplecircus.com.
Nik Wallenda also announced today that he and his family have created an all-new highwire act for the production and revealed that he'll be joined by the physical comic Johnny Rockett and Ringmaster Alan Silva, who gained notoriety on America's Got Talent. The Big Apple Circus will return to Lincoln Center on Nov. 11- Jan. 30 for a limited engagement.
"Circus entertainment is family entertainment, and we want to invite your family to be a part of ours. We can't wait to reveal the new show that will certainly mix traditional circus with modern updates," said Wallenda.
As an entertainer, Johnny Rockett considers himself to be a comedic daredevil and describes himself as Charlie Chaplin and Evel Knievel put together. Or for the younger generation, if you took Jim Carrey and Travis Pastrana you would have yourself a Johnny Rockett.
Silva was a fan favorite and Top Five Finalist on America's Got Talent last year, where he told the story of being told he should not perform due to his size and wowed the audience and judges.
Wallenda, a world-renowned aerialist who has been featured in five nationally televised TV specials is the first and only person in the world to walk a wire directly over Niagara Falls, the Grand Canyon and an active volcano. Seen by over 250,000 people in Times Square, Nik, will be joined by his family of thrilling high wire artists, and an all-new award-winning cast from Australia, Brazil, Colombia, Ethiopia, Germany, Russia, and the United States, some of whom have previously been featured on America's Got Talent, YouTube and The X-Factor.
Wallenda has partnered with a team of live entertainment super producers from the circus world, live music and Broadway - Philip Wm. McKinley, Michael Cohl and Arny Granat - to make Big Apple Circus even better, and more exciting by adding a modern flair to this beloved classic. Several months in the making Wallenda, McKinley, Cohl and Granat bringing their extensive credentials to the table:
a-? Director Philip Wm. McKinley has directed record-breaking productions from Broadway to Salzburg to Tokyo. He has conceived, directed and staged more editions of Ringling Brothers and Barnum & Bailey Circus than any other living person. Known for his direction of spectacle, his work includes the blockbuster Spiderman: Turn Off The Dark, the Tony nominated The Boy from Oz and the water spectacular Le Reve at the Wynn Hotel Las Vegas.
a-? Emmy and Tony Award winner Michael Cohl is CEO of S2BN Entertainment and the former Chairman of Live Nation. Over his career he has produced and promoted tours for some of the biggest musical and theatrical acts in the world including Moscow Circus Bolshoi, Spiderman Turn Off The Dark, Bat Out of Hell, the Musical, Rock of Ages, Yo Gabba Gabba, Barbra Streisand, The Rolling Stones, Pink Floyd, and U2.
a-? Arny Granat is CEO of Grand Slam Productions and co-founded Jam Productions, which became one of the largest independent concert promoters in North America. He has won nine Tony Awards for shows including "Spamalot," and "The Band's Visit!" and promoted the first ever Farm Aid concert and has worked on tours for Robin Williams, Rolling Stones, Madonna, Eric Idle. Frank Sinatra and the Baseball Hall of Fame traveling exhibit.
For decades, The Big Apple Circus captured the hearts of New Yorkers with death-defying feats that produce oohs, ahhs and gasps throughout the crowd, putting a contemporary twist on the beloved classic. The show was forced to close in 2017 due to financial challenges and after reopening had to shut down again due to the pandemic.
The Big Apple Circus will follow New York State, New York City and CDC guidelines to ensure the safety of our Big Apple Circus guests, cast, employees and production staff, as a priority. Attendees over 12 must wear masks inside and show proof of vaccination. Children under 12 must wear masks.