Ashley Griffin Becomes First Person Nominated for a Major Award for Playing and Directing HAMLET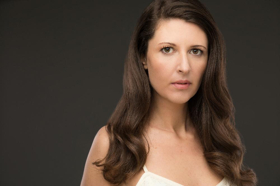 Ashley Griffin has been nominated for three major New York Innovative Theater Awards for her work on A.N.O.N. Productions' He For She inspired HAMLET - Best Leading Actress, Best Director and Best Revival of a Play. Ms. Griffin is now the first person in history to be nominated for a significant award for both playing Hamlet and directing HAMLET.* A.N.O.N. Productions' widely heralded, hit production of HAMLET premiered in 2015 and returned in 2016.
The show was inspired by, and partnered with the "He For She" Campaign, a first of its kind, which acknowledges the need for men in the women's movement. In this production Hamlet is a woman raised as a man for succession purposes and Ophelia is a man bullied for being too sensitive. Most other roles are "gender typical."
The production's gender equality themes are poignant in the wake of Ms. Griffin's nominations - not only is she the first person to achieve this honor, she is one of the few women to ever play or direct HAMLET. Ashley Griffin is a NYC based performer, director and writer. Her work has been developed at MTC and Playwrights Horizons. Her play SNOW returns to NYC this fall at Theater 54. www.ashleygriffinofficial.com.
Featured BroadwayWorld Events
Check out these concerts...
Related Articles
More Hot Stories For You
VIDEO: Broadway Celebrates Biden with A Moving Mashup of RENT and HAIR!
Tonight, many of Broadway's brightest stars united to celebrate the inauguration of President Joe Biden and Vice President Kamala Harris with a medley...

Javier Munoz, Leslie Uggams and More Stars Set to Perform 'Seasons of Love' as Part of Tonight's Inauguration Festivities
Javier Munoz and Leslie Uggams have shared via social media that they will be joining a group of Broadway talent to perform 'Seasons of Love' as part ...

VIDEO: Amanda Gorman References HAMILTON in Inaugural Poem 'The Hill We Climb'
Today at President Joe Biden's inauguration, 22 year old Amanda Gorman took to the stage to deliver the inaugural poem, entitled 'The Hill We Climb'. ...

Social Roundup: Theatre Fans Turn Bernie Sanders' Inauguration Look Into Hilarious Memes
Theater fans have turned Senator Bernie Sanders' appearance at President Joe Biden's inauguration into a meme today, juxtaposing him into iconic pictu...

VIDEO: Lin-Manuel Miranda Recites An Irish Poem for Joe Biden's Inauguration
The poem titled, 'The Cure of Troy,' is a particular favorite of the newly sworn in President Biden, who often quotes its verses. ...

VIDEO: John Legend Performs 'Feeling Good' at Inauguration Celebration
Tonight, Tony-winner John Legend joined the inauguration festivities with a soulful performance of the classic tune, 'Feeling Good.' ...