Artist Lennox Commissiong Teaches Harlem Youth To Create Barack Obama Portraits With Pointillism Technique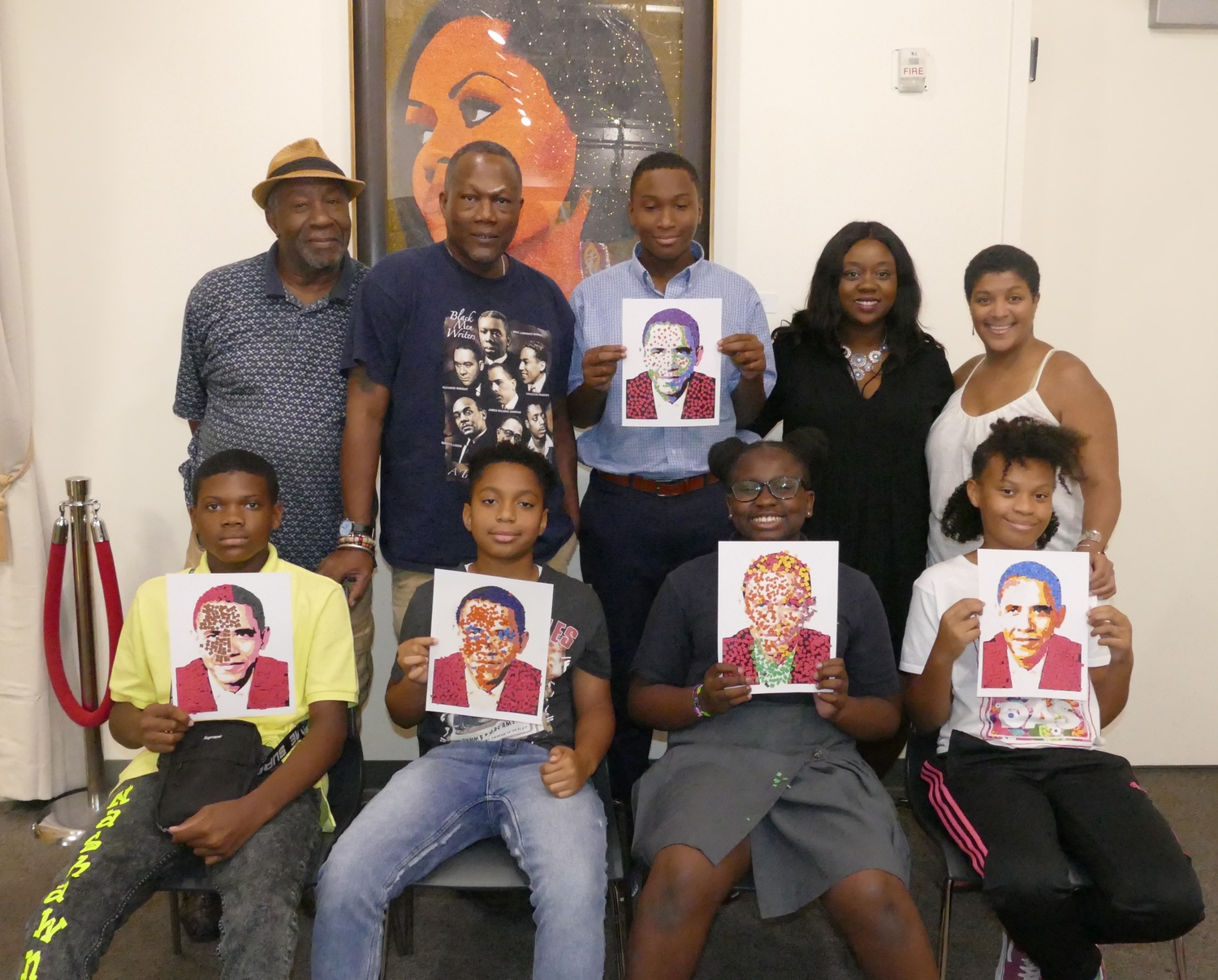 Students from the Harlem Educational Activities Fund (HEAF) created unique pointillism mosaic portraits of President Barack Obama at an arts workshop taught by artist Lennox Commissiong.
The HEAF art workshop was inspired by Commissiong's dramatic pointillism portrait of former First Lady Michelle Obama, comprised of thousands Color-Aid paper dots. The portrait is part of Commissiong's WIZARDHANDS art exhibition on view at Harlem's Dwyer Cultural Center, 258 St. Nicholas Ave throughFriday, August 24 from 5:00pm - 8:00pm. There is a closing reception on Sunday, August 26 from 2:00pm - 5:00pm. (RSVP for the reception atthedwyercc@gmail.com). Both are free to the public.
Pointillism is a technique of neo-impressionist painting, using tiny dots of various pure colors, which become blended in the viewer's eye. Commissiong has mastered this technique using small pieces of Color-Aid paper, instead of paint.
"I did the workshop so the kids could learn more about the technique of pointillism and become more in-tune with their artistic side," explained Commissiong. "Most of us have an artistic side, which we never discover unless the opportunity is presented, to express it. As the color dots accumulated on the paper and the kids saw the image coming forth, they got more excited about the art."
The HEAF students at the three-hour arts workshop were Brooklyn and Harlem middle school students: Kelsie Ann Taylor,11; Nicholas Riddick, 10; Joshua Jones, 14; Nashawn Dobbins, 12 and Zilaah Ricks,12. "Each of my portraits takes me about 300 hours to complete," said Commissiong. "Although the students weren't able to complete their Barack Obama portraits at our workshop, I was impressed with their individual creative visions. Each was given color paper and glue to complete their projects. Also, Dwyer will help frame their artwork. Upon completion, Minerva Diaz. from the Dwyer Cultural Center, will provide a mat for the finished artwork, transforming the image into a unique work of art ready for framing."
Located in the heart of Harlem, HEAF changes the lives of underserved young people beginning in middle school and continuing in college and beyond through a youth development approach that includes rigorous year-round academic enrichment, social and cultural exposure and constant individual attention.
"Our students are artistic and enjoy working with their hands and trying different things," said Alaine Johnson, associate director of High Expectations and director of the Middle School Program at HEAF. "It was great to bring them to the Dwyer Cultural Center to work with Lennox Commissiong so they could explore different art forms and do their best work. So, it's not only about technology. Sometimes it's just back to basics and being creative."
At the workshop, Lennox showed the students his WIZARDHANDS exhibition. His subjects range from cultural and political figures to jazz musicians. Over 20 artworks in the exhibition range from pointillism portraits of cultural legends like Tupac Shakur, Bob Marley, Muhammad Ali and Thelonious Monk to abstracts, water colors and pencil drawings. Minerva Diaz is the WIZARDHANDS curator and director of programs and operations at Dwyer Cultural Center.
For more information on the WIZARDHANDS exhibition and reception on Sunday, August 26, contact the Dwyer Cultural Center at
thedwyercc@gmail.com or check out Lennox Commissiong's artwork at http://wizardhandsart.com or on Instagram at wizardhands21.

IN PHOTO (Standing L-R) Ademola Olugebefola, Dwyer; Lennox Commissiong, Joshua Jones, 14; Alaine Johnson, HEAF; Minerva Diaz, Dwyer (Sitting L-R) Nashawn Dobbins, 12; Nicholas Riddick, 10; Kelsie Ann Taylor,11 and Zilaah Ricks,12. PHOTO CREDIT: Seitu Oronde