Andre De Shields Will Host LPTW's Rachel Crothers Leadership Award Luncheon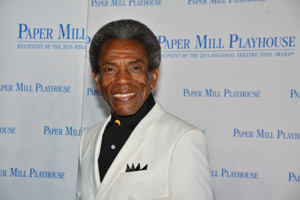 The League of Professional Theatre Women (Kelli Lynn Harrison and Catherine Porter, Co-Presidents), an organization which has been leading the gender parity conversation and championing women in the professional theatre for over 35 years, is pleased to announce that 2019 Tony Award-winner André De Shields (Hadestown) will host their inaugural LPTW Rachel Crothers Leadership Award Luncheon to honor Donna Walker-Kuhne, on Thursday, June 27 from 12-3pm at Sardi's Restaurant (234 West 44th Street, New York, NY 10036). The event will also feature a special performance by LaChanze (2006 Tony Award winner for The Color Purple; Summer: The Donna Summer Musical). Tickets: Members $95; Non-Members $125.00; VIP tickets $175 (includes journal ad); VIP table $1,750 (includes journal ad). For more information and to purchase tickets please visit www.theatrewomen.org.
In 1917, seven visionary theatre women led by playwright/director Rachel Crothers, came together to organize members of the theatrical community at a time when women could not even vote. Their service to fellow Americans fighting on the front lines in World War I and World War II upheld America's highest ideal - sacrifice for a common cause. The service organization became The American Theater Wing, best known as the creator of the coveted "Tony Award" given annually for distinguished achievement in the Broadway theatre. Remarkably, while leading the theatre community in supporting the war effort, and helping found both The American Theater Wing and its Stage Door Canteen, for 30 years Crothers also had one play per season produced on Broadway - many of which she produced and directed herself. The New York Times said, "In the last 200 years, a respectable number of women have left their mark on American theater, but few of them have had as impressive a career as Rachel Crothers." While the LPTW Rachel Crothers Leadership Award is not affiliated with the American Theatre Wing, the League looks to amplify the rich service legacy of Crothers and other theatre women with the naming of this award. In the spirit of selfless service to her fellow Americans while simultaneously making significant contributions to the American theatre, the LPTW Rachel Crothers Leadership Award is given to a theatre woman who has distinguished herself in exemplary service and sacrifice for a common cause - a cause which leaves our society and the world a little better than the way we found it.
In a career spanning fifty years, ANDRÉ DE SHIELDS has distinguished himself as an unparalleled actor, director and educator. Mr. De Shields is the triple crown winner of the 2019 Awards Season, having won the prestigious Outer Critics Circle, Drama Desk and Tony Awards in the category of Best Actor in a Featured Role for his performance as Hermes, Messenger to the Gods in Hadestown, which won as Best Musical. His other numerous accolades include the 2018 Off Broadway Alliance Legend Award, the 2009 National Black Theatre Festival's Living Legend Award, the 2007 Village Voice OBIE Award for Sustained Excellence of Performance, and eight AUDELCO Awards for Outstanding Performance, Direction and Choreography. He continues to be consistently acclaimed for his show stopping performances in four legendary Broadway musicals: The Full Monty (Tony Nomination), Play On! (Tony Nomination), Ain't Misbehavin' (Emmy Award) and The Wiz (Title Role). Mr. De Shields is proud a member of AEA, SAG-AFTRA and SDC. www.andredeshields.com 
Currently starring in The Secret Life of Bees at Atlantic Theater Company, the Tony, Emmy and SAG-AFTRA Award winning actress LACHANZE stepped onto stage 27 Broadway seasons ago, emerging as one of the brightest stars and voices to hit Broadway. She made audiences sit up and take notice giving the original production of Once On This Island its beating heart, creating the role of lovelorn peasant girl Ti Moune. Armed with her incomparable gift for dramatic storytelling and soaring vocal prowess, she won a Tony Award for giving a voice to Celie, the unlikely heroine of Alice Walker's The Color Purple, in the musical's original staging. Shortly after, she nabbed an Emmy Award for her riveting performance in PBS's Handel's Messiah Rocks: A Joyful Noise and a SAG Award for Outstanding Performance by a Cast in a Motion Picture in award winning film The Help. 
DONNA WALKER-KUHNE is the founder of Walker International Communications Group, a boutique marketing, press and audience development consulting agency. Her team specializes in multicultural marketing, group sales, multicultural press and promotional events. They have over 45 years of executing successful marketing and audience development campaigns for Broadway productions and cultural arts organizations with sales over $22MM. Donna is acknowledged as the nation's foremost expert in Audience Development by the Arts & Business Council and has devoted her professional career to increasing access to the arts. Her company has developed a brand reputation among performing arts patrons of exposing them to high-quality productions and unique experiences in a way that exceeds audience members and clients' expectations alike.
Her current client roster includes major cultural and performing arts organizations such as: Alvin Ailey Dance Company and the August Wilson African American Cultural Center. She is currently Senior Advisor, Community Engagement at New Jersey Performing Arts Center charged with developing and deepening relationships with targeted communities through partnerships and special events.

Broadway productions include: The Lion King, Aladdin, Once on This Island, Smokey Joe's Café, Little Rock, A Raisin in the Sun starring Denzel Washington; A Trip To Bountiful starring Cicely Tyson; HUGHIE starring Forest Whitaker; Porgy and Bess featuring Audra McDonald and Norm Lewis; A Streetcar Named Desire featuring Blair Underwood; Alicia Keys' Stick Fly; Hairspray; Ragtime; Ann starring Holland Taylor; Thurgood starring Laurence Fishburne, Driving Miss Daisy featuring James Earl Jones and Vanessa Redgrave, August Wilson's Radio Golf; Caroline, or Change; Time Stands Still featuring Laura Linney, Bring in 'da Noise, Bring in 'da Funk, etc.
Off Broadway, WICG has worked with The Billie Holiday Theater, Playwrights Horizons, The Public Theater, Signature Theatre, Cherry Lane Theatre, New York Musical Theatre Festival, Second Stage Theatre, Atlantic Theatre, New York Fringe Festival, National Black Theatre, Bill T. Jones/Arnie Zane Company as well as arts organizations such as Dance Theater of Harlem, Lower Manhattan Cultural Council, the President's Committee on Arts and Humanities and WNYC Radio. She provides consulting services to numerous arts organizations throughout the country and worldwide including Croatia, Australia, Berlin, Moscow, Sochi, Edinburgh and Blomfontein, South Africa
Donna Walker-Kuhne is the recipient of over 40 awards acknowledging her distinguished service in the field of audience development and serves on several Boards of Directors. She is an adjunct professor of over 20 years at New York University and also teaches at Bank Street College. Her first book, Invitation to the Party:  Building Bridges to Arts, Culture and Community, was published in 2005. She has a weekly blog, Arts & Cultural Connections. Ms. Walker-Kuhne is a volunteer with the SGI-USA, a worldwide peace organization serving as Vice Director for New York.

The League of Professional Theatre Women (a not-for-profit 501(c)(3) organization) has been championing women and leading the gender parity conversation in the professional theatre for over 35 years. Since its founding, the LPTW's membership has grown to 500+ theatre artists and practitioners of all backgrounds, across multiple disciplines, working in the commercial and non-profit sectors. To increase visibility of and opportunities for women in the field, the LPTW spearheads events, public programming, advocacy initiatives, media, and publications that celebrate industry luminaries, preserve the legacy of historic visionaries, raise awareness of the importance of nurturing women's voices, and shine a spotlight on the imperative of striving for gender parity and fostering a diversity of expression, both in the theatre world and the world at large. To find out more about how you can support its endeavors, please visit www.theatrewomen.org