American Lyric Theater Announces The New Crew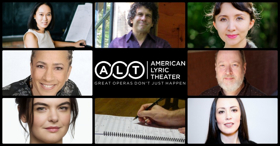 Join American Lyric Theater for The New Crew, a salon including performances by and discussions with ALT's newest Resident Artists in the Composer Librettist Development Program.
This special event launches the 10th Anniversary of the CLDP, and is followed by a wine and cheese reception with Resident Artists and members of the CLDP Faculty. Click here for tickets and more information.
The New Crew is an exciting opportunity for you to meet ALT's newest artists, and to then follow the progression of their work over the course of their residency with ALT.
---
COMPOSERS
Shuying Li began her musical education in her native China. In her sophomore year at the Shanghai Conservatory of Music, she won a scholarship to continue studies at the Hartt School in Connecticut. Praised as "a real talent here waiting to emerge" (Seattle Times), Li's compositions have been performed by Seattle Symphony, New Jersey Symphony, Orkest de ereprijs (Netherlands), among others. She holds a master's degree from the University of Michigan, where she is completing her DMA.
Andy Teirstein's music is inspired by the folk roots of modern culture, and has been described by The New York Times as "magical" and "superbly crafted." A student of Henry Brant, Leonard Bernstein, and Stephen Sondheim, Teirstein received awards from Meet the Composer, The NEA, NYFA, and ASCAP. Teirstein enjoys collaborating across a variety of genres. He expanded his musical background by learning fiddle tunes in Ireland, performing with a Mexican circus, and journeying to Eastern Europe to collect traditional music.
The music of Liliya Ugay has been performed by Albany and Nashville Symphonies, among others, and has been described as "assertive and steely," and "lovely, subtle writing". Liliya received the awards from the American Academy of Arts and Letters, Yale University, Woodruff Foundation in addition to many prizes of international composition and piano competitions. Originally from Uzbekistan, Liliya is currently a DMA candidate at the Yale School of Music.
LIBRETTISTS
Lorene Cary writes fiction and nonfiction about affecting issues: race, the lives of women, education, growing up. Cary has been a contributing editor for Newsweek and an associate editor at TV Guide. Her articles have also appeared in The New York Times, The Philadelphia Inquirer, and Essence. She received an M.A and a B.A. from the University of Pennsylvania and pursued additional studies at Sussex University. She is currently a lecturer at the University of Pennsylvania and has been a guest lecturer at Harvard University, Case Western Reserve University, among others.
Julian Crouch is a director, designer, writer, maker, teacher, illustrator and musician, whose career has spanned theatre, opera, ballet, film and television. Initially a mask and puppet maker, in the mid-1990's Crouch co-founded London's Improbable Theatre Company. Improbable's productions, including Animo, The Hanging Man, and The Devil And Mister Punch (among others) have gained far-reaching national and international recognition.
Lila Palmer is a dramatist and soprano. Lila holds a BA in History from Cambridge, an MM in Classical Voice from NEC, an MA in Opera Making from Guildhall School of Music & Drama; is an alumnus of English National Opera's training scheme & a fellow of GSMD. Works include Harbour; Dead Equal; Sunshine Girl; and Changing Stations. Plans include Heard (a musical play);The Jewel Merchants (a community opera) and Fed (a suffragette play).
DRAMATURG APPRENTICE
Antigoni Gaitana holds a B.A. in Theatre Studies from the National and Kapodistrian University of Athens, a Diploma in Vocal Performance from Athenaeum Conservatory and an M.A. in Vocal Performance from Hunter College. As an emerging Dramaturg, she has collaborated with opera companies and schools including Opera Saratoga, NYU, and the Time Arrow Festival.
---
American Lyric Theater's mentorship programs for composers, librettists and dramaturgs, and public programs in New York City, are made possible by generous lead funding from The Andrew W. Mellon Foundation; with additional support from the National Endowment for the Art, The New York City Department of Cultural Affairs, New York State Council on the Arts with the support of Governor Andrew M. Cuomo and The New York State Legislature, Howard Gilman Foundation, The Kurt Weill Foundation, OPERA America Innovation Grants (with support from The Ann and Gordon Getty Foundation), Howard & Sarah D. Solomon Foundation, Francis Goelet Charitable Lead Trusts, New Music USA's Impact Fund (made possible with funding from The Scherman Foundation's Katharine S. and Axel G. Rosin Fund), The Aaron Copland Fund for Music, The Amphion Foundation, and The Alice M. Ditson Fund of Columbia University.