Alice Ripley, Daisy Eagan, and More To Join Stephen Schwartz for ORPHANED SONGS FOR ORPHANED STARFISH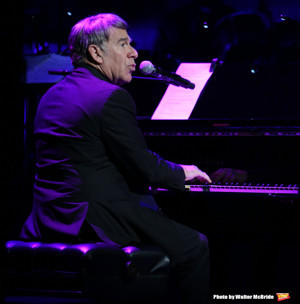 An array of talent from Broadway and stage will join composer Stephen Schwartz for a special concert titled "Orphaned Songs for Orphaned Starfish." The 7:00 pm event on Monday, November 19th, and held at The Cutting Room, 44 East 32nd Street, NYC benefits The Orphaned Starfish Foundation www.osf.org. It features an evening of unsung and new songs as well as hits by Stephen Schwartz.
The show will have *performances by Stephen Schwartz; Tony winner Alice Ripley (Side Show, Next To Normal), Tony winner Daisy Eagan (The Secret Garden), Robbie Berson (A Connecticut Christmas Carol), Margot Bingham (Rent, HBO's Boardwalk Empire), Lisa Brescia (Dear Evan Hansen, Wicked), composer/lyricist Craig Carnelia (Sweet Smell of Success, Working),Jacob Dickey (Aladdin, The Prince of Egypt), Jenn Gambatese (Wicked, School of Rock), Justin Guarini(Wicked, American Idol), Laurel Harris(Wicked, Beautiful), Adam Jacobs(Aladdin, The Lion King), Blaine Krauss(The Cher Show, Kinky Boots), Constantine Maroulis (Rock of Ages, American Idol), Georgina Pazcoguin(New York City Ballet, Cats), Christine Pedi(Sirius XM Radio, Forbidden Broadway), and more!
Ben Vereen, the Tony Award-winning star of the original Broadway production of Pippin, will add his voice to the historic flavor of the evening.
*Performers subject to change The concert is hosted by Scott Coulter with musical direction by Michael Lavine and direction by Paul Kreppel. It also celebrates the release of the Stephen Schwartz biography 'Defying Gravity' updated second edition by Carol de Giere (Applause, October 2018). Reservations may be made at www.osf.org. Sponsorships are available at various levels. Tables are available from $1,000. Limited individual tickets start at $100 seated and $50 standing. For additional information contact Kara Osorio at karla@osf.org.
THE ORPHANED STARFISH FOUNDATION mission - is dedicated to helping orphans, victims of abuse, survivors of trafficking, indigenous children and at-risk youth break their cycles of abuse and poverty through computer based education, job training and job placement assistance. We commit to every program for life. Since the beginning in 2001, ORPHANED STARFISH programs address the challenges facing orphans, victims of abuse, survivors of trafficking, indigenous children and at-risk youth by providing them with technology training. OSF funds the construction and operation of vocational training facilities, including funding for furnishings, purchasing required equipment, teacher salaries, job placement services and scholarships for higher education.
OSF also provides English language software & classes, a Life-Skills Program, Scholarships & helps with job placement whenever possible. They make a difference in the lives of over 13,000 children in their 60 programs in 27 countries! And They Continue To Grow. Stephen Schwartz is an American musical theatre lyricist and composer. In a career spanning over four decades, He has written such hit musicals as Godspell, Pippin and Wicked, as well as TheMagic Show, The Bakers Wife,Working, Ragsand Children of Eden. He has contributed lyrics for a number of successful films, including Pocahontas, The Hunchback of Notre Dame, The Prince of Egypt (& music) and Enchanted. He collaborated with Leonard Bernstein, for Bernstein's Mass, which opened The John F. Kennedy Center for the Performing Arts; and also composed the operaSéance On A Wet Afternoon.
Schwartz has won the Drama Desk Award, four Grammy Awards, three Academy Awards and has been nominated for six Tony Awards. He is in the Songwriters Hall Of Fame, American Theatre Hall Of Fame and has a star in Hollywood's Walk Of Fame. He received the 2015 Isabelle Stevenson Award, a special Tony Award, for his commitment to serving artists and fostering new talent.