Album Review: OFF THE TOP Composer Jason Kravits Does the impossible With New Album JIM… AND OTHER FINE SUGGESTIONS
Songs Written In Under 24 Hours… How Could Can It Be?
Heigh Ho, dear lovely rainbow tribe, welcome back to Bobby's CD sandbox where we offer our broken-down breakdowns of new music releases. So, strap in and get ready, as Bobby goes on the record ABOUT the record.
This week's album entry in the BobbyFiles comes from actor/composer and master song improviser, Jason Kravits. Denizens of the New York Cabaret scene (especially the venerable Birdland), as well as readers of BroadwayWorld, will already know that Jason's OFF THE TOP evenings are a full hour and change of entertaining song improvisations that he composes on-the-spot, based on suggestions from the audience. Finding himself having difficulty writing a song when he had nothing but time, Jason set himself a challenge to take suggestions from his social media circle, with the creative obstacle of a strict one-day turnaround for each new composition. The result is his new CD, JIM... AND OTHER FINE SUGGESTIONS (Songs Written In One Day By Jason Kravits). You see, my lambs, art thrives on obstacles, and creating music on a strict deadline, such as that, can spur a composer to put out either $&!+ or Shinola. In the case of JIM, this rainbow reviewer is happy to report that these songs are the latter. Calling on a variety of song styles, each stand alone tune is a journey unto itself - sometimes funny, sometimes touching and all so well done that it boggles the mind that each was written in under 24 hours.
JIM, the title song and first cut on the album, is a spritley tune for Jason's guitar and sweet voice. His gentle vocals add real warmth to very funny lyrics. You see, Jim apparently "Fell out the back of my truck" along with other items, like a trampoline. This kicks off the album with some spoofy, easy-listening country & western fun, and the vocal-to-instrument arrangement is terrific. WEDNESDAY NIGHTS & SATURDAYS IN BATON ROUGE is a super cute Randy Newman-vibe travelin' man song in the best tradition. The instruments are lots of fun here, especially the clarinet and trombone, and the song overflows with clever, clever lyrics full of funny rhymes to Louisianna's State Capitol (and Bobby's birthplace) like Stooge & Baton Rouge and Apres Moi Le Deluge, etc. Cut four, WHEN WILL I GET OVER YOU (sung by Amie Bermowitz - the only song not performed by Jason), is a ballad to Covid. Jason's case was bad and, as the days wore on, his longing to get over it inspired this 60s-style, Joni Mitchell-ish, folk fusion ballad. It's sweet, really, in the circumstances, just as it is, but made all the more relevant if you read the liner notes, here - a good reason to buy the physical album: liner notes. Cut Seven, DON'T LOOK BACK (written with John Thorn), is Little Bobby's fave from this collection. This one, though not born of any social media suggestion, was a tune Thorn wrote and asked Jason to provide the poetry for, and what they made is a song of some regret. The theme is, essentially, "Don't look back because they (the memories) might be gaining on you." Here, we dance in the rain, as it falls, washing the past away... such a dreamy, pleasant tune, and the song does, indeed, make you want to slow dance around the room with yourself. While Spotify does not include the BONUS: WAIT WAIT... DON'T TELL ME!, those of you out there who will purchase the whole album from Jason's site or at his BANDCAMP link (below) will get to hear this nifty song, and it is well worth it. WAIT WAIT is a bouncy tune reminiscent of Paul Williams' fine work for the Muppets, and this one is about driving while listening to the latest NPR quiz show, recalling those fun moments when you hear the questions and know that you know the answers. For this one, the layering of Jason's voice as his own backup singer/s is superb.
Overall, the sound of this album struck our little ears wonderfully. Jason's music, his (and Amie Bermowitz's) vocals, guitar and other instruments meld beautifully, with nothing overpowering any other component. It was some fine sets of ears that produced and mixed this album, and that, plus Jason's humorous words and music, make this a very easy-listening treat... And speaking of: Having been produced by Jason Kravits and Sean Dixon, mixed by Jason Kravits and Sean Dixon, as well as Mixed & Mastered by Ryan Ball, we found the album production elements to be first rate, in fact, noticeably superior. When it comes down to it, my lovely rainbow readers, JIM... AND OTHER FINE SUGGESTIONS is a very nice way to spend half an hour. Will these quickly scribbled songs change the world? No... but music hath charms, as they say, my dearlings, and so Bobby gives this charming album a nice
4 Out Of 5 Rainbows - Put This One In Your Collection/stream Today.
We Suggest You Pick Up This Album At JK's Band Camp Link So You Can Get The Bonus Track: Here
Jason Kravits will be performing in New York at Birdland on Monday, March 27th at Birdland. The Birdland website link is HERE.
Learn More About Jason's Off The Top Evenings Of Improvised Songs And Hilarity: Here
Album Artwork By Karen Henry Hulick
The Who's Who On This Album Are:
Jason Kravits - Vocals, Guitar, Keyboards, Mandolin
Sean Dixon - Bass, Percussion
John Thorn - Piano
Sophie Alloway - Drums
Adam Bernstein - Bass
Thea Mesirow - Cello
Phil Orr - Piano
Amie Bermowitz - Vocals
Teagen Taylor - Trumpet
Mark Dover - Clarinet
Jerome Harper - Trombone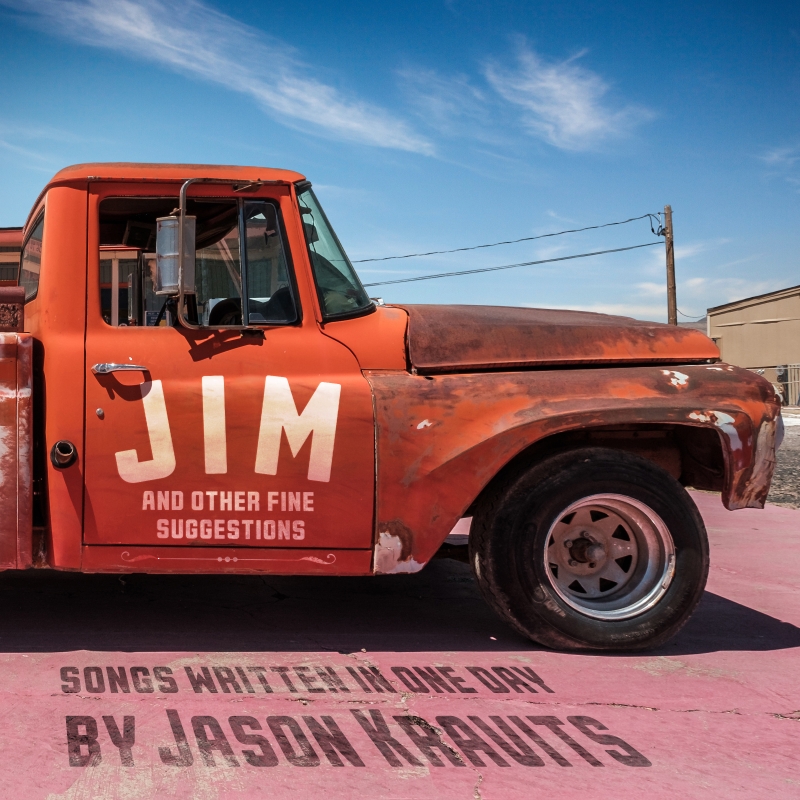 Related Stories