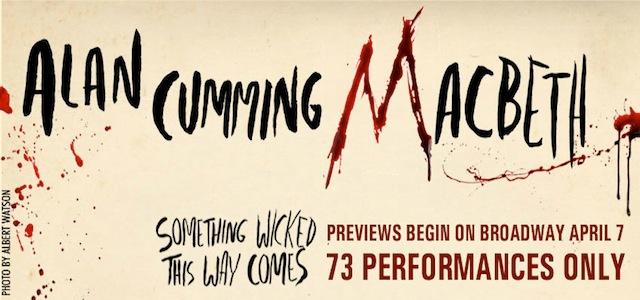 Click Here for More Articles on MACBETH
Alan Cumming's MACBETH Ends Broadway Run Today
Following a two-week extension, Alan Cumming's acclaimed one-man production of Macbeth concludes its limited Broadway engagement today at the Ethel Barrymore Theatre (243 W. 47th St.). The production was originally slated to close on Sunday, June 30.
Hailed by the Associated Press as "a tour-de-force that redefines the term," The National Theatre of Scotland's Macbeth is directed by Tony Award winner John Tiffany (Once) and Andrew Goldberg (The Bomb-itty of Errors).
The action is set in a clinical room deep within a dark psychiatric hospital. Cumming is the lone patient, reliving the infamous story and inhabiting each role himself.
Closed circuit television cameras watch the patient's every move as the walls of the psychiatric ward come to life in a visually stunning multi-media theatrical experience of Shakespeare's notorious tale of desire, ambition and the supernatural.
A Tony Award winner for his celebrated performance as the Emcee in the long-running revival of Cabaret, Alan Cumming's other Broadway credits include Mack the Knife in The Threepenny Opera and Otto in Design for Living.
Cumming is a two-time Emmy Award nominee for his current role in the CBS drama "The Good Wife." Other television and film credits include Goldeneye, Spy Kids, X2: X-Men United, Titus, Eyes Wide Shut, The Tempest, Sweet Land, Sex and the City, "Frasier" and "Tinman."
MACBETH also features Jenny Sterlin and Brendan Titley as the hospital's doctor and orderly, respectively. Chris Kipiniak understudies both roles.
This production of Macbeth marks the second collaboration between Alan Cumming and co-director John Tiffany. The two first worked together on The National Theatre of Scotland's production of Euripides' The Bacchae, which took the Edinburgh International Festival by storm in 2007 and subsequently toured in 2008 to Aberdeen, Inverness and the Lincoln Center Festival in New York.
Andrew Goldberg runs the Shakespeare Gym in New York City and was staff director on The National Theatre of Scotland's production of Black Watch in New York, when he and John Tiffany first started collaborating creatively.
MACBETH features scenic and costume design by Merle Hensel, lighting design by Natasha Chivers, sound design by Fergus O'Hare and video projection design by Ian William Galloway, voice by Ros Steen, movement by Christine Devaney and music by Max Richter.
MACBETH is produced on Broadway by Ken Davenport, in association with Hunter Arnold and Carl Daikeler, Cody Lassen, Joan Raffe & Jhett Tolentino, Julia Broder, Luigi & Rose Caiola, Michael DeSantis, Neil Gooding Productions, John C. Hall, Marguerite Hoffman, Ken Mahoney, Elliott Masie, Dean Roth, Bellanca Smigel Rutter and Kat White.
Visit the official website for Macbeth at www.MacbethOnBroadway.com.
Photo Credit: Jeremy Daniel
Related Articles
More Hot Stories For You