Alan Cumming Will Direct Jacob Storms in TENNESSEE RISING Off-Broadway
Tennessee Rising will run February 19 through April 2 at AMT Theater.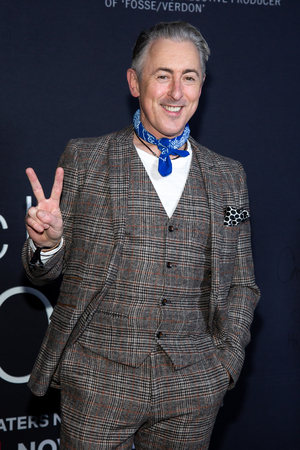 The newly renovated AMT Theater in midtown will host the Off-Broadway Premiere of TENNESSEE RISING: THE DAWN OF Tennessee Williams. This solo play is written and performed by Jacob Storms and directed by Alan Cumming.
What led Tennessee Williams to become the most groundbreaking and unique playwright of the twentieth century? TENNESSE RISING: THE DAWN OF Tennessee Williams explores the formative six-year period from 1939-1945 in which an unknown writer named Tom metamorphosizes into the acclaimed playwright known as Tennessee. The solo play brings these unknown years center stage as the audience becomes friend and confidant to young Williams as he experiences the unexpected highs and devastating lows of his early career, wherein his most iconic character emerges: himself.
An earlier version of TENNESSE RISING received the United Solo Award for Best One-Man Show at the 2017 United Solo Festival in New York City and headlined the 2018 Tennessee Williams Festival St. Louis. The current version, under the direction of Alan Cumming, was slated to premiere in March 2020 at the Beaubourg Theatre in New Orleans but was canceled due to Covid. And in the spring of 2021, Nancy Manocherian's the cell theatre hosted a limited engagement run on their outdoor patio for an audience of only 20 per performance.
Jacob Storms is best known for his recurring role (Serge) on Steven Soderbergh & Gregory Jacobs' Amazon Original Series, Red Oaks. Jacob won the United Solo Award for his original solo play, Tennessee Rising: The Dawn of Tennessee Williams, at United Solo Fest. He has performed at Carnegie Hall, The Guggenheim Museum, Jazz at Lincoln Center, New York Live Arts Theatre, Brooklyn Academy of Music, Symphony Space, The St. Louis, New Orleans, and Provincetown Tennessee Williams Festivals, The Hollywood Bowl, Disney Concert Hall, PICA's Time-Based Art Festival, the cell theatre and more. Jacob is also the youngest actor in the world to have performed Doug Wright's Pulitzer Prize winning, forty-character solo play, I Am My Own Wife. Follow Jacob on instagram @therealjacobstorms and Jacobstorms.net.
Alan Cumming has been described by Time Magazine as one of the most fun people in show business, by the New York Times as a 'bawdy, countercultural sprite' and by the Guardian as 'European, weird, and sexually ambiguous'. He has won over forty awards for his humanitarianism and social activism, received both the Great Scot and Icon of Scotland awards from his homeland and was made an OBE (Officer of the British Empire) for his contributions to the arts and LBGT equality by the Queen, whose portrait was taken down when his was unveiled at the Scottish National Portrait Gallery in 2014! Alan Cumming is many things to many people - renaissance man, style icon, social activist, bon viveur - but to himself he is a storyteller and provocateur for hire. He lives in New York City with his husband, illustrator Grant Shaffer, and their dogs, Jerry and Lala.
TENNESSE RISING runs February 19 - April 2, Sundays at 5pm. Running time is 75 minutes. AMT Theater is located at 354 West 45th Street between 8th and 9th Avenues. Tickets are $35 - $45, available at www.SpinCycleNYC.com.
Photo Credit: Jennifer Broski