ASU Gammage Announces Nominees and Finalists for High School Musical Theatre Awards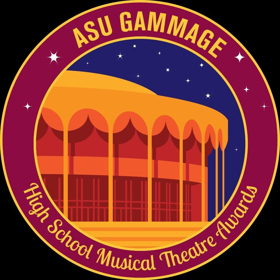 ASU Gammage has announced the finalists for the High School Musical Theatre Awards. Awards Ceremony and Show Saturday, May 26, 2018 | Tickets available soon!
Complete with paparazzi, red carpet, tuxedos and gowns, the ASU Gammage High School Musical Theatre Awards recognizes and celebrates high school students and faculty that produce Musical Theater programs here in the Valley and beyond. Participating students will feel a special exhilaration as they get to experience performing on the ASU Gammage stage.
The Jimmy Awards/The National High School Musical Theatre Awards (NHSMTA) impacts more than 100,000 students who participate in high school musical theatre competitions sponsored by presenters of Touring Broadway productions throughout the United States. A Best Actress and Best Actor winner from each of these competitions is sent to New York for a week-long theatre intensive of coaching and rehearsals with industry professionals in preparation for a one-night-only showcase on Broadway, where a panel of judges crowns the nation's top performers. Named for Broadway impresario James M. Nederlander, the program has been the catalyst for more than $2,000,000 in educational scholarships.
In 2012, the program inspired preeminent broadcaster WGBH Boston to produce a 3-part documentary series called "Broadway or Bust," which follows students on a journey from their hometown competitions to their debut on Broadway. The series remains popular viewing at www.pbs.org. For more information, please visit www.JimmyAwards.com.
NOTE: The asterisk (*) indicates the finalists in each category.
BEST MUSICAL
American Leadership Academy Ironwood- EMMA! A Pop Musical- Leslie Infalt
Arizona School for the Arts- 25th Annual Putnam County Spelling Bee- Rusty Ferracane
Casteel High School- Once Upon a Mattress- Alyssa Pitner
Chandler High School- Rock of Ages High School Edition- Stephanie Likes
Chaparral High School- Singin' in the Rain- Emily Starrett
Desert Mountain High School- Spamalot School Edition- Marilyn Mumaw
Dobson High School- Thoroughly Modern Millie- Simon Navarro
Highland High School- Wizard of Oz- Steve Abaroa
Marcos De Niza High School- Big Fish- Patrick McChesney
Maricopa High School- The Baker's Wife- Cynthia Calhoun
Mesa High School- The Adventures of Tom Sawyer- Hattie Harris
Millennium High School- A Christmas Carol (Fall), Anything Goes (Spring)- Kim Laguardia
Mingus Union High School - Crazy for You- James Ball
Mountain View High School- Footloose- Jere Van Patten
Notre Dame Preparatory- Curtains School Edition- Bonnie Wilson
Payson High School- Zombie Prom- Kathy Siler
Perry High School- White Christmas- Shawna Marquis
Phoenix Country Day School- Godspell- Keith Burns
Pinnacle High School- Nunsense II: The Second Coming- Melissa Carroll-Jackson
Queen Creek High School- Legally Blonde- Kyle Spitler
Red Mountain High School- Mary Poppins- Matt Erickson
Saguaro High School- South Pacific- Abby Waddoups
Shadow Ridge High School- You're A Good Man, Charlie Brown (Fall) Seussical the Musical (Spring)- Kendra Schroeder
Valley Vista High School- Wizard of Oz (Fall), Anything Goes (Spring)- Jacqueline Ryan-Rojas
Westwood High School- The Addams Family- Allyson Van Patten
Williams Field High School- Shrek the Musical- Heather Gillen
BEST LEAD MALE (Eligible for The Jimmy Awards)
American Leadership Academy Ironwood- Kyle Atkinson
Arizona School for the Arts- Constantino De Angelis*
Casteel High School- Tristen McColley
Chandler High School- Joey Grado*
Chaparral High School- Cole Newburg*
Desert Mountain High School- Daniel Kireopoulos*
Highland High School- William Lee*
Marcos de Niza High School- Riley Schor*
Maricopa High School- Antonio Gonzales
Mesa High School- Mason Redd
Millennium High School- Alex Faber (Fall)
Millennium High School- Blake Sullivan (Spring)*Mingus Union High School - Preston Chalmers*
Mountain View High School- Carson Robles
Notre Dame Preparatory- Steven Schwartz II
Payson High School- Nathaniel Kammerman
Perry High School- Austin Porter
Pinnacle High School- Daniel Haub
Queen Creek High School- Nicholas Philips
Red Mountain High School- Miles Hull*
Red Mountain High School- Anthony Procopio
Saguaro High School- Danny Allyn
Shadow Ridge High School- Tristan Richards (Fall)
Shadow Ridge High School- Dominic Ramos (Spring)
Valley Vista High School- Samuel Brown (Fall)
Valley Vista High School- Samuel Brown (Spring)
Westwood High School- Elias Felix*
Williams Field High School- Brennan Merrill*
BEST LEAD FEMALE (Eligible for The Jimmy Awards)
American Leadership Academy Ironwood- Savanna McDade
Arizona School for the Arts- Katie Brown*
Casteel High School- Brinkley Biddulph*
Chandler High School- Faith Sterling
Chaparral High School- Rebecca Steiner
Desert Mountain High School- Alek Rahman*
Dobson High School- Haley Reed*
Highland High School- Nadia Gilbert
Marcos De Niza High School- Eden Gezai
Maricopa High School- Kjirsten Lemon
Mesa High School- Emily Bingham
Millennium High School- Kaycee Molino (Fall)
Millennium High School- Bethany Novotny (Spring)
Mingus Union High School - Audrey Worden
Mountain View High School- Emma Nissen
Notre Dame Preparatory- Anna Sera*
Payson High School- Rachael Brundage
Perry High School- Lizzy Jensen*
Phoenix Country Day School- Mehek Khandelwal
Pinnacle High School- Madeline Benson
Queen Creek High School- Delaney Starks*
Red Mountain High School- Mandalyn Larson*
Saguaro High School- Samarrah Staphan
Shadow Ridge High School- Vanessa Vera (Fall)
Shadow Ridge High School- Ruby Price (Spring)*
Valley Vista High School- Isabelle Hunsaker (Fall)
Valley Vista High School- Megan Lundberg (Spring)
Westwood High School- Emma Hansen*
Williams Field High School- Nicole Tassainer
OUTSTANDING SUPPORTING PERFORMANCE (MALE)
American Leadership Academy Ironwood- Jonah Pio
Arizona School for the Arts- John Paul Rabusa*
Casteel High School- Tyler Christensen
Chandler High School- Andru Moeller*
Chaparral High School- Eric Flayton
Desert Mountain High School- Zach Issac*
Highland High School- Parker Nuttall*
Marcos De Niza High School- Xavier Bonelli
Maricopa High School- Brandon Korittky
Mesa High School- Micah Gneighting*
Millennium High School- Ryan Chou (Fall)
Millennium High School- Terrell Stanton (Spring) *
Mingus Union High School- Zayne Hirsch*
Notre Dame Preparatory- Jose Martinez-Rendon
Payson High School- Dexter Tiffany
Perry High School- Manuel Edrozo
Phoenix Country Day School- Kevin Wang*
Pinnacle High School- Matt Stone
Queen Creek High School- Josh Brown*
Red Mountain High School- Andrew Seeley
Saguaro High School- Matthew Gross*
Shadow Ridge High School- Ethan Wallgren (Fall) *
Shadow Ridge High School- Tristan Richards (Spring)*
Valley Vista High School- Lucas Kostiw (Fall)
Valley Vista High School- Kyler Burson (Spring)
Westwood High School- Joseph Ritchie
Williams Field High School- Fabioo Thomas
OUTSTANDING SUPPORTING PERFORMANCE (FEMALE)
American Leadership Academy Ironwood- Zanah Brown
Arizona School for the Arts- Chloe Pierson*
Casteel High School- Arielle Ayoub
Chandler High School- Hailey Palmer*
Chaparral High School- Gianna Agostinelli*
Desert Mountain High School- Summer Beckman*
Highland High School- Harmony Durff
Marcos De Niza High School- Allison Campina
Maricopa High School- Britney Montgomery*
Mesa High School- Sydni Curtis
Millennium High School- Emily Moody (Fall)
Millennium High School- Racquel Jacobsen (Spring)*
Mingus Union High School- Malia Duarte*
Notre Dame Preparatory- Morrigan Malloy
Payson High School- Marissa Ormand
Perry High School- Amanda Federico
Phoenix Country Day School- Sammy Dady*
Pinnacle High School- Camille Santos
Queen Creek High School- Mackenzie Deatherage*
Red Mountain High School- Abbey Porter*
Saguaro High School- Holly Roberts
Shadow Ridge High School- Liberty Anglin (Fall)*
Shadow Ridge High School- Bryanna Martinez (Spring)*
Valley Vista High School- Lilly Goodsell (Spring)
OUTSTANDING VOCALIST
American Leadership Academy Ironwood- Savanna McDade
Arizona School for the Arts- Katie Brown*
Chandler High School- Casey Likes
Chaparral High School- Rebecca Steiner
Desert Mountain High School- Summer Beckman*
Maricopa High School- Britney Montgomery
Mesa High School- Micah Gneiting*
Millennium High School- Ashley Smith (Fall)*
Millennium High School- Bethany Novotny (Spring)
Mingus Union High School- Audrey Worden
Mountain View High School- Thayne Evans
Notre Dame Preparatory- Anna Sera
Payson High School- Elli Linkey
Perry High School- Lizzy Jensen*
Phoenix Country Day School- Grace Elsie
Pinnacle High School- Meghan van Dobben
Queen Creek High School- Delaney Starks*
Red Mountain High School- Miles Hull*
Saguaro High School- Kevin Schust
Shadow Ridge High School- Liberty Anglin (Fall)*
Shadow Ridge High School- Byranna Martinez (Spring)*
Valley Vista High School- Isabelle Hunsaker (Fall)
Valley Vista High School- Megan Lundberg (Spring)
Westwood High School- Elias Felix*
Williams Field High School- Megan Ruangchamneil*
OUTSTANDING DANCER
American Leadership Academy Ironwood- M'Kayla Howard
Casteel High School- Kylie Tollefson
Chandler High School- Hannah Ngov
Chaparral High School- Cole Newburg*
Desert Mountain High School- Josiah Holmes*
Marcos de Niza High School- Gillian Ficarra
Maricopa High School- Chaienne Zoller
Mesa High School- Ethan Fuller
Millennium High School- Bethany Novotny (Fall)
Millennium High School- Kaycee Molino (Spring)*
Mingus Union High School- Preston Chalmers*
Mountain View High School- Jessica Huber
Notre Dame Preparatory- Maddie Brunsman
Payson High School- Marissa Ormand
Perry High School- Emily Wright*
Queen Creek High School- Aurelie Wisdom*
Red Mountain High School- Taylor Lee*
Saguaro High School- Holly Roberts*
Shadow Ridge High School- Jade O'Connor
Shadow Ridge High School- Jaren Lacke (Spring)*
Valley Vista High School- Alexa Newton (Spring)
Valley Vista High School- Samuel Brown (Fall)
Westwood High School- Helen Porter*
Williams Field High School- Tatum Mason*
OUTSTANDING TECHNICAL ACHIEVEMENT- COSTUMES
Arizona School for the Arts- Katie Powers, Najmia Pack, & Steffi Stoffel*
Desert Mountain High School- Alex Wethor*
Highland High School- Harmony Durfee, Highland Techies*
Millennium High School- Brooke Zanon (Fall)*
Millennium High School- Millennium Costume Team (Spring)*
Payson High School- Sierra Bassett
Perry High School- Skyler Christensen*
Pinnacle High School- Emily Rush
Queen Creek High School- Isabelle Wisdom*
Shadow Ridge High School- SRHS Costume Team (Fall)*
Shadow Ridge High School- SRHS Costume Team (Spring)*
Valley Vista High School- Vanessa Groulx (Fall)*
Valley Vista High School- Vanessa Groulx (Spring)
OUTSTANDING TECHNICAL ACHIEVEMENT- HAIR AND MAKEUP
Arizona School for the Arts- Elaina Van Duyne, Alyssa Gerkin, Claire Procter-Murphy*
Casteel High School- Reagan Russell/Kaitlin Smock
Chaparral High School- Caitlin Bussey*
Desert Mountain High School- Yvette Espendola, Natasha Maraoui*
Highland High School- Lauren Hedrick*
Millennium High School- Caylin Berges (Fall)
Millennium High School- Millennium Make-Up Team (Spring)*
Mingus Union High School- Amyah Lee*
Payson High School- Cameron Middaugh
Perry High School- Sydney Volker
Pinnacle High School- Sophia Gomez, Jen Ivatsik
Queen Creek High School- Natailia Lopez, Bekah Planek
Saguaro High School- Elaine Denney, Jocelyn Cook*
Shadow Ridge High School- SRHS Hair/Makeup Team (Fall)*
Shadow Ridge High School- SRHS Hair/Makeup Team (Spring)*
Valley Vista High School- VVHS Costume/Make-Up (Fall)
Valley Vista High School- Haley Falkena (Spring)
Westwood High School- Paige Yale*
OUTSTANDING TECHNICAL ACHIEVEMENT- SOUND DESIGN
Arizona School for the Arts- Rose Doris*
Desert Mountain High School- William Baldwin*
Highland High School- Highland Techies*
Marcos de Niza- Patrick Clark
Mesa High School- Justine Galarza
Millennium High School- Veronica Lake (Fall)
Millennium High School- Tallon Pesch (Spring)*
Mingus Union High School- Alex Goltz*
Notre Dame Preparatory High School- Sean Lillis, Ashton Rains, JP Sullivan
Payson High School- Austin Bingden
Perry High School- Crystal Nguyen
Phoenix Country Day School- Arthi Macherla*
Pinnacle High School- Matthew Benjamin, Sam Gerstner
Queen Creek High School- Em Bailey*
Red Mountain High School- Parker Bickle, Eldon Porter
Saguaro High School- Alexis McNally, Laney Olson, Jacob Ellsworth*
Shadow Ridge High School- SRHS Lighting Team (Fall)*
Shadow Ridge High School- Maxwell Plata, Sophia Rodriguez (Spring)*
Valley Vista High School- Madison Nelson (Fall and Spring)
OUTSTANDING TECHNICAL ACHIEVEMENT- SET/PROP DESIGN
Arizona School for the Arts- Sol Cosentino, Will Kirsch-Stancliff, Jaylyn Tillia, Veronica
Brown, Ana Masley*
Casteel High School- Casteel High School*
Chaparral High School- Jack Travers, Sage Wegginghoff, Ashley Person
Desert Mountain High School- Kiara Davidson*
Highland High School- Highland Techies*
Mesa High School- Emily Jackson*
Millennium High School- Millennium Tech Theater (Fall)*
Millennium High School- Millennium Tech Theater (Spring)*
Mingus Union High School- Shenoah Williams*
Payson High School- Quincy Thornhill
Perry High School- Perry Technical Theatre
Queen Creek High School- Kaila Radford
Red Mountain High School- Miles Hull, Derek Larson, Ian King*
Shadow Ridge High School- Sophia Rodriguez and Team (Fall)*
Shadow Ridge High School- Sophia Rodriguez (Spring)*
Valley Vista High School- VVHS Set Crew (Fall)
Valley Vista High School- Angie Owens & Mike Morton (Spring)