AMERICA'S FAVORITE NEWSCASTER, A World Premiere Musical, Begins Previews At TNC Tomorrow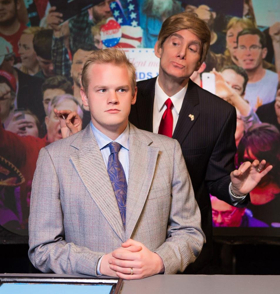 Theater For the New City (TNC) presents the world premiere engagement of AMERICA'S FAVORITE NEWSCASTER, a new musical with book and lyrics by Tom Attea, music by Arthur Abrams, and directed by Mark Marcante (the creative team behind the acclaimed Heather Smiley For President, Living in a Musical, An American Worker, etc.). AMERICA'S FAVORITE NEWSCASTER will play a limited 4-week engagement, running Thursday, January 4, 2018 through Sunday, January 28, 2018 at Theater For the New City (155 1st Avenue, between East 9th and East 10th Streets, NYC). The Opening is Sunday, January 14, 2018 (3 PM).
AMERICA'S FAVORITE NEWSCASTER is a new American musical about a young, highly rated TV journalist, struggling to maintain his famously calm yet fearlessly insightful demeanor while dealing with the challenges of today's news cycle.
Says book writer Tom Attea, "Having previously written copy for WABC-TV News, the Village Voice, Time magazine, and other outlets, I have a tremendous respect for those who dedicate their lives to reporting the news. This respect, especially given the unprecedented challenges they face - not only the widespread human suffering on which they must report, but also the almost-daily affronts emanating from Washington - inspired me to do what I can to give journalists a voice on the stage at this time. I think they could really use it."
The cast of AMERICA'S FAVORITE NEWSCASTER includes David O. Friedman, Matt Gorsky, Robert Homeyer, Kate McMorran, Isaac Miller, Justin Rodriguez, Gabrielle Sarrubbo, Alexandra Schwartz, David F. Sloane Esq., and Juan Villegas.
AMERICA'S FAVORITE NEWSCASTER has choreography Angela Harriell. The assistant director is Danielle Hauser.
AMERICA'S FAVORITE NEWSCASTER has costume design by Desiree Conston, lighting design by Alexander Bartenieff, sound design by Alex Santullo, and props design by Lytza Colon. Clay West is the Production Stage Manager.
AMERICA'S FAVORITE NEWSCASTER will be performed on Thursdays, Fridays and Saturdays at 8:00PM and Sundays at 3:00PM.
Tickets to AMERICA'S FAVORITE NEWSCASTER are priced at ? $15 ($10 for Students and Seniors) and are now available online at http://www.theaterforthenewcity.net , at the Box Office via telephone at 212-254-1109, and, as the first performance nears, at SmartTix.
Theater For the New City (TNC) is a Pulitzer Prize winning community cultural center that is known for its high artistic standards and widespread community service. One of New York's most prolific theatrical organizations, TNC produces 30-40 premieres of new American plays per year, at least 10 of which are by emerging and young playwrights. Many influential theater artists of the last quarter century have found TNC's Resident Theater Program instrumental to their careers, among them Sam Shepard, Moises Kaufman, Richard Foreman, Charles Busch, Maria Irene Fornes, Miguel Piñero, Jean-Claude van Itallie, Vin Diesel, Oscar Nuñez, Laurence Holder, Romulus Linney and Academy Award Winners Tim Robbins and Adrien Brody. TNC also presents plays by multi-ethnic/multi-disciplinary theater companies who have no permanent home. Among the well-known companies that have been presented by TNC are Mabou Mines, The Living Theater, Bread and Puppet Theater, the San Francisco Mime Troupe and COBU, the Japanese women's drumming and dance group. TNC also produced the Yangtze Repertory Company's 1997 production of Between Life and Death, which was the only play ever produced in America by Gao Xingjian before he won the 2000 Nobel Prize for Literature. TNC seeks to develop theater audiences and inspire future theater artists from the often-overlooked low-income minority communities of New York City by producing minority writers from around the world and by bringing the community into theater and theater into the community through its many free Festivals. TNC productions have won the Pulitzer Prize for Drama and over 42 OBIE Awards for excellence in every theatrical discipline. TNC is also the only Theatrical Organization to have won the Mayor's Stop the Violence Award.