A CLOCKWORK ORANGE, WHEN PIGS FLY, TORCH SONG and More Take Part in NYC Off-Broadway Week; Tickets on Sale Today!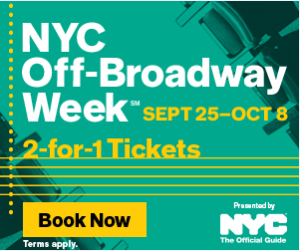 NYC & Company, New York City's official destination marketing organization, announced NYC Off-Broadway Week tickets are on sale to the public today beginning at 10:30am EST.
The popular biannual program now in its ninth year will run September 25 to October 8, 2017, offering visitors and New Yorkers the opportunity to purchase 2-for-1 tickets to 36 Off-Broadway productions.
Of the participating shows, 21 are new to NYC Off-Broadway Week. Productions include critically acclaimed Drunk Shakespeare and In & Of Itself, and fan favorites Avenue Q, Blue Man Group and Stomp.
NYC Off-Broadway Week tickets can be purchased now at nycgo.com/off-broadway-week.
"With the wide variety of productions found Off-Broadway in New York City, there is something for everyone to enjoy, and NYC Off-Broadway Week allows them to experience it for less," said FrEd Dixon, president and CEO of NYC & Company. "With over 35 participating shows, we invite visitors and New Yorkers to partake as an audience member in this vibrant and world-class performing arts scene."
"The Off-Broadway League is once again excited to partner with our friends at NYC & Company in offering NYC Off-Broadway Week" said Adam Hess, President of The Off-Broadway League. "Through this incredible and affordable promotion, we are delighted to not only engage Off-Broadway's regular theatergoers but also reach new audiences."
Shows participating in NYC Off-Broadway Week are:*
A Clockwork Orange**
Arden/Everywhere: The "As You Like It" Project**
As You Like It**
Avenue Q
Blue Man Group
Charm**
Curvy Widow**
The Death of the Moon**
Desperate Measures**
Drunk Shakespeare
For Peter Pan on her 70th birthday**
Frankenstein, A New Musical
Gazillion Bubble Show
The Gospel According to Thomas Jefferson, Charles Dickens and Count Leo Tolstoy: Discord**
The Home Place**
Howard Crabtree's When Pigs Fly**
I of the Storm**
The Imbible
In & Of Itself**
The Last Match**
The Lion, the Witch and the Wardrobe
The Marvelous Wonderettes
Naked Boys Singing!
NEWSical The Musical
On the Shore of the Wide World**
One Night Only**
Perfect Crime
Puffs, Or: Seven Increasingly Eventful Years at a Certain School of Magic and Magic
The Red Letter Plays: F***ing A**
The Red Letter Plays: In the Blood**
Sistas: The Musical
Spamilton
Stomp
Torch Song**
The Violin**
*Subject to availability. Blackout dates may apply.
**New participants in NYC Off-Broadway Week
NYC Off-Broadway Week is produced by NYC & Company in partnership with The Off-Broadway League. NYC Off-Broadway Week will be promoted through exclusive content on nycgo.com, out-of-home media in the five boroughs, print and digital advertising, commercials running in NYC taxicabs and through social media posts on @nycgo and with hashtag #NYCOffBroadwayWeek.
Since its launch in 2009, over 550 Off-Broadway productions have participated in NYC Off-Broadway Week. The program has also generated over $2.6 million in revenue through ticket sales, of which over 75,000 have been sold.
NYC & Company is the official destination marketing organization for the City of New York, dedicated to maximizing travel and tourism opportunities throughout the five boroughs, building economic prosperity and spreading the positive image of New York City worldwide. For all there is to do and see in New York City, visit nycgo.com.