7th Annual OPEN Festival Of New Jewish Theater Returns With Stars, Comedy, And Ivanka & Jared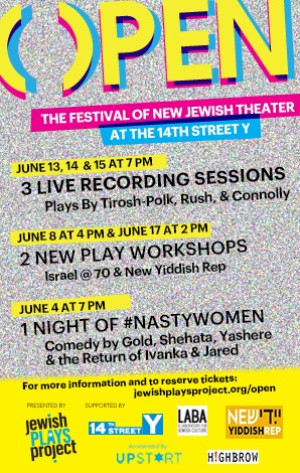 The Jewish Plays Project (David Winitsky, Artistic Director) is thrilled to announce the line-up for the 7th Annual OPEN: Festival of New Jewish Theater.
"7 is a mystical number in Jewish tradition (and in many other traditions) - it connects us, dazzles us, and urges us forward," said Mr. Winitsky. "We're celebrating that spirit in our 7th year with new approaches to the past and hot takes on the present, using the best of Jewish ideas to try to make sense of our current moment. Resistance, Yiddish, Israel, the Kaddish, even Ireland - we've got thrilling theater that takes us wherever Jewish culture makes a difference in the world."
The Festival spans June 4 - 17, 2017 at the Theater at the 14th Street Y (344 East 14th Street at 1st Avenue). Most Festival tickets are FREE ($18 suggested donation) and can be reserved at: www.jewishplaysproject.org/tickets
The 2018 Festival begins with #nastywomen: a night of resistance comedy (Monday, June 4 at 7 pm). Stand up with stand-up comedy! Headlined by Maria Shehata and Gina Yashere, hosted by Amanda Duarte, and featuring a raucous short play: I & J. Susan Bernfield (New Georges) imagines Ivanka and Jared on Shabbat. Directed by Pirronne Yousefzadeh and starring Molly Riggs (Hello Dolly!) and Charles Socarides. Presented by the JPP, the 14th Street Y and producer Laura Newmark. ($30 advance tickets/$35 at the door).
The core of the Festival is the Jewish Playwriting Contest Audio Sessions, three live recording sessions (June 13, 14, and 15 at 7 pm) of Winners of the JPP's signature National Contest, with you as our live studio audience . Be a part of it now, and listen online later. Plays include:
SIX by Zohar Tirosh-Polk
A couple's jet lagged, sun-drenched six day trip collides with family, politics and the Six-Day War.
Featuring Aaron Weiner, Hani Furstenberg, Ronald Guttman, and Mimi Leiber (Indecent)
Directed by Shira-Lee Shalit (LAByrinth's Devil of Choice)
SUMMER NIGHT, WITH UNICORN by David Rush
A mystical romp through the Chicago night. Who will say the Kaddish in the morning?
Directed by newcomer Blayze Teicher
BELFAST KIND by Margot Connolly
It's 1981 in Belfast. The heart of the Troubles. And it's time for Zippy's Bat Mitzvah.
Featuring Schulyer Press, Kirrilee Berger (K.C. Undercover) and Jake Horowitz (Dutch Masters) Directed by AD David Winitsky
We round out the work with 2 New Play Workshops (Friday, June 8 at 4 pm and Sunday, June 17 at 2 pm). Limited seating is available for two brand new plays that take Jewish theater in new directions.
· THEO'S DREAM by Zohar Tirosh-Polk, directed by Ronit Muszkatblit
Part 1 of Israel at 70: A Tikkun Cycle
· WOMEN'S MINYAN by Naomi Ragen, directed by Amy Coleman
Presented by the Drama-Desk Winning New Yiddish Rep
The JPP is proud to partner on the Festival with two Drama-desk nominated co-producers: H!GHBROW Entertainment (SIX) and New Yiddish Rep (WOMEN'S MINYAN).
The 2017 Festival is produced by the JPP and Mr. Winitsky, with Resident Casting Director Judy Bowman, CSA; Stage Managers Hanako Rodriguez and Ariane Barrie-Stern; and Resident Designer and Associate Artist Joshua Benghiat.
The OPEN Festival has featured some of the best artists working in New York , including writers David Hein and Irene Sankoff (Come from Away), Robert Askins (Hand to God), and Brooke Berman (Hunting and Gathering); directors Marc Bruni (Beautiful), Daniella Topol (Rattlestick Theater AD), and Tamilla Woodard (Classical Theatre of Harlem, 3LD), as well as actors Andrew Polk (The Band's Visit), Hani Furstenberg (The Loneliest Planet with Gael Garcia Bernard), Ronald Guttman (Mad Men, Homeland), Kirrilee Berger (Amazon's Just Add Magic), and Obie and Drama Desk nominee Marcia Jean Kurtz.
Previous JPP plays have gone on to world premieres or continued development in New York (BAM, The Flea, Abingdon, 4th Street Theater), Washington, DC (Theater J, The Hub), and Tel Aviv (Hazira Art), as well as Vancouver, Toronto, Boston, Detroit, Minneapolis, Charlotte, and Cleveland.
The mission of the Theater at the 14th Street Y focuses on social awareness and change through big picture narrative. Inspired by works that welcome artists of all backgrounds, we place artists as the heart of our community and seek to create an inclusive cultural experience for all. The Theater honors the edgy, diverse and rich history of innovative culture making in the East Village. Each year, we curate a provocative season of Theater, Dance, Music and Film from independent New York artists in dialogue with our residency program of LABA: A Laboratory for New Jewish Culture. The Theater supports the creation of new art and culture by placing artists at the heart of the 14th Street Y community, and specifically by providing the space, time and resources needed to create new work. We are inspired by works that welcome artists of all backgrounds, seeking to create an inclusive and open cultural experience for all.
New Yiddish Rep is a theater laboratory on the front line of resistance against the extinction of Eastern European Yiddish theater. We aim to mine the artistic cultural and creative core of Ashkenazic theater and to infuse that essence into the body of present and future theater and theatrical practice. New Yiddish Rep speaks to a 21st century audience: modern treatments of the Yiddish classics and Yiddish interpretations of modern and post modern masterpieces, in an intimate venue, at affordable prices, with easily readable supertitles. NYR was nominated for a Drama-Desk for Toyt fun a Salesman (Death of a Salesman), and toured the world with Vartn Af Godot (Waiting for Godot).
HIGHBROW was conceived by actor Ronald Guttman who, as a producer, is able to collaborate with talented writers, filmmakers, directors, and actors for stage, screen, and various other productions. While our focus is on independent film and theatre, HIGHBROW is also interested in sustaining all arts as a means of artist self-expression, cultural representation, geopolitical understanding, education, enlight-enment, and entertainment. With a holistic approach to producing, HIGHBROW is interested in engaging in a full circle process where ideas can be fostered and developed into fully cultivated works that serve both their creators and audiences. We seek to bring an eclectic, introspective, international, and original collection of works to fruition.
The Jewish Plays Project puts bold, progressive Jewish conversations on world stages. The JPP's innovative and competitive development vehicle invests emerging artists in their Jewish identity; engages Jewish communities in the vetting, selecting and championing of new voices; and secures mainstream production opportunities for the best new plays. The JPP's signature method is Jewish Dramaturgy: matching the best minds in the Jewish community with the best 21st Century Jewish plays. If you are interested in becoming a Jewish Dramaturg or an investor in our mission, please visit http://www.jewishplaysproject.org