Click Here for More Articles on 2020 AWARDS SEASON
2020 Theatre World Awards Set for June 1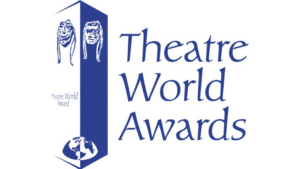 Save the Date! The Theatre World Awards Board of Directors, Dale Badway, President, has announced, today, the 76th Annual Theatre World Awards Ceremony will take place on Monday evening, June 1, 2020 beginning at 7:00 p.m. at Circle in the Square Theatre (1633 Broadway).
Hosted annually by well-known theater journalist, Peter Filichia, the historic 76th Annual Theatre World Awards Ceremony will be produced by Theatre World Awards, Inc. Board of Directors.
2020 Honorees for the Theatre World Award for an Outstanding Performance in a Broadway or Off-Broadway Production, the 12th Annual Dorothy Loudon Award for Excellence in the Theater, and the 8th Annual John Willis Award, will be announced in the spring of 2020.
The Theatre World Awards, Inc. Board of Directors* is headed by Dale Badway (President) withTom Lynch (Vice-President), Stephen Wilde (Secretary), Honorable Ilene Zatkin-Butler(Treasurer), and Michael Kostel*.
The Theatre World Award winners are chosen by the Theatre World Awards Committee which is comprised of Roma Torre (NY1), David Cote (Time Out New York, Emeritus), Joe Dziemianowicz(New York Daily News), Peter Filichia (The Newark Star-Ledger, Emeritus) Harry Haun (The Observer), Elysa Gardner (USA Today, Emeritus), and Frank Scheck (The Hollywood Reporter).
First presented in 1945, the prestigious Theatre World Awards, founded by John Willis, the Editor-in-Chief of both Theatre World and its companion volume, Screen World, are the oldest awards given for Outstanding Broadway and Off-Broadway Debut Performances. The Theatre World Awards are presented annually at the end of the theatre season to six actors and six actresses for their significant, reviewable, debut performances in a Broadway or Off-Broadway production. The ceremony is a private, invitation-only event followed by a party to celebrate the new honorees and welcome them to the Theatre World "family." In what has become a highly entertaining and often touching tradition, 12 previous winners serve as the presenters, and often relive moments from past ceremonies and share wonderful stories rarely heard at other theatrical awards.
Related Articles
More Hot Stories For You
VIDEO: MOULIN ROUGE! Drops Music Video for 'Come What May' with Aaron Tveit and Karen Olivo
Moulin Rouge! has released a music video, filmed live on stage, for Come What May from the Broadway production....

Eddie Perfect Releases BEETLEJUICE - THE DEMOS! THE DEMOS! THE DEMOS! for Halloween
Ghostlight Records has announced that the new album from Eddie Perfect, Beetlejuice – The Demos! The Demos! The Demos! will be available as a Hallowee...

Actors' Equity Releases Statement on Walt Disney World Layoffs
Actors' Equity Association has released a statement after signing a memorandum of understanding with Walt Disney World regarding layoffs of most of th...

VIDEO: THE TODAY SHOW Hosts Reveal Their 'Best of Broadway' 2020 Halloween Costumes
The Today Show hosts always put together a great Halloween costume theme and this year they're showing Broadway some love!...

VIDEO: David Hyde Pierce, Carolee Carmello, Liz Callaway, and Most Perform in BRING BACK BROADWAY: A VOTE BLUE VIDEO
The video stars Cameron Amandus, Bryan Batt , John Bolton, Liz Callaway, Carolee Carmello, Taylor Crousore, Jackie Hoffman, Chris Anthony Giles, Jason...

How Em Jaccs' RATATOUILLE Musical Became Theatre TikTok's Latest Trend
We got to chat with TikTok creator Em Jaccs, whose Ratatouille musical number has inspired an entire show that TikTok fans are demanding to bring to B...