2018 TRU Love Benefit to Honor Baayork Lee and John Chatterton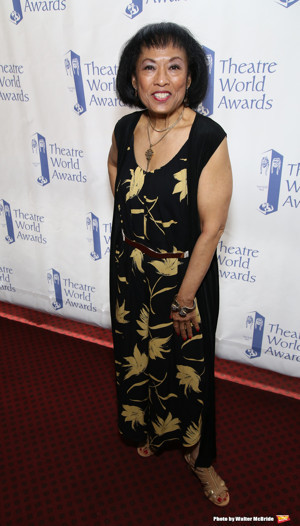 Theater Resources Unlimited (TRU) announces the 2018 TRU Love Benefit, "The Power of Community: Bringing People Together Through the Arts." The event will honor legendary A Chorus Line co-star and co-founder of the National Asian Artists Project Baayork Lee, who will receive the TRU Spirit of Theater Award for a lifetime of creating opportunities for Asian artists; and off-off-Broadway maverick, creator of the former OOBR Awards and the Midtown International Theatre Festival, John Chatterton who will receive the TRU Entrepreneur Award for providing 17 years of developmental opportunities for a range of independent theater artists. It all takes place onSunday, November 4, 2018 from 12pm-4pm at Caroline's on Broadway, 1626 Broadway, NYC. Tickets are available at https://truonline.org/events/tru-love-2018/. Tickets range from $80-$225.
Join TRU for cocktails at noon, luncheon at 1pm followed by performances celebrating two people who have enriched our theater community and offered opportunities for so many. They've made such a difference - help thank them, and support TRU and their community of theater professionals.
Performance and award show will be directed by Jonathan Cerullo, Broadway/NYC choreography consultant for Say, Goodnight Gracie; assistant director and/or choreographer for Band in Berlin, Anna Karenina, The Three Musketeers, original cast of Legs Diamond; and choreographer for Big Apple Circus' Carnivale! & Picturesque @ Lincoln Center. Anticipated appearances (subject to schedule) will include original A Chorus Line co-stars Donna McKechnie and Priscilla Lopez, PS124 Theatre Cub Kids, NAAP co-founders Nina Zoie Lam and Steven Eng, as well as selections from MITF musicals Thrill Me!, Sistas (the long-run off-Broadway hit) and more! Adding excitement to the event is a live auction featuring a 7 night/8 day Uniworld European River Cruise for two including transfers, shore excursions and well, practically everything (brochure price starts at $6,000 for two), as well as a pair of rare Yankees Legend Suite tickets.
The illustrious benefit committee assembled to support the honorees includes:Pat Flicker Addiss, producer (Desperate Measures, A Christmas Story,Promises Promises, The Fantasticks, Spring Awakening); Katrin Hilbe, director, former artistic director of the Midtown International Theatre Festival and artistic director of ManyTracks); Jim Kierstead, producer (Tony awards forKinky Boots and Pippin revival, The Visit, Side Show, Yank!, Thrill Me - the Leopold and Loeb Story); Priscilla Lopez, actress (A Chorus Line, Henry Sweet Henry, Tony Award for Hollywood/Ukraine, Anna in the Tropics, In the Heights); Donna McKechnie, actress (Tony Award for A Chorus Line, Promises Promises, Company, State Fair, Jerry Herman's Showtune, Annie Warbucks, Follies at Paper Mill Playhouse); Jay Michaels, executive director of Jay Michaels Arts & Entertainment); Emileena Pedigo of The Show Goes in Productions, former general manager of the Midtown International Theatre Festival; and Gerald vanHeerden, director, and former artistic director of the Midtown International Theatre Festival.
Tickets are available at https://truonline.org/events/tru-love-2018/. Prices range from a show-only ticket of $80 to table seating with luncheon from $150 to $225. Friends and colleagues of the honorees may also buy congratulatory ads in the TRU Love Benefit Journal.
Theater Resources Unlimited (TRU) is the leading network for developing theater professionals, a twenty-six year old 501c3 nonprofit organization created to help producers produce, emerging theater companies to emerge healthily and all theater professionals to understand and navigate the business of the arts. Membership includes self-Producing Artists as well as career producers and theater companies.
TRU publishes an email community newsletter of services, goods and productions; presents the TRU VOICES Annual New Play Reading Series and Annual New Musicals Reading Series, two new works series in which TRU underwrites developmental readings to nurture new shows as well as new producers for theater; offers a Producer Development & Mentorship Program whose mentors are among the most prominent producers and general managers in New York Theater, and also presents Producer Boot Camp workshops to help aspirants develop the business skills they need. TRU serves writers through a Writer-Producer Speed Date, a Practical Playwriting Workshop, How to Write a Musical That Works and a Director-Writer Communications Lab; programs for actors include the Annual Combined Audition, Resource Nights and "Speed Dating" as well as actor workshops.
For more information about TRU membership and programs, visit www.truonline.org or call 212 714-7628.
Photo Credit: Walter McBride / WM Photos
Related Articles
More Hot Stories For You
Patti LuPone Wants to Narrate Mary Trump's New Book For Randy Rainbow to Lip-Sync
Could we be getting a new Randy Rainbow/Patti LuPone collaboration? We sure hope so!...

QUIZ: Attend the Winter's Ball to Find Out Which Hamilton Star Will Be Your Date!
We're going back to 1780 for A Winter's Ball (you know, where the Schuyler Sisters are the envy of all?) for our latest Hamilton quiz!...

VIDEO: On This Day, July 9- Lin-Manuel Miranda, Phillipa Soo, Ariana DeBose, and Leslie Odom, Jr. Say Goodbye to HAMILTON
On this day in 2016, original Hamilton cast members, Leslie Odom Jr., Phillipa Soo, and Ariana DeBose along with the musical's star and composer, Lin-...

VIDEO: Listen to Act 1 of HAMILTON, Acted Out by The Muppets
Voice actor and comedian Ricky Downes III has recorded all of Act I of Hamilton... in the voices of all The Muppets!...

Broadway League Approves 15-Second COVID-19 Test For Actors and Crew; League President 'Cautiously Optimistic' About Early 2021 Return
Broadway League President Charlotte St. Martin told the New York Post that for the first time, she feels 'cautiously optimistic' about Broadway being ...

BROADWAY AT HOME on PBS Continues With GREAT PERFORMANCES: SHE LOVES ME & More
Beginning July 24, GREAT PERFORMANCES will continue to keep the performing arts alive with Broadway at Home, broadcasting a theatrical favorite every ...