BWW Interview: David Carter of THE MISER at The Oasis Theatre Company
If a singer/actor/dancer is considered a triple threat, recent New Mexico transplant David Carter would have to be more like a quintuple threat. In addition to being the technical director at the Santa Fe Playhouse and a huge advocate for making the arts accessible for all, he recently translated, served as a dramaturg for, and is currently performing in The Oasis Theatre Company's production of Molière's The Miser. I was able to pick his brain about his theatrical experience, his translation process, and some other artistic endeavors he currently has in the works.
What can you tell me about your theatrical background?
I came a bit late to theatre as opposed to most people who make this their life - I didn't see my first play until high school. I grew up in north east Philadelphia, to a working-class family where theatre was a luxury we never thought of... all this changed, though, when I started to read Samuel Beckett. As most angsty teens, I connected with his emotional landscapes, but above all, his love/hate relationship with theatre captured me most. His desire to write for the stage to better the art, was something profound and captivating.
From him, I turned to Artaud, and from there, I was hooked. Early on, I thought I would be an art critic or a performance academic. Instead, I pursued the working side of performance, and earned an MFA in Dramaturgy and New Play Development from Columbia University. I always felt that dramaturgy, an ever-expanding field, allowed for me to both participate and to reflect on performance from the inside and outside the art. I enjoy the continual switch. And it is essential for me to sit in the rehearsal room, not just write about the room. As a dramaturg, I try to actively participate in the process, and not act as some google search bar for the actors or the nerdy geek in the corner with a stack of books no one consults!
That's a really cool perspective on dramaturgy. What brought you to Santa Fe, and how did you connect with James Jenner (Jim) and Brenda Lynn Bynum of The Oasis Theatre Company?
I came to Santa Fe after almost two years of producing theatre and program directing for a year-round performance venue and Fringe Festival in Washington, DC. I loved the work and supporting all types of new, daring, live performance, but I realized that I rarely participated in the process. I was booking acts, scheduling events, drafting contracts...spending more time behind a computer screen writing emails than sitting and working on art.
So, I took a risk. I reached out to the Land Light Foundation which supports the work of Charles Ross and his massive land art project: Star Axis, located in the middle of nowhere Northern New Mexico. Charles was looking for a Studio Assistant to support his work from June through November, living on site with him, his wife amazing artist Jill O'Bryan, and his Studio Manager. Luckily Charles took in me and I had the absolute joy of living and working with him, in the middle of nowhere, off grid, and enraptured by the Northern New Mexican landscape. As an east coast city boy, this was a wild time for me: I saw my first snake, my first tarantula, I went to sleep under the Milky Way every night, I watched Mars progress across an unpolluted sky: a breathtaking experience and one I cherish.
As my tenure wound down (we can only work in the warm and sun filled months), my partner and I decided that we would try and stay in Santa Fe. I began to contact theatre companies in town and noticed that Jim and Brenda were originally from NYC. As a former New Yorker interested in theatre, I immediately reached out to them. We met for coffee, and from there we just kept meeting and chatting. You know you had a good meeting with Jim and Brenda when you realize that unbeknownst to you, the entire day has passed, and what was an hour coffee becomes an all day affair!
So, why Molière, and what inspired you to write a new translation? Had you done any translations of this scale before?
I credit the entire project of the translation to Jim and Brenda. During that first meeting, I mentioned that I had just published a new translation of a little known French playwright of the 20th century: Arthur Adamov and his play The Invasion - I am actually currently translating his poems and a treatise of his concerning performance theory... If you do not know about Adamov, go dig into him. He was a refugee from the Armenian genocide, and he sat at the fore with Andre Breton during the early surrealist meetings; he wrote plays that inspired Ionesco and Beckett and later brought a revolutionary political theatre to France before the 1968 riots. He was a beatnik before the beat movement, a French hippy before hippies, and a wonderful artist... but back to Molière -
Jim and Brenda mentioned that the 2018-19 Oasis Theatre season had a Molière play, The Miser. Knowing that Richard Wilbur, the famed Molière translator had not touched this work, I asked who the translator was. They both looked at me and said, "I think we are looking at him." From there I raced off to find every book on Molière and every translation I could lay my hand on of The Miser.
I had never tackled such a force as Molière before. Yes, I have translated plays, but nothing ever beyond the 20th century. It was a lot of work, but I felt that my experience as a translator of the Theatre of the Absurd, particularly of Adamov's work, served me well. Molière offers a comedy that runs straight through to the 21st century. Of course our comedic vocabulary has expanded, but the play has jokes that you can see in The Three Stooges, in Bugs Bunny, in Jerry Seinfeld, and even shows like It's Always Sunny in Philadelphia!
How long did the translation take?
Early on, Jim, Brenda, and I decided that we would work from the original published script of The Miser. They asked that I do this in October, I had the first draft for them by December, and we did a table read just before the New Year. After the table read, I went back and with Brenda's notes, made edits, and delivered a final script to them in late January. [It was] kind of wild and the fastest I ever worked. But I used that. Continually I had in my mind Molière, needing to churn material out to sell tickets, make the rent, pay his actors, and perform it all as well! The benefit I had over Molière was that I knew when the play started and ended, and could count the pages. As a translator, you make choices continually, but never on a blank canvas: the first brush stroke, while in another language, at least has been made for you. I think in total, the first major push for the translation took about 90 hours.
That's a really fast turnaround! What was it like to see (and be a part of) the world premiere of your new translation?
I am not the best actor, and when Jim and Brenda asked that I play a part in the production, I went home and crawled into a corner. But, I knew that this would afford an amazing learning opportunity. In short: it's been a blast. An invaluable process, I am forced to hear the words, repeatedly every night, needing to memorize many of them myself. Typically as a dramaturg or translator you attend a few rehearsals-maybe half at most-but as an actor you need to be ready nearly every night. And as a translator for the stage, the real evidence of the art comes in how it sounds and moves, not how it reads. At the very beginning of the process, I insisted that we treat the work as a new play. I wanted and welcomed all feedback from the cast and crew. A phrase can look great on paper, but when spoken, sound like a mangled mess. And to act on top of it all!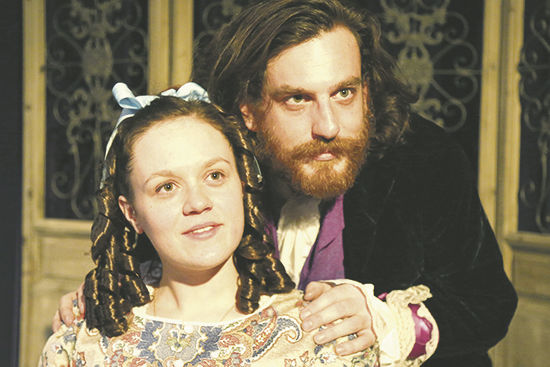 I am forever indebted to Jim and Brenda in commissioning the translation, the ease of working with them, and the bravery of taking a chance on a new piece. And I will never, ever forget the hard work that this cast has poured into the play. We had a shortened rehearsal schedule, going from table read to opening night in less than three weeks, and I am amazed by their talents, astounded by their insights, and honored by the hard work and dedication from this team. A big thank you to them all!
In addition to working on The Miser, you're working on another performing arts event called Pilot, correct? What's that about?
Pilot is a live arts happening dedicated to promoting and showcasing experimental and unseen art in the Santa Fe and surrounding Southwest communities, with a special emphasis on investigational and untried or tested work. Through the direction of a two-week long, city-wide series of live performances and events in late September, Pilot provides free space for amateur and outsider artists, as well as unseen projects by emerging and established artists, with 100% of ticket sales remitted to the artists.
When my partner and I first moved here, we had no clue as to what type of performing arts lived in the mountains of Northern New Mexico. As many people will tell you, Santa Fe has an identity of being both an established arts town, and a retirement community. But everywhere we turned we found weird art, punk rock shows, digital performance pieces...stuff you ordinarily would not consider established art, and things that your typical retiree may not seek out. So, we figured, lets throw an event, call it a Live Arts Happening, and see who shows up! We wanted to give a platform for emerging and over looked artists to try new things, whether it fails or succeeds. Santa Fe has a plethora of galleries and museums, and an abundance of theatres, but few spaces for emerging artists to showcase something a little outside of the norm, something not easily categorized.
We have connected with numerous organizations here in the community, and are always looking to expand. The artist call is underway, and we are excited and nervous to see what comes of this. But ultimately, we want to support the daring work of those trying, taking a chance, and seeing how they can express themselves.
How was the happening conceived?
Truth be told, as my partner often says, Pilot is really an elaborate scheme for us to make friends in a new city. I have a history with Fringe Festivals, and always enjoyed the ethos surrounding that type of work. I really like the community centered aspect of those festivals, and the comradery baked into the process. Basically we decided to try and make something that we would want to attend showcasing the really cool art that happens in our communities. Early in the process, we wanted to create something that could offer a wide range for audiences and artists. From there, we started to reach out to local producers and artist, asking them what they wanted. From there, we just kept going: listening and building something that might be pretty neat in Santa Fe.
What do you anticipate happening with Pilot in an arts community like Santa Fe?
Everything and anything! In truth, I am not sure how Santa Fe will react. As newer members of the community, we are very aware that Santa Fe has a deep, long history colored by all sorts of stories. We want to be respectful of that. But, shaking things up is the goal. The communities of Northern New Mexico have deep traditions, long stories, and often too fee spaces to share their cultural heritage, or to expand and test the limits of that culture. Outside of the arts intelligentsia that can too often dominate an art market like Santa Fe, Pilot wants to dig deeper into the life and work of our communities. We want the full community involved, from downtown to southside, from the second home owner to the life homesteader. This is a small town, but so much of the art is focused on an even smaller portion of the city. We want all of the town to come and support its local, inspirational, and fantastic live art. Do you play an instrument, make robotic shadow puppets, have a lecture on space invasion, or an avant garde dance card game mashup that brings people together? We want to see it.
I have no expectations outside of the simple fact that if you make space for creative energies, and if you allow people to access their own and other's creativity, then something collective and informative will emerge. That is what Pilot aims for.
How will this be different than similar events in other parts of the country?
This is the City Different: anything happening here will be different, whether due to the altitude or the Wild West mentality of this town. But seriously, I am not sure. Throughout the country you can find plenty of music festivals, theatre festivals, Fringe Festivals, and all types of live arts events: how amazing is that! The texture of Santa Fe offers an opportunity to bring all those types of events under one tent. We do not want to limit anything, or erect barriers around the definition of live art. Shakespearean tragedies and techno cabarets; traditional native dances to interactive video experiences: all of it lives in this landscape and we welcome it all.
We do have a few ground rules, such as you need to be doing something brand new or really seen: nothing tested; you need to collaborate and work with others; and you need to prepare to fail, but learn from it. Other than that, I have no clue how this will shake out, and that is the beauty. We want Pilot to give expression to Santa Fe and its surrounding communities. Challenging audiences and artists to seek new forms or to investigate older forms of live art. Pilot is about exploration and lighting a fuse. It is the start of something, and I have no clue how or where it will end up: as they say, it's the journey.
---
The Miser opened March 21st and will run Thursday-Sundays through April 7th.
Tickets may be purchased online at https://www.theoasistheatre.com/ or by phone 917-439-7708.