BWW Review: AN ANDREWS SISTERS TRIBUTE – ADELAIDE FRINGE 2019 at Norwood Concert Hall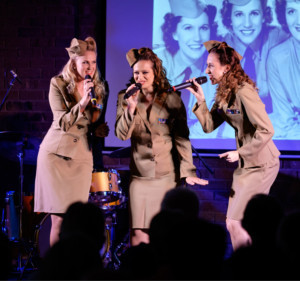 Reviewed by Fiona Talbot-Leigh, Sunday 24th February 2019.
Three Little Sisters Entertainment presented An Andrews Sisters Tribute in this year's Adelaide Fringe. The Norwood Concert Hall was packed to capacity and all there were not disappointed as they took a trip back in time, being entertained through music and song of a bygone era.

Three Little Sisters are Tania Savelli, Shelley Pantic, and Melanie Smith, whose voices blend together like Rum and Coca Cola. These three ladies really know how to sing and they recreate that famous three-part harmony sound (dare I say it) even better than their original counterparts.

The Andrews Sisters, LaVerne, Maxene, and Patty, live on through these three talented performers who are backed by the band of the 10th/27th Battalion Royal South Australian Regiment under the musical direction of Victor Oria. This 15 piece band complemented the girls beautifully.

Through music, recorded interviews from the original ageing Andrews Sisters, and photographic projections, this ninety-minute show was a true blast from the past. Not only did these talented singers pay tribute to The Andrews Sisters but they also introduced them to a whole new generation, as Savelli, Pantic and Smith proved that the music from this era can still entertain today.

This is a very tight and well thought out show with the programme built on with tempo, costume changes, and variety as Peter Noble, who began narrating the show, surprised all there in the second half by breaking into song as he channelled his inner Bing Crosby, in Swinging on a Star. Another beautiful interlude was when the band leader, Sergeant David Portakiewicz, stood centre stage with his clarinet as he took the solo in Moonlight Serenade.

The Three Little Sisters really know how to work a crowd and to entertain. They gave it their all and their enthusiasm never waned as they brilliantly recreated some of The Andrews Sisters classics such as In the Mood, Chattanooga Choo Choo, Sing, Sing, Sing, Don't Sit Under The Apple Tree and, a crowd favourite, Boogie Woogie Bugle Boy.

The three-part harmony that these women sang was completely faultless as was the very stylised yet simple choreography, and costumes. Each one of the girl's faces was so expressive. They absolutely love what they do and it shows. Their perfect diction and great sound mix, provided by Amplify This 200 Productions, just added to an already high-quality show.

One couldn't help but be swept up in it all as, in the final two high tempo numbers, people were invited to dance, which they did, and the standing ovation at the end of the show paid testament to what had just transpired, a glimpse into yesteryear and the fact that this genre of music will continue to delight, hopefully for generations to come.