Victorian Ghosts Will Walk In RUDDIGORE At Wilton's Music Hall Next Month
Performances run 14th - 25th March 2023.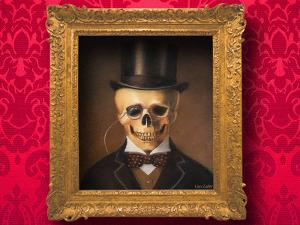 Surreal comedy meets genuinely spooky Victorian chiller in an unmissable production of Gilbert & Sullivan's RUDDIGORE or, The Witch's Curse, at Wilton's Music Hall from 14th to 25th March 2023 - in just a few weeks' time.
Directed by Peter Benedict (Mapp & Lucia - The Musical and Terry Pratchett's Guards! Guards!), expect all the familiar G&S elements: terrific music, cheeky social satire, comic pathos and a sensational cast singing faster than you'd think humanly possible - but with a seasoning of sinister spectres.
Wilton's Music Hall with its faded Victorian grandeur lends itself to a tale of ancestral ghosts who haunt the family picture gallery, and this innovative production will provide spine-tingling moments amidst the laughs.
Take a step back in time and experience Benedict's hilariously haunting take on Gilbert and Sullivan's tenth collaboration featuring some visual and musical surprises.
A family curse means a baronet must commit a crime every day or perish. In trying to escape his fate, he encounters dancing sailors, a bunch of frustrated bridesmaids and a chorus of ghosts. What could possibly go wrong?
Don't miss this truly magical experience performed in London's oldest Victorian music hall from 14th March 2023.
Age: suitable for 12+
Full casting and creative team to be announced.
Wilton's Music Hall
Graces Alley (off Ensign Street - pedestrian only), London E1 8JB.
Closest tube stations: Tower Hill (Zone 1), Aldgate East (Zone 1), Shadwell (Zone 2). Closest rail station is Fenchurch Street.