Theatr Clwyd Announce Applications Are Open For Third Year Of Writer In Residence Scheme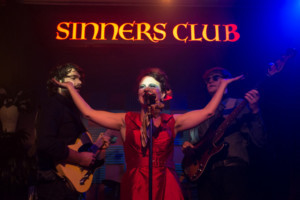 As part of its ongoing commitment to becoming a home for writers in Wales, Theatr Clwyd is for the third year offering playwrights the time and space to write within a community of fellow artists without the pressure of 'showing' or producing work. Residencies connected to the theatre's in-house productions give writers the chance to get to know other artists working at Theatr Clwyd, spending time observing rehearsals and developing ideas in a supportive environment.
Writer in Residence graduates have gone on to enjoy great success, most recently Ben Norris has become the 2017 BBC Poetry Slam Champion; Lucy Rivers' Sinners Club was co-produced by Theatr Clwyd, Gagglebabble and The Other Room in Cardiff and in December transferred to the Soho Theatre in London. A further three past Writers in Residence are currently on commission.
The residency includes a bursary to cover travel, subsistence and expenses with accommodation at the nearby Gladstone's library, use of Theatr Clwyd's Writers' Room, optional feedback on any work produced and the opportunity to work with actors performing at Theatr Clwyd on any work in progress.
Tamara Harvey said today "In conversation with many writers over the years, it's become clear that it's vital yet rare to have the time and space to write freely, without risking the sense of isolation that can come with such time and space. The joy of our Writers in Residence scheme is being able to offer playwrights a creative space to explore their ideas against the backdrop of the beautiful Clwydian hills, combined with all the welcoming bustle of a major producing house. And for our team here at Clwyd, the scheme brings with it the chance of having those casual conversations whilst waiting for the kettle to boil from which great ideas can spring."
Previous Writer in Residence, Lucy Rivers commented, "I was lucky enough to spend a week at Theatr Clwyd early this year as their Writer in Residence. It gave me a great opportunity to start working on a new gig-theatre idea and since then I've continued to develop this show with the help of Arts Council of Wales funding and The Other Room. Staying at the beautiful Gladstone's Library and having a room to write in, away from everything but surrounded by other artists working in the theatre, was a valuable experience."
"Being Writer In Residence at Theatr Clwyd was an incredibly restorative experience for me, both as an artist and as a human being. Having the time and space to write and to think, away from the pressures and distractions of everyday freelance life, is such a rare and special gift, and evidence of Clwyd's genuine commitment to the development of new writers. Working without the obligation to produce something ironically meant that I had one of the most productive fortnights of my professional life so far, facilitated no end by the quiet focus of both the Writers' Room at the theatre and the beautiful Gladstone's library. Having access to the rehearsal room was also very inspiring, especially on the days when I felt my focus slide a little; I would pop in for an hour, or half a day, and leave feeling re-energised by Tamara and the 'Skylight' cast, and attack my writing with renewed vigour. Opportunities like this are increasingly rare, and increasingly vital. I am very grateful for the time I spent in Mold, and hope many more writers have the chance to do the same." - Ben Norris
In 2018, Theatr Clwyd will be offering three residencies connected to its in-house productions. They are now opening applications for the first two of these residencies. Applications are open until 16 February. If you are interested, please send an email to nick.stevenson@theatrclwyd.com by 5pm on Friday 16 February 2018.
The email should include a CV of both your work as a writer and other employment, training and education, a brief description of where you currently are as a writer, a brief description of what you'd like to use the residency to work on, two pages of a script that you've written, confirmation of your availability for both residencies and which production you would prefer to be attached to, and why.