Surgent Theatre Announces Production Of Steven Dietz's LONELY PLANET To Open At Trafalgar Studios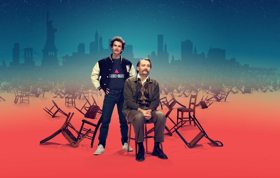 Surgent Theatre today announces their production of Steven Dietz's Lonely Planet to open at Trafalgar Studio 2 in the run up to London's iconic Pride parade. The play originally premièred in the US at the Northlight Theatre, Illinois in 1993 and this production made its UK première at the Tabard Theatre last year. Ian Brown returns to direct Alexander McMorran (Jody) and Aaron Vodovoz (Carl) for this strictly limited run; opening on 14 June, with previews from 12 June and running until 7 July.
It's the 1980s. There is no internet and mobile phones are a rarity. A photo appears at a local store of a person's torso with lesions all over. This is how people became aware of an unknown virus which ended up decimating the gay community. The moment you realise you've contracted this disease, it's just too late. How would you react if you thought you might have a life-threatening disease? Would you want to know?
Sponsored by Pasante and INSTI self-test kits, Lonely Planet is a wonderfully moving, funny and intimate play that focuses on the friendship between the distancing Jody, and the ever-imaginative Carl. The play shows an individual's struggle to come to terms with illness, their own mortality and the stigma associated with AIDS.
In addition, there will be 7 post-show talks and Q&As that will concentrate on the subjects raised in the play and how they affect society today. These include the below with more to be announced.
Steven Dietz's 30 plus plays and adaptations have been seen at over 100 regional theatres in the United States, as well as Off-Broadway. International productions have been seen in over 20 countries and his work has been translated into 10 languages. Dietz is a two-time winner of the Kennedy Center Fund for New American Plays Award for Fiction and Still Life with Iris, as well as a two-time finalist for the Steinberg New Play Award for Last of the Boys and Becky's New Car. He received the PEN USA West Award in Drama for Lonely Planet and the 2007 Edgar Award© for Drama for Sherlock Holmes: The Final Adventure. In 2010, Dietz was once again named one of the most produced playwrights in America (excluding Shakespeare), placing eighth on the list of the Top Ten Most Produced Playwrights in America, tied with Tennessee Williams and Edward Albee for number of productions.
Alexander McMorran plays Jody. His theatre credits include The Commitments (UK and Ireland tour), Assassins (Pleasance Theatre), Miracle on 34th Street (Madinat Theatre, Dubai), Pacific Overtures (Union Theatre), The Taming of the Shrew (New Wimbledon Studio), Romeo and Juliet (Bridewell Theatre), Julius Caesar (Chelsea Theatre/Saatchi Gallery), Sweeney Todd (Jericho Theatre, Vancouver), and Amadeus (Bernie Legge Theatre, Vancouver).
Aaron Vodovoz plays Carl. His theatre credits include Silent Planet (Finborough Theatre) and Bad Jews (Arts Theatre). His television credits include McMafia, Mr Selfridge and The Honourable Woman; and for film This Land Alone.
Ian Brown directs. Brown was Director of The Cockpit Youth Theatre before becoming Associate Director at Theatre Royal Stratford East. He then became Artistic Director of Tag Theatre Company in Glasgow where he directed plays for every age group and scale of venue. Brown then became Director of The Traverse Theatre where he oversaw the building of a new Theatre for the company. After eight years in this role he returned to freelancing before becoming the Artistic Director of The West Yorkshire Playhouse in Leeds. His directing credits include, King Lear, As You Like It, (West Yorkshire Playhouse), Moscow Stations (The Garrick Theatre) and Pretending To Be Me (West Yorkshire Playhouse and UK tour) and the original stage production of Trainspotting (Citizens theatre Traverse and Bush Theatre).
Featured BroadwayWorld Events
Check out these concerts...




More Hot Stories For You