Steffan Harri, Laura Main to Go 'Green' in SHREK THE MUSICAL on Tour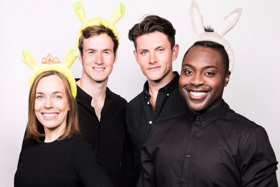 Believe all 'ogre' again! SHREK THE MUSICAL today announces casting for the major nationwide tour.
Following the unprecedented success of the first UK and Ireland tour, the original production team reunites to bring the hit musical to a swamp near you. Opening at Edinburgh Playhouse for the festive season this year from 12 December, the production will then tour throughout the country in 2018.
Leading the cast as beloved swamp-dwelling ogre 'Shrek' will be Steffan Harri, having previously starred in the original UK tour of SHREK THE MUSICAL, and Call the Midwife star Laura Main as 'Princess Fiona'. Due to filming commitments Laura will be performing at selected venues throughout the tour, with full list of dates below*. Also joining the cast will be Marcus Ayton as Shrek's wisecracking sidekick 'Donkey' and Samuel Holmes as pint-sized villain 'Lord Farquaad'. Further casting to be announced.
The company of fairy-tale characters will include Adam Baker, Ethan Bradshaw, Michael Carolan, Joseph Dockree, William Hawksworth, Sarah-Louise Jones, Reece Kerridge, Thomas Lee Kidd, Amy Oxley, Jemma Revell, Lucinda Shaw, Sam Stones, Adam Taylor, Jennifer Tierney, Sophie Wallis, Francesca Williams, Laura Wilson and Kevin Yates.
Laura Main (Princess Fiona) says: 'I've been waiting a long time for an adventure like this to come along and now that it has I am ready to swap the surgery for the swamp in one of my favourite musicals. Shrek has made a Believer out of me and I can't wait for this fairytale to take me across the country.'
Caro Newling (Co-Producer, Neal Street Productions) says: 'At Neal Street we take pride in bringing together colleagues from different disciplines in new creative collaborations. For this Shrek tour, we are particularly excited to be bringing together Nigel Harman, with whom we have worked on many successful Neal Street projects, and Laura Main who joined Call The Midwife for the very first series back in 2012. Since Shrek the Musical's West End debut in 2011 we have opened our doors to nearly 2 million audience members nationwide. It's great to be out on the road again, ten years after Neal Street co-produced the first incarnation of the show with Dreamworks Animation in Seattle and then on Broadway.'
Nick Salmon (Co-Producer, Playful Productions) says: 'I am thrilled that the show will be reuniting many of the talented team members who have been involved in the production since day one. Nigel has gone from being Lord Farquaad, in the West End to directing our touring production and Steffan, who was previously one of our hilarious Three Pigs, will be stepping into Shrek's ogre-sized shoes. We can't wait to bring this much loved story to audiences across the country once more.'
Opening at Edinburgh Playhouse for the Christmas 2017/18 season from 12 December to 7 January, the production will then tour to Manchester, Sunderland, Birmingham, Aberdeen, Northampton, Sheffield, Cardiff, Stoke, Blackpool, Woking, Liverpool, Canterbury, Milton Keynes, Bristol, Llandudno and Leeds, plus newly added venues in Norwich, Nottingham, Belfast, Dublin, Plymouth and Southampton.
As previously announced, Nigel Harman will return as director, having made his directorial debut on the first ever tour. Since then Nigel has gone on to direct Lunch & The Bow of Ulysses (Trafalgar Studios) and will direct Kelsey Grammer in Big Fish The Musical (The Other Palace) this autumn. Best known for his stage and television work, Nigel originated the role of Lord Farquaad in the West End, winning the Olivier Award for Best Performance in a Supporting Role in a Musical.
Steffan Harri starred in the first ever UK tour of Shrek the Musical, covering the role of Lord Farquaad. West End theatre credits include Les Mise?rables (Queen's Theatre), Spamalot (Playhouse Theatre) and Children of Eden (Prince of Wales Theatre). Steffan also played Lyn in Welsh language soap opera Rownd a Rownd.
Laura Main is best known for her role as Shelagh Turner in the award-winning Call the Midwife (BBC/Neal Street Productions). Appearing initially as Sister Bernadette, she left behind her life as a nun to marry Dr Turner. Laura has appeared in all six series to date and will return for this year's Christmas special and series 7 in 2018. She has also had regular roles as Rebecca Howlett in The Mill (Channel 4) and DC Alison Bain in Murder City (ITV). Stage credits include Company (Southwark Playhouse), Me and Juliet (Finborough Theatre) and State Fair (Trafalgar Studios / Finborough Theatre).
Marcus Ayton's recent credits include Sammy Davis Jr in The Rat Pack Live, Ray Charles in A Tribute to the Brothers Live and Joseph and the Amazing Technicolor Dreamcoat (UK Tour).
Samuel Holmes is currently appearing as George in the UK Tour of The Wedding Singer. Other stage credits include Mrs Henderson Presents (Theatre Royal Bath; Noel Coward Theatre), Water Babies (Curve Theatre), Spamalot (Playhouse Theatre), Kiss Me Kate (Chichester Festival Theatre) and Crazy for You (Regent's Park Open Air Theatre; Novello Theatre).
SHREK THE MUSICAL is based on the story and characters from William Steig's book Shrek! and the Oscar-winning Dreamworks Animations feature film. Originally directed in the West End by Jason Moore and Rob Ashford, the production has book and lyrics by David Lindsay-Abaire, music by Jeanine Tesori with multi award-winning set and costume design by Tim Hatley.
The UK and Ireland tour of the original DreamWorks Production will be presented by the original West End production team Neal Street Productions and Playful Productions with Ron Kastner, Saracen Films, Tulchin/Bartner Productions, Gavin Kalin, Glass Half Full Productions/Just For Laughs Theatricals, Lee Menzies and Mark Cartwright.
*Laura Main is scheduled to play at the following venues; Edinburgh, Manchester, Sunderland, Birmingham, Aberdeen, Northampton, Sheffield, Cardiff, Woking, Liverpool, Milton Keynes, Plymouth, Southampton and Leeds. The producers cannot guarantee the appearance of any particular artists subject to holiday, illness or events beyond the producers' control.
---
TOUR DATES:
Tuesday 12 December 2017 - Sunday 7 January 2018
EDINBURGH PLAYHOUSE
www.atgtickets.com/edinburgh
0844 871 3014
Tuesday 16 January - Sunday 28 January 2018
PALACE THEATRE, MANCHESTER
www.atgtickets.com/manchester
0844 871 3019
Wednesday 31 January - Sunday 11 February 2018
SUNDERLAND EMPIRE THEATRE
www.atgtickets.com/sunderland
0844 871 3022
Wednesday 14 February - Sunday 25 February 2018
NEW ALEXANDRA THEATRE, BIRMINGHAM
www.atgtickets.com/birmingham
0844 871 3011
Wednesday 28 February - Sunday 11 March 2018
HIS MAJESTY'S THEATRE, ABERDEEN
www.boxofficeaberdeen.com
01224 641 122
Wednesday 14 March - Sunday 25 March, 2018
ROYAL & DERNGATE, NORTHAMPTON
www.royalandderngate.co.uk
01604 624 811
Wednesday 28 March - Sunday 8 April 2018
SHEFFIELD LYCEUM THEATRE
www.sheffieldtheatres.co.uk
0114 249 6000
Tuesday 10 April - Sunday 22 April 2018
WALES MILLENNIUM CENTRE, CARDIFF
www.wmc.org.uk
029 2063 6464
Wednesday 2 May - Sunday 13 May 2018
REGENT THEATRE, STOKE
www.atgtickets.com/stoke
0844 871 7649
Tuesday 15 May - Sunday 27 May 2018
BLACKPOOL WINTER GARDENS THEATRE
www.wintergardensblackpool.co.uk
0844 856 1111
Wednesday 30 May - Sunday 10 June 2018
NEW VICTORIA THEATRE, WOKING
www.atgtickets.com/woking
0844 871 7645
Tuesday 12 June - Sunday 24 June 2018
LIVERPOOL EMPIRE
www.atgtickets.com/liverpool
0844 871 3017
Tuesday 26 June - Sunday 8 July 2018
NORWICH THEATRE ROYAL
www.theatreroyalnorwich.co.uk
01603 630000
Wednesday 11 July - Sunday 22 July 2018
MARLOWE THEATRE, CANTERBURY
www.marlowetheatre.com
01227 787787
Wednesday 25 July - Sunday 5 August 2018
MILTON KEYNES THEATRE
www.atgtickets.com/miltonkeynes
0844 871 7652
Wednesday 8 August - Sunday 19 August 2018
THE BRISTOL HIPPODROME
www.atgtickets.com/bristol
0844 871 3012
Tuesday 21 August - Sunday 2 September 2018
VENUE CYMRU, LLANDUDNO
www.venuecymru.co.uk
*On Sale 25 September
01492 872000
Tuesday 11 September - Sunday 23 September 2018
THEATRE ROYAL NOTTINGHAM
Tuesday 9 October - Sunday 21 October 2018
BELFAST GRAND OPERA HOUSE
www.trch.co.uk
0115 989 5555
www.goh.co.uk
02890 241 919
Tuesday 23 October to Sunday 4 November 2018 *On Sale 27 October DUBLIN BORD GAIS ENERGY THEATRE
Tuesday 13 November - Saturday 24 November 2018
Tuesday 27 November - Saturday 8 December 2018
MAYFLOWER THEATRE, SOUTHAMPTON
www.mayflower.org.uk
02380 711811
Tuesday 18 December 2018 - Sunday 6 January 2019
LEEDS GRAND THEATRE
www.leedsgrandtheatre.com
0844 848 2700
FURTHER TOUR DATES TO BE ANNOUNCED
www.bordgaisenergytheatre.ie
ROI : 0818 719 377 / UK & NI : 0844 847 2455
www.theatreroyal.com
01752 267222
For more about the show, visit www.shrekthemusical.co.uk.