Regional Theatre and Vicky Vox Take Centre Stage at the WhatsOnStage Awards
We've had the film, TV and music awards, so now it's theatre's turn to hand out some prizes. Once again, the Prince of Wales Theatre threw open its doors to some of the most popular productions from the past 12 months, as the WhatsOnStage Awards took place on Sunday evening - the only awards ceremony that hands over all of its voting duties to the public.
That openness is extended to the audience on the night, as it doesn't just consist of nominees and invited guests; anyone can pay for a seat and join in the fun. And with the unexpected pairing of Vicky Vox and Kobna Holdbrook-Smith as hosts, this was a night that nobody would forget in a hurry!
Following a beautiful extended medley of Sondheim hits, performed by a wealth of talented singers and dancers (and backed by the WhatsOnStage Awards Orchestra), the pair took to the stage with Vox declaring, "Thank you for coming to my party!".
From that moment on, it was clear that the evening wasn't going to be your average awards ceremony - it made such a refreshing change from the over-rehearsed bad jokes that you tend to get at this kind of event, as Vicky Vox instantly made her mark and Holdbrook-Smith proved to be a more than worthy sparring partner.
He may have admitted to feeling a bit out of his depth at first, but the kick he was getting out of being up on that stage was clear, and his appreciation of his co-host brought the same joy to the audience. The pair both indulged themselves in a costume change at the interval, seemingly battling for a Best Footwear Award with glam heels and red-soled creations going toe to toe.
Whilst in the past it has been rather simple to predict each winner by considering their fanbase alone (it's inevitable that an element of the popularity contest comes into play, as you don't need to prove you've seen a single show to be able to vote), I do feel like this year threw up a few surprises, as well as showing the power of the emerging cult status of some shows.
Little Shop of Horrors ended a "magical summer" at the Regent's Park Open Air Theatre, and celebrated by scooping up three awards; designer Tom Scutt made sure to thank the show's sound team as he accepted Best Set Design, as he believes that a show "only ever looks as good as it sounds" - as there is no Best Sound Design category, it was nice to hear this public appreciation for the important work from the rest of the team.
Vicky Vox may not have won Best Supporting Actress in a Musical, but she was more than happy to lose out to the inimitable Patti LuPone, who gave Vox a bow as she arrived to collect her award - and Vanessa Redgrave, too, seemed excited to meet the co-host as she accepted her prize for The Inheritance.
Hamilton followed up on its dominance at last year's Olivier Awards by taking home a sizeable chunk of the creative prizes, as well as Best Actor and Best Supporting Actor in a Musical.
The spirit of the HamFam is clearly alive and well, as Jason Pennycooke said he wanted to share his award with fellow nominee Cleve September and gave co-star Tarinn Callender a special mention - and leading man Jamael Westman shared the love with former opposite number Giles Terera, as well as eloquently expressing his gratitude to everyone who's ever left him free to express himself in a safe space.
The varied selection of musical performances ensured there was something for everyone - from the electrifying "Totally F*cked" by the Spring Awakening cast, to the inspiring Come From Away number "Me and the Sky" (performed by Rachel Tucker).
It was The Lion King, though, that united the entire audience in delight - including the Hamilton cast, who couldn't resist singing and dancing along - with their performance of "One by One", which saw puppeteers appear all over the auditorium with dazzling birds in various colours.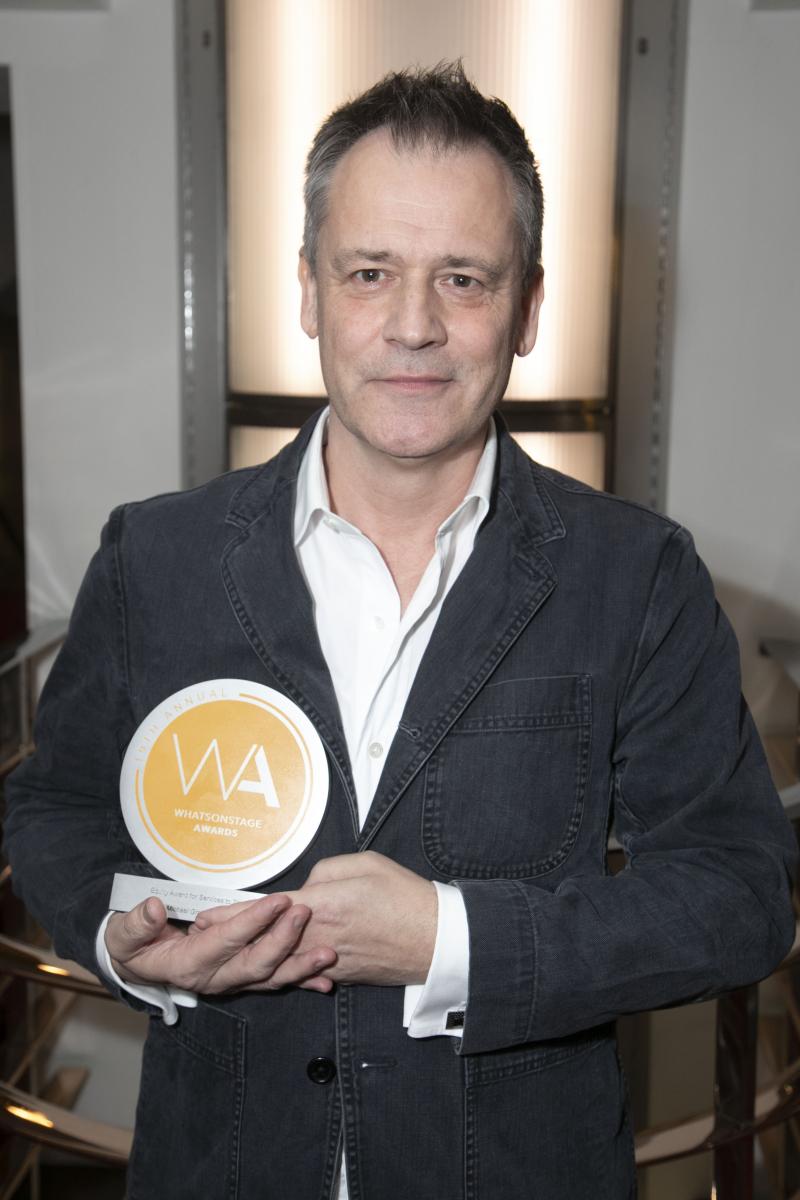 Michael Grandage was this year's recipient of the Equity Award for Services to Theatre, and following a short video featuring some of his previous collaborators which highlighted his commitment to introducing new audiences via £10 tickets all over the theatre, he made an impassioned speech about the virtue of public funding in the arts. He urged artists to act before more subsidies are decreased: "Let's try and stop those cuts!".
One of the big themes running through the night was the importance of regional theatre, with several winners describing it as the "lifeblood" of theatre in this country.
As well as the Hope Mill Theatre's Spring Awakening taking the Best Regional Production award, Nottingham Playhouse fared well - The Madness of George III took away Best Play Revival and Adrian Scarborough won the award for Best Supporting Actor in a Play for his performance in it (jokingly thanking voters who he suggested must have got his named mixed up with Aidan Turner's).
It could be easy to think that London is the focal point for theatre in the UK, but that simply isn't the case. The popularity of these two productions, and the fact that many others have transferred in recent years (including Best Original Cast Recording winner, Everybody's Talking About Jamie), proves that there is creativity and passion for theatre all across the country - and if this is properly nurtured and supported, then it will continue to yield results of the highest quality.
Picture credit: Dan Wooller