Photo Flash: WHAT THE LADYBIRD HEARD Author & Illustrator Taxi Around London to Celebrate West End Adaptation
To mark the launch of the third installment of What the Ladybird Heard, What the Ladybird Heard On Holiday, and the West End debut of the stage adaptation of the first book, author Julia Donaldson and illustrator Lydia Monks took to the streets in a ladybird taxicab, to celebrate the event. Check out photos below!
Julia Donaldson and Lydia Monks' bestselling picture book What the Ladybird Heard makes its West End debut this summer. This glittering tale of two crafty robbers, one tiny ladybird and a whole farmyard of fun will open at the Lyric Theatre, Shaftesbury Avenue on 5 July, running until 10 September, prior to a major UK tour in early 2018.
Hefty Hugh and Lanky Len have a cunning plan to steal The Farmer's fine prize cow. But they don't reckon on the tiniest, quietest creature of all: the Ladybird who has a plan of her own!
Join the woolly sheep, the hairy hog, the fat red hen and the dainty dog as they take on the villains in this musical stage adaptation of What the Ladybird Heard, Julia Donaldsonand Lydia Monks' colourful farmyard adventure, published by Macmillan Children's Books. With original songs and music, puppetry, plenty of audience participation and lots of laughs, this action-packed 55-minute production is the perfect treat for families with children aged three and up.
Julia Donaldson says of the show: "I love the songs, The Farmer's song at the beginning is wonderful and the lovely, lively acting set against Lydia's [Monks] farmyard is a joy".
The cast includes: Rosamund Hine (Farmer), Emma Carroll (Lily / Ladybird), Edward Way (Hefty Hugh) and Matt Jopling (Lanky Len)
Directed by Graham Hubbard, the show features set & costume designs by Bek Palmer, with design consultant Lydia Monks, lighting designs by Ric Mountjoy, and music and sound design by Jon Fiber and Andy Shaw for JollyGoodTunes.
For more information, visit www.whattheladybirdheardlive.co.uk.


Lydia Monks and Julia Donaldson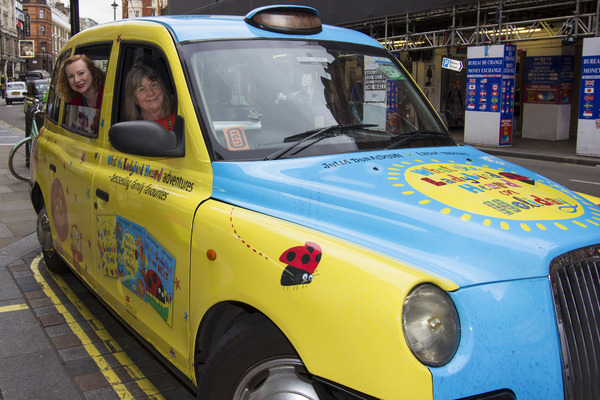 Lydia Monks and Julia Donaldson
Related Articles
More Hot Stories For You