Photos: Inside Rehearsal for HAIR's Immersive 50th Anniversary Production at The Vaults
The rock musical HAIR opens at London's fully immersive Off-West-End theatre, The Vaults, from Wednesday 4 October 2017 and is now to run to Saturday 13 January 2018. Opening night will be on Wednesday 11 October 2017, and the 50th Anniversary Gala will be held on Tuesday 17 October. BroadwayWorld has a sneak peek at the company in rehearsal below!
The genuinely youthful cast will bring the original protest musical to life, in the intimate theatre seating just 200, revealing every emotion up close and personal through HAIR's drug-fueled journey.
The cast for this thrilling, young and moving production of HAIR is: Daniel Bailey (Motown The Musical - Shaftesbury Theatre, The Lion King - Lyceum Theatre), Berger - Andy Coxon (Beautiful - The Carole King Musical, Les Miserables - West End, Mitch in Yank! - Charing Cross Theatre), ADAM DAWSON (Jet in West Side Story RSC Live - Stratford), ABIOLA EFUNSHILE (Urdang graduate 2017), Margaret Mead - Patrick George (Cats - UK tour), Hud - JAMMY KASONGO (Beautiful The Carole King Musical - Aldwych), Jeanie - Jessie Matthews (Fiona in Blondel - The New Union Theatre, Rock Of Ages - UK tour). Returning to the production from the acclaimed Manchester run are: Cassie - Natalie Green (Wicked - UK tour), Sheila - Laura Johnson (Rizzo in Grease - UK tour), Dionne - SHEKINAH McFARLANE (Parade - Hope Mill Theatre, The Lion King - UK & International tour), Claude - ROBERT METSON (Ryan in Bear - Southwark Playhouse), Woof - Liam Ross-Mills (Les Miserables - West End, Ben in Ushers: The Front of House Musical - Charing Cross Theatre), Mary - KORYANN STEVENS (West Side Story - Live Nation) and Chrissy - KIRSTEN WRIGHT (Our Seasons End - The AC Group).
HAIR changed the face of musical theatre and is still ground-breaking at the age of 50. HAIR opened off-Broadway in 1967, and to open this new production off-West-End in 2017 is the perfect move for Hope Mill Theatre's acclaimed production, directed by Jonathan O'Boyle - as relevant now as it was in the 60s.
1967 and HAIR's hippie-hood youngsters live as The Tribe, in the East Village of New York: yearning to change the world, questioning authority and the American flag. They are wild, colourful, free, sexually liberated beautiful people who join in protest and song - under the shadow of the Vietnam War. Featuring classic hit songs: Aquarius, Let the Sun Shine In and Good Morning Star Shine - and the story of youth and war still resounds throughout the world making this a topical musical for the millennial generation. 2017 vividly sees the world protesting and marching, fighting for freedom of speech; from Trump to Brexit via Syria - the core spirit of HAIR.
Like a mini Woodstock, from the moment the audience arrive, The Vaults is transformed into a fully immersive 60s venue, with psychedelic, innovative creatives and hippie flower power, 60s themed food and drinks - everything needed for a legal high. The audience then move through to the seated theatre space for HAIR - the musical that changed the face of the modern musical.
HAIR - Produced by Katy Lipson for Aria Entertainment, Ollie Rosenblatt for Senbla, Joseph Houston and William Whelton for Hope Mill Theatre and Associate Producers Guy James and Joe Brown. Directed by Jonathan O'Boyle (Ass. Director An American In Paris - Dominion, Ass. Director The Scottsboro Boys - Young Vic & West End, The Judas Kiss - Toronto & New York, This House - West End, Bull - Young Vic, Pippin - Hope Mill Theatre); Musical Director - Gareth Bretherton (The Verb, To Love - Old Red Lion, Seasons of Larson - Lyric Theatre); Choreographer - William Whelton (Our House - Union Theatre); Set & Costume Designer - Maeve Black (Adam & Eve...and Steve - Kings Head Theatre); Sound - Max Perryment (Start Swimming - Young Vic) & Chris Bogg (Yank! The Musical - Charing Cross Theatre); Lighting Designer - Ben M Rogers (Jesus Christ Superstar - Scandinavian Tour) and Casting Director - Ben Newsome.
For more about the show, visit www.hair50.com.
Photo Credit: Claire Bilyard


Andy Coxon and Robert Metson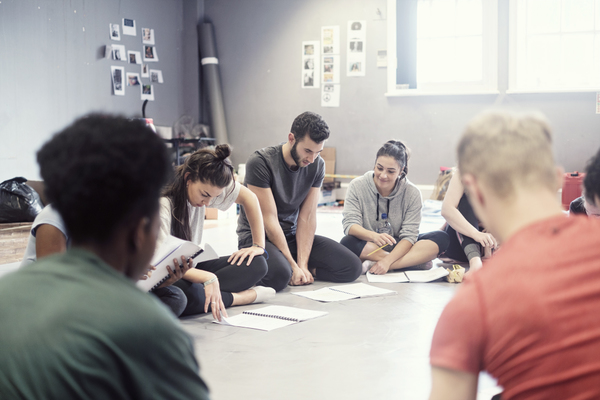 The cast of HAIR in rehearsal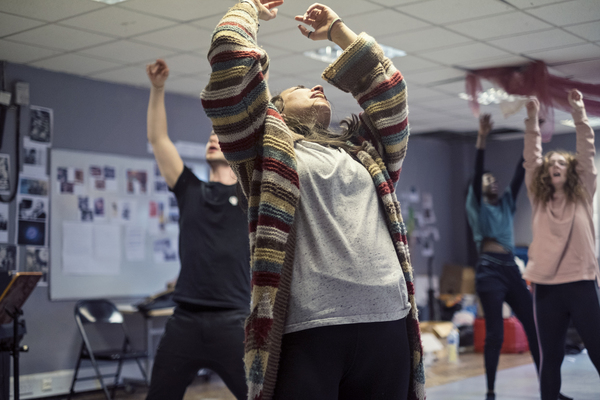 The cast of HAIR in rehearsal

The cast of HAIR in rehearsal

The cast of HAIR in rehearsal

The cast of HAIR in rehearsal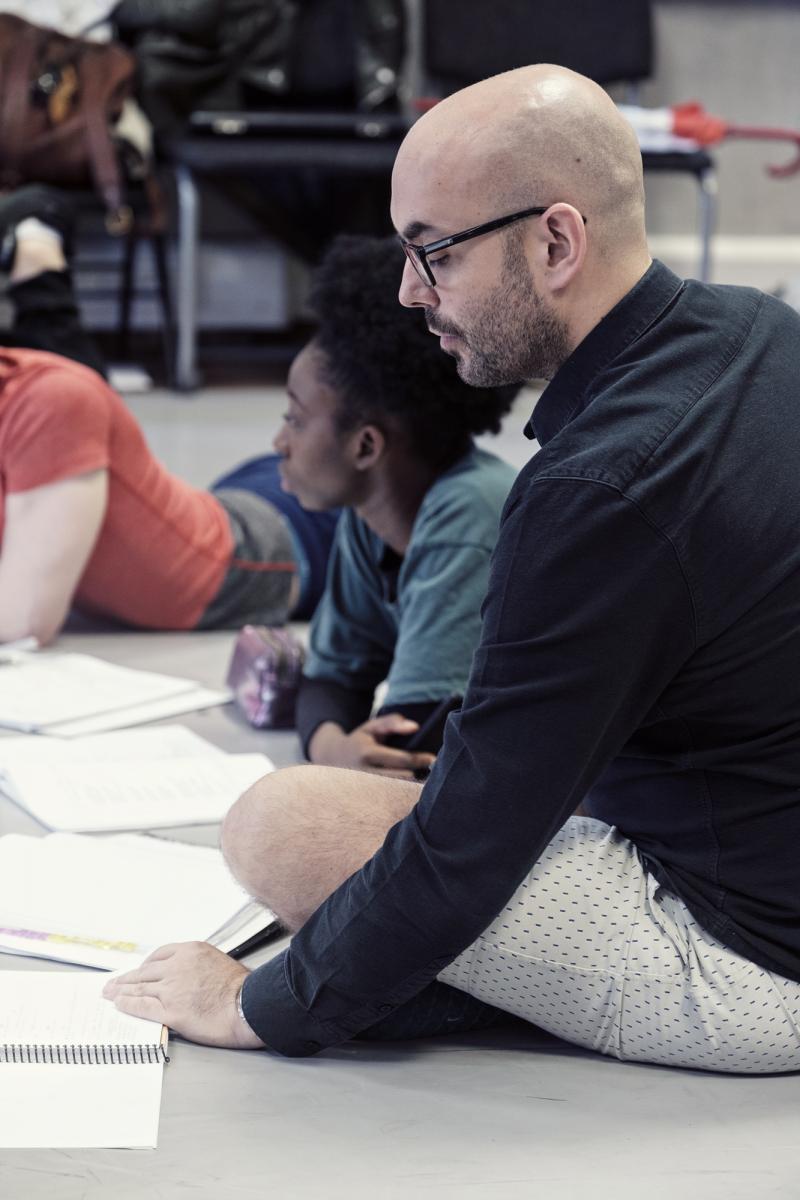 Director Jonathan O'Boyle

Laura Johnson, Andy Coxon and Natalie Green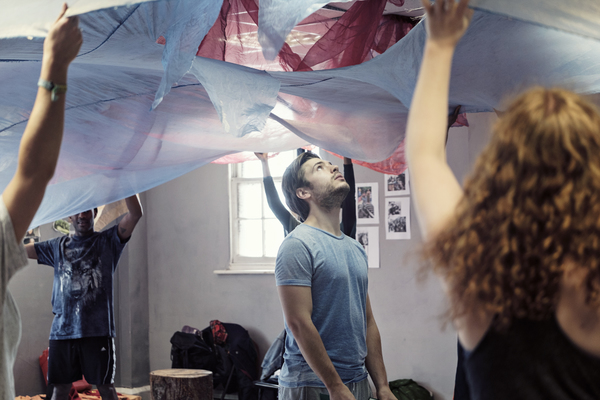 Robert Metson

Robert Metson and Laura Johnson