ONLY FOOLS AND HORSES Will Return as a Musical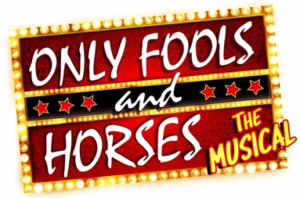 Stone me! Would you Adam and Eve it? Only Fools and Horses is going up West!
John Sullivan's iconic and record-breaking television series has been turned into a brand-new, home-grown West End musical spectacular. With a script and original score by John's son, Jim Sullivan and comedy giant Paul Whitehouse, prepare to get reacquainted with Britain's most loveable rogues and experience the classic comedy brought to life once again through 20 ingenious and hilarious songs.
Paul Whitehouse also takes centre stage as Grandad, uniting with Tom Bennett (Del Boy) and Ryan Hutton (Rodney) in this unique showstopper, featuring cherished material from the TV series. Join us as we take a trip back to 1989, where it's all kicking off in Peckham. While the yuppie invasion of London is in full swing, love is in the air as Del Boy sets out on the rocky road to find his soul mate, Rodney and Cassandra prepare to say 'I do', and even Trigger is gearing up for a date (with a person!). Meanwhile, Boycie and Marlene give parenthood one final shot and Grandad takes stock of his life and decides the time has finally arrived to get his piles sorted.
With musical contributions from Chas n Dave, the beloved theme tunes as you've never heard them before and an array of comic songs full of character and cockney charm, you're guaranteed to have a right knees-up! Only Fools and Horses The Musical is a feel-good family celebration of traditional working class London life and the aspirations we all share.
Directed by Caroline Jay Ranger, Only Fools and Horses The Musical will also feature many of the hugely loveable characters from the TV series: Raquel, Denzil, Mickey Pearce, Mike the Barman and the dreaded Driscoll Brothers.
Only Fools and Horses The Musical will be a truly cushty night out. Only a 42 carat PLONKER would miss it!
The smash hit TV show, Only Fools and Horses, won a multitude of awards during its 33-year run, including six BAFTA Awards, seven British Comedy Awards and three National Television Awards. Over seven series, 64 episodes and 16 specials, the show starring David Jason as Del Boy, Nicholas Lyndhurst as Rodney, Lennard Pearce as Grandad and Buster Merryfield as Uncle Albert became the most cherished sitcom this country has ever produced. It holds the record for the biggest audience ever recorded for a single transmission of a TV programme in the UK, attracting a whopping 24.35 million viewers in 1996.
Previews: From 9 February 2019
Box Office: 020 7930 8800
Performances: Monday - Saturday at 7:30pm. Wednesday and Saturday matinee at 2:30pm