Book Now For Mischief Theatre, Penn & Teller's MAGIC GOES WRONG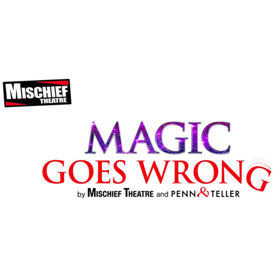 Mischief Theatre, the Olivier award-winning company behind The Play That Goes Wrong, today announces their next 'Goes Wrong' comedy Magic Goes Wrong, created with magic legends Penn & Teller. Tickets are now on sale - book here!
This will be the second production in Mischief Theatre's year-long residency at the Vaudeville Theatre, which opens with Groan Ups in September 2019.
Mischief Theatre will present three new productions at the Vaudeville theatre during their residency. Tickets for Magic Goes Wrong will go on public sale on Sunday 10 March or can be purchased now via nimaxtheatres.com and MischiefTheatre.co.uk. A further production will be announced in due course.
Henry Lewis, Artistic Director of Mischief Theatre, and Jonathan Sayer, Company Director of Mischief Theatre, said: 'We can't believe we're getting to work with the iconic Penn & Teller for Magic Goes Wrong. The next Goes Wrong show has been a long time coming so we can't wait for audiences to join the original Mischief company at the Vaudeville for what we're sure will be an evening full of surprises - mainly for us and the stage management!'
Teller said: 'When our own magic has gone wrong, we were miserable, but when it's somebody else, it's hilarious, so this seems like the perfect project for Mischief and us. We're huge fans of theirs, so collaborating with them was a privilege and an astonishment. Any idea we'd pitch them, right on the spot they'd turn it around and make us double over laughing. We're very proud of the results and hope you enjoy the show.'
J.J. Abrams said: 'I am a nearly life-long fan of Penn & Teller and working with the Mischief Theatre Company has been pure joy. I expect all that to change with this new production.'
MAGIC GOES WRONG
Written by Penn Jillette, Henry Lewis, Jonathan Sayer, Henry Shields & Teller Directed by Adam Meggido
From 14 December 2019
Created with magic legends Penn & Teller, Mischief Theatre conjure up an evening of grand illusion in Magic Goes Wrong. In the next 'Goes Wrong' comedy to hit the West End, the original Mischief company play a hapless gang of magicians presenting a charity event.
As the accidents spiral out of control, so does their fundraising target!
Mischief Theatre was founded in 2008 by a group of graduates of The London Academy of Music and Dramatic Art (LAMDA) and began as an improvised comedy group. Mischief Theatre performs across the UK and internationally with improvised and original scripted work. Their other production The Comedy About A Bank Robbery is currently at the Criterion Theatre and on a national UK tour whilst The Play That Goes Wrong has been on a national UK tour and has recently completed a two year run on Broadway. The company is led by Artistic Director Henry Lewis and Company Director Jonathan Sayer.
Full casting will be announced in due course.