Let's Dance International Frontiers 2019 Launches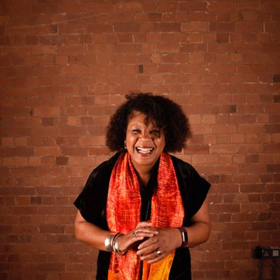 Serendipity, the arts producing organisation based in Leicester and led by its award-winning Artistic Director Pawlet Brookes, curates and presents the annual dance festival Let's Dance International Frontiers (LDIF) in Leicester - this year taking place between 29 April and 11 May.
LDIF19, which launches on International Dance Day, focuses on diversity in dance by showcasing new work from emerging local talent and internationally acclaimed performers and companies.
LDIF19's theme is Black Dance: A Contemporary Voice, which will be the focal point of discussion at the conference on 30 April.
"This year's theme is about recognising and celebrating how dance from the African and African Caribbean diaspora has shaped, influenced and informed contemporary dance practice and what this means to the international dance community," explains Pawlet Brookes.
"We are delighted to present Ronald K. Brown/Evidence in their LDIF and Leicester debut. Ronald K. Brown is a trailblazing African-American choreographer, behind many popular works for Alvin Ailey and his own company Evidence. Evidence will present a triple bill: Torch, a tribute to Ron's friend Beth Young, Come Ye, set to the music of Nina Simone and Fela Kuti, and the popular Four Corners (part of the Ailey repertoire)."
David Mead, editor of SeeingDance.com, adds: "LDIF is a really welcoming dance festival that has something for everyone: performances from emerging and established artists, including well-known names from overseas rarely seen in the UK, plus workshops, films and a conference.
"I love the contemporary vibe and that Pawlet Brookes is always on the lookout for new spaces to host events alongside established venues. LDIF truly captures the richness of dance across all forms and all cultures: diversity in the truest sense of the word."
LDIF19 programme highlights include:
29 April: Opening night performances at Leicester Cathedral with Ayikodans led by choreographer Jeanguy Saintus in Reflections
30 April LDIF19 Conference: Black Dance: A Contemporary Voice at Curve
Evening: networking event at the new Queen Victoria Arts Centre
1 May Film: Bill T Jones A Good Man and Never Stand Still Phoenix Cinema
2 May Signatures presents commissions from emerging artists: Shima Amani Isaac with Ubutumwa; Migrart Emprendimientos Creativos with False Cognate; Sapphire Sumpter with Sorrow; Mary Olowo with Innocence and Ascension Dance with Males at the Curve RR2
3 May: Performance by Urban Jazz Company
4 May: LDIF19 + Showcase performance at the Curve RR2
7 May: Dance For Camera with Vijay Patel at De Montfort University
8 May: Autograph presents Misato Shimizu and Ofelia Balogun at the Curve RR2
9 May: Biography presents an evening with performer/historian/author Brenda Dixon Gottschild at the Trinity House Chapel, De Montfort University
10-11 May: Evidence Dance Company perform at the Curve Theatre Studio
Watch a trailer below!
Photo - Damon Smith/The Unloved