KWPR Announces The World Premiere of AN ABSOLUTE FARCE OF A MURDER MYSTERY
Performances run at The Drayton Arms Theatre, 28 February - 11 March.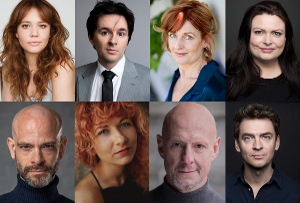 In the year of our Lord Nineteen-Hundred & Agatha, the inhabitants and guests of Garbadale Manor have their evening rudely interrupted by the untimely death of Sir Cecil.
Join the Usual Tired Old Tropes, ahem, Dynamic and Electrifying List of Suspects: the Monstrous Patriarch, the Drunken Son; the Maid with a Secret; the Butler with a Past, the Celebrated Psychic, the Longful Daughter; the Ostensibly Objective Rake; a Ghost-like Thing: all collide and commune in a raucous take on the stylings of Agatha Christie - with added Ghost. Or is there?"
So, there you have it... lost loves, hidden identities, twists and turns and comic misunderstandings - and you'll be pleased to hear, no incest.
Cast:
Holly Ashman
Christian Ballantyne
Helen Bang
Rosalind Blessed
Peter Rae
Zuzana Spacirova
Toby Wynn-Davies
Duncan Wilkins
Creative team:
Director: Helen Bang
Costume Designer: Lizzie Maria Thompson
Lighting Designer: Roel Fox
Movement Director: Kirsten Westdal
Company Stage Manager: Oettie Devriese
Art Design: Tim Jones
Publicity: Kevin Wilson for KWPR
Produced by Canonbie Productions
Trigger & Content Warnings: flickering lights - murder - death - mean people - antagonistic patriarchal behaviour - sibling rivalry - attitudes consistent with 1930's Daily Mail readers - an implied disdain for socialism - comedy enslavement - occasional breaking of the 4th wall - theatrical irreverence.