Jermyn Street Theatre Presents Final Play In Rebel's Season BURKE AND HARE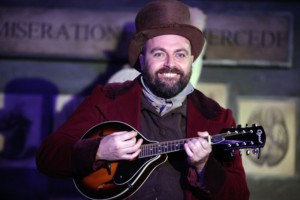 It's 1828. In the dank, mist shrouded streets of Edinburgh two enterprising men go about their business. Their goal is to make money by whatever means necessary. William Burke and William Hare are about to hit upon the perfect scheme. The first rule of commerce? Supply and demand. In the leading city for medical research, there's a huge demand for bodies and inconveniently people aren't dying in enough numbers to meet the need. The profitable solution? Murder, of course. As the infamous pair flourish in their new careers, the more they murder, the less they care. But for how long will they get away with it? How long will they go on making a killing?

This new black comedy is as hysterical as it is historical. Following last year's uproarious The Hound of the Baskervilles, three actors once again take on a host of vivid characters. Tom Wentworth's, Burke and Hare premiered at The Watermill Theatre in spring this year and toured to 21 rural venues to sell out audience and rave reviews.

Playing multiple parts, the cast includes Katy Daghorn (Mrs Hare), Alex Parry (William Hare) and Hayden Wood (William Burke). Burke and Hare is directed by Abigail Pickard Price, designed by Toots Butcher with lighting design by Harry Armytage. The show was originally created by Jenny Wren Productions.

Burke and Hare is the final play in Jermyn Street Theatre's REBELS SEASON, which also included Alice Allemano's About Leo, Parents' Evening by Bathsheba Doran and Billy Bishop Goes To War By John Gray with Eric Peterson (October 31 to November 24).


Jermyn Street Theatre, 16b Jermyn Street, London SW1Y 6ST. 7:30pm evenings. 3.30pm matinees. Running time: Around 90 minutes. £10 - £30 100 tickets at £10 for under-30s for each production, and £15 preview tickets. Please note that after Saturday 8 December all tickets are full price. Box office: 0207 287 2875 and online at www.jermynstreettheatre.co.uk

The theatre has recently announced its PORTRAIT SEASON, which runs from January to July 2019 This kicks off with the world premiere of Rose Heiney's Original Death Rabbit (9 January to 9 February), and continues with Trevor Nunn's world premiere production of Harley Granville Barker's Agnes Colander: An Attempt at Life, revised by Richard Nelson (12 February to 16 March), The new play Mary's Babies by Maud Dromgoole (20 March to 13 April), Howard Brenton's new adaptations of August Strindberg's Miss Julie and Creditors (25 April to 1 June) and Pictures Of Dorian Gray by Oscar Wilde in an adaptation by Lucy Shaw (5 June to 6 July).

Jermyn Street Theatre is an art-house theatre in the heart of London's West End. The 70-seat studio opened in 1994, and has since won numerous awards and transferred many productions to the West End and Broadway. In summer 2017Tom Littler became Artistic Director. Littler relaunched the venue as a producing house. Jermyn Street Theatre is a signatory to the Equity Fringe Agreement.

During the theatre's first year as a producing venue, it has staged world premieres of five full-length plays (including Howard Brenton's The Blinding Light), five one-act plays, two European premieres, and several revivals including the complete cycle of Noel Coward's Tonight at 8.30. Jermyn Street Theatre has also reported that its weekly sales are up by over 50%, and it has employed 28 female and 26 male actors.