Ian McKellen to Return to KING LEAR Tuesday Following Injury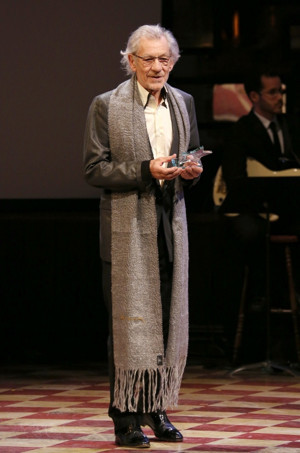 Legendary actor Ian McKellen is on the mend after a leg injury which prevented the actor from performing in a weekend performance of the West End production of Shakespeare's King Lear.
According to a tweet from this weekend, McKellen sustained the injury on his way to the Saturday matinee of the show. Unable to perform the piece, McKellen chatted onstage as himself with the audience instead.
According to McKellen, he performed the role as scheduled for the Saturday evening performance, and will be onstage in the role for this week's performances.
See his message below!
I hadn't long been up before I set off for yesterday's matinee of King Lear. At the underground station I galloped up 45 steps to catch the train above. Once on it, I skipped along the carriage and my left leg gave way. A strained calf muscle was diagnosed ... pic.twitter.com/5fH3ASa65o

- Ian McKellen (@IanMcKellen) August 5, 2018
Two ageing fathers - one a King, one his courtier - reject the children who truly love them. Their blindness unleashes a tornado of pitiless ambition and treachery as family and state are plunged into a violent power struggle with shocking ends.
Tender, brutal, moving and epic, King Lear is considered by many to be the greatest tragedy ever written.
£5 tickets are available as part of Chichester Festival Theatre's Prologue scheme for 16-25 year olds. Tickets can be purchased on the day of performance in person from the Duke of York's Box Office, when proof of age ID will be required.
King Lear will be broadcast live to cinemas across the UK and internationally on Thursday 27th September with National Theatre Live. NT Live currently screens to 2500 venues across 60 countries.
ATG Productions, Chichester Festival Theatre, Gavin Kalin Productions and Glass Half Full Productions present Chichester Festival Theatre's production of King Lear by William Shakespeare which is directed by Jonathan Munby, designed by Paul Wills with lighting by Oliver Fenwick, music and sound by Ben Ringham and Max Ringham, with movement direction by Lucy Cullingford and fight direction by Kate Waters.