Guest Blog: Lucy Gray from PRIDE & PREJUDICE* (*SORT OF) Talks Regency Chaos, Audience Connection and Queer Love in Jane Austen
"This is a story for everyone"
Jane Austen is a very funny woman. It seems that she is often thought of in terms of stuffy period dramas, empire line dresses and Colin Firth. But if you ever choose to go about reading one of her books (an activity I highly recommend) then you'll see that her work is brimming with wit, sexiness and a deep critique of what society considers to be important.
Hence why it is such a joy to be telling the story she wrote 210 years ago every night to audiences around the country in Pride and Prejudice* (*sort of). It is extraordinary that after all this time, audiences continue to be shocked by the twists and turns of Elizabeth Bennett and Fitzwilliam Darcy's relationship; that they continue to delight in Austen's own lampooning of the upper classes; and that they still will all the characters' stories to be tied up with a nice bow and perhaps a wedding or two...
Now granted, our show is not exactly a word perfect rendition of the novel itself. In fact, what playwright Isobel Mcarthur has balanced perfectly in her reworking of Austen's work, is its appeal for both Austen-ites and those whose idea of hell is watching Mrs Bennett matchmake her daughters at a series of balls. It's a show stuffed full of gags, songs and us five actors running around on stage playing several different characters each. That whether or not you enjoy period dramas, I can promise you, you will find yourself totally wrapped up in the Regency chaos.
And touring this show has only proven that this is a story for everyone. Before Christmas we were everywhere from the Minack Theatre in Cornwall all the way up to Aberdeen. And our 2023 tour has already kicked off at the Lowry, Salford before travelling all around the country - from Inverness to Truro and many locations in between. And what continues to surprise me is that every venue, every city, connects to the show. Whenever we're leaving via the stage door, the joy which the audience carries out with them is absolutely consistent. Just as Austen delighted her readership all those years ago, we continue to delight our audiences with her incredible story.
My part in the telling of that story is a character called Tillie, a servant of the house. The narrative is told through five servants, each inhabiting the different characters. So along with Tillie I also play the Bingleys (Charles and Caroline) and Charlotte Lucas. It is any actor's dream to be playing such different people in the same play, but Charlotte holds a particularly soft spot in my heart.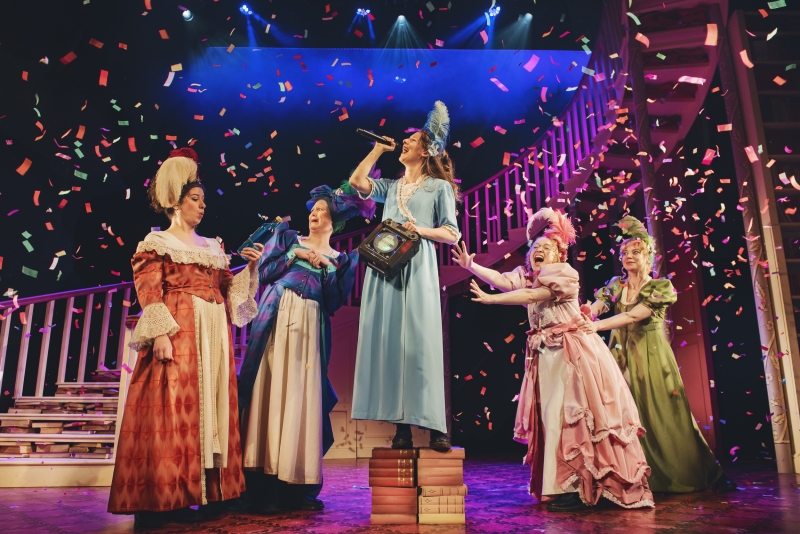 When Isobel first read the book it became clear to her that Charlotte was in love with her best friend, Elizabeth. And indeed, if you ever choose to read the book, Charlotte's more-than-platonic love is palpable. So now this plot has an added impact - a queer character as a lead in a period drama. And, as a queer person myself, I get the opportunity to tour the country telling a story which means so much to me and any LGBTQIA+ audience we have.
As our final musical number ends and the roar from our audience goes up every night, I remind myself what an honour it is to tell this incredible story time and time again. To bring such laughter and lightness to a world so mired in conflict at the moment. And to get to share this very funny woman's words with people all around the country.
Pride and Prejudice* (*sort of) is now on tour