Casting Announced For WHITE GUY ON THE BUS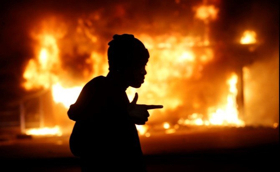 In a production commissioned by the Finborough Theatre, the European premiere of American playwright Bruce Graham's White Guy on the Bus opens at the Finborough Theatre for a four-week limited season on Tuesday, 27 March 2018 (Press Nights: Thursday, 29 March and Friday, 30 March 2018 at 7.30pm).
Ray and Roz are a white, liberal couple living in the safe, staid suburbs of Philadelphia. He is a financial consultant who makes "rich people richer". She is a?passionate teacher who commutes every day to educate the mainly black students of an inner-city school.
On the face of it, life runs smoothly. But Ray seems to hanker after change. He leaves his Mercedes in the drive, and takes to riding the public bus through the African-American neighbourhoods of the city - the only white guy on the bus.
Ray becomes a regular on the same route as Shatique - a young, black single mother who is studying to become a nurse, and determined to make a different life for her 9-year-old son. They strike up a relationship. But what does Ray really want from Shatique?
Bruce Graham's excoriating and shocking play blows open the racial fault-lines of Trump's America. With an all too familiar resonance here in the UK, it questions us all - what deals are we willing to make, and with which devils?
White Guy on the Bus, a Critics' Pick in The New York Times for its New York City production, is a European premiere from award-winning American playwright Bruce Graham. It is directed by Jelena Budimir, a former Associate Director at Chickenshed Theatre.
Playwright Bruce Graham plays include Burkie, Early One Evening at the Rainbow Bar and Grille, Moon Over the Brewery, Minor Demons, Belmont Avenue Social Club, The Champagne Charlie Stakes, Desperate Affection, Coyote on a Fence (winner of The Rosenthal Prize and seen at the Royal Exchange Theatre, Manchester, and in the West End), According to Goldman, Something Intangible (winner of seven Barrymore Awards including Best New Play), Any Given Monday (Barrymore winner for Best New Play), The Outgoing Tide (Joseph Jefferson Award for Best New Play), Stella and Lou, North of the Boulevard, Rizzo and Funnyman. Fully Accessible and The Happy F!@#$%G Blind Guy have been published in Best Ten Minute Plays of 2013 and 2014. His one man show The Philly Fan plays semi-continuously throughout the Philadelphia area. He has received grants from the Pew Foundation, the Princess Grace Foundation (Statuette Award Winner), the Rockefeller Foundation and the Philadelphia Theatre Initiative. Along with Michele Volansky, he is the author of the book, The Collaborative Playwright. Graham is a graduate of Indiana University of Pennsylvania. He teaches film and theatre courses at Drexel University, and also works as an actor. He divides his time between South Philly and Elkton, Maryland.
Director Jelena Budimir returns to the Finborough Theatre after directing Athena Stevens' new play Genie for Vibrant 2017 - A Festival of Finborough Playwrights. Jelena was Associate Director at Chickenshed Theatre for 22 years where she developed the Studio Theatre, and led on Chickenshed's emerging writers' programme Write Here, Write Now. Direction includes Benjamin Zephaniah's Refugee Boy adapted by Lemn Sissay, Sarah Daniels' The Gut Girls, The Comedy of Errors, Dario Fo's Can't Pay! Won't Pay!, Lysistrata, Our Country's Good by Timberlake Wertenbaker, Yard Gal by Rebecca Prichard and Ariel Dorfmen's Widows (Chickenshed) and Life After Death by Antuneil Thompson (Camden People's Theatre). She has worked on projects with Clean Break Theatre Company and Hampstead Theatre, and was a member of the Crescent Theatre Ensemble. She has also written extensively for young people and children. Jelena originally trained as an actor at the Guildhall School of Music and Drama - her performance work includes fringe, rep and West End alongside film, TV and radio.
The cast is:
Marina Bye | Molly
Trained at the Guildhall School of Music and Drama.
Film includes Breathe, Film Stars Don't Die in Liverpool, How to Talk to Girls at Parties and A Caribbean Dream.
Marina and her sister have also formed a comedy duo Siblings Comedy, performing at various festivals around the UK.
Samantha Coughlan
Samantha Coughlan | Roz
Productions at the Finborough Theatre include Footprints on the Moon, His Greatness and Blue Surge.
Trained at Circle In The Square Theatre School, New York.
Theatre includes A View From the Bridge (The Young Vic and Wyndham's Theatre), National Anthems (The Old Vic), The Shape of Things (Ambassadors Theatre), The End of Longing (Playhouse Theatre), Vieux Carre (King's Head Theatre and Charing Cross Theatre), Death of A Salesman (Lyric Theatre), Problem Child (New End Theatre, Hampstead)The Big Sleep (The Mill at Sonning), The Children's Hour (Harold Pinter Theatre), Orpheus Descending (English Theatre of Berlin), Rain Man (Apollo Theatre), Steel Magnolias (Octagon Theatre, Bolton), The White House Murder Case (Orange Tree Theatre, Richmond),The Dutchman (The Crate Gallery), The Slave (Tristan Bates Theatre - Black History Month).
Film includes Heaven, Kingsman - The Golden Circle, Criminal, Survivor, Kick Ass 2,The Bends, Rabbit Fever, Love Me Do for which she was nominated for the Best Supporting Actress Award at the IIFC Awards and The German Lullaby for which she won Best Actress Award at the London Film Festival.
Television includes Deep State, Absentia, Wallis: The Queen That Never Was, Obsession: Dark Desires, A Poet in New York, Jonathan Creek, Dead or Alive, Stella, Above Suspicion (Silent Scream), Absolute Power, Spooks, Ant and Dec's Saturday Night Takeaway and Deadman's Gun.
Samantha is also a successful voiceover artist working in commericals, gaming and narration. She is the North American voice of Nike Training Club.
Donald Sage Mackay | Ray
Trained with a MFA, Acting at the University of California at San Diego and the Moscow Art Theatre.
Theatre includes A Moon for the Misbegotten (Lyric Theatre, Belfast), Linda (Manhattan Theatre Club, New York City), Fred's Diner (Magic Theatre), Angry Alan (Edinburgh Festival, Aspen Fringe and Shri Ram Centre, Delhi), Our Town (Actors Theatre of Louisville), stop. reset. (Signature Theatre, New York City), Blood and Gifts (La Jolla Playhouse), His Girl Friday (La Jolla Playhouse) and Six Degrees of Separation (Old Globe Theatre).
Film includes Transformers: Revenge of the Fallen.
Television includes Deep State, The Looming Tower, Modern Family, Mad Men, Masters of Sex, Elementary, Blue Bloods, The Good Wife, House, The West Wing, NCIS, Law and Order: SVU, Criminal Minds, The Shield, Frasier, Star Trek Enterprise, According to Jim, ER, The Amazing Mrs. Novak, Scrubs, The Practice and Providence.
This production marks Donald's London theatrical debut. He is also making his UK television debut this April in a major recurring role in Deep State opposite Mark Strong and Samantha Coughlan.
Joanna McGibbon | Shatique
Trained at National Youth Theatre REP.
Theatre includes Cosmic Jive (The Albany), Jekyll and Hyde (Ambassadors Theatre), Mrs Dalloway (Ambassadors Theatre), Othello (NYT REP and Frantic Assembly), The Fall (Criterion Theatre) and Focus E15 (Gilded Balloon, Edinburgh).
Carl Stone | Christopher
Trained at Guildhall School of Music and Drama.
Theatre includes Love's Labour's Lost (Oregon Shakespeare Festival), The Tale of Januarie (Silk Street Theatre) and Four Score Years and Ten (National Tour) and Saved (Milton Court Studio Theatre).
Television includes Future Tense - The Story of H. G. Wells.

Finborough Theatre, 118 Finborough Road, London SW10 9ED
Book online
Tuesday, 27 March - Saturday, 21 April 2018
Tuesday to Saturday Evenings at 7.30pm. Sunday Matinees at 3.00pm. Saturday matinees at 3.00pm (from 8 April 2018).
Prices until 9 April 2018 - Tickets £18, £16 concessions, except Tuesday evenings £16 all seats, and Friday and Saturday evenings £18 all seats. Previews (27 and 28 March) £14 all seats.
£10 tickets for Under 30s for performances from Tuesday to Sunday of the first week when booked online only.
£14 tickets for residents of the Royal Borough of Kensington and Chelsea on Saturday, 1 April 2018 when booked online only.
Prices from 11 April 2018 - Tickets £20, £18 concessions, except Tuesday evenings £18 all seats, and Friday and Saturday evenings £20 all seats.
Group Bookings - 1 free ticket for every 10 tickets booked.
Performance Length: Approximately 70 minutes with no interval.
More Hot Stories For You