British Film Creative For LONDON ROAD Wins Top U.S. Film Choreography Prize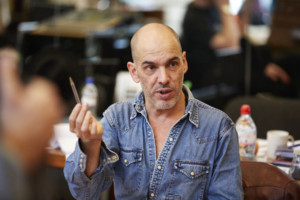 Winner of the Best Choreography in Film (Theatrical) Award at the prestigious 2017 Chita Rivera Awards in New York on September 11, Javier De Frutos, choreographer of London Road, has confirmed his status as one of the most compelling visionaries of modern dance choreography in film and on stage internationally.

De Frutos was selected as the clear leader in innovative choreography among last year's theatrical film releases at the U.S.'s most prestigious dance awards, triumphing over the box office blockbusters La La Land and Beauty and the Beast. Presented to him by David Hyde Pierce, the award to de Frutos for London Road validates the critical acclaim of director Rufus Norris's screen adaptation for BBC Films of the hit stage production that was hailed as a remarkable, groundbreaking work during two sell-out runs at the National Theatre in 2011 and 2012.
The feature film adaptation of London Road reunited the award winning team of direction by Norris, script by Alecky Blythe, music by Adam Cork and de Frutos's masterful choreography that was nominated for an Olivier Award. Documenting the events that shook the quiet rural town of Ipswich in Suffolk when the murdered bodies of five women were discovered, the film follows the community who found themselves at the epicentre of the tragic events. Using their own words verbatim and set to an innovative musical score, London Road tells a moving story of ordinary people coming together during the darkest of experiences, and stars Tom Hardy, Olivia Colman and Anita Dobson.
The intriguing and highly original vision that earned de Frutos the highest award in film choreography in the United States was an organic, naturalistic approach to moving the film's characters through the story - in shopping malls, courthouses and community halls - keeping within the constraints of the "dance verbatim" technique he developed for the stage show. Instead of set pieces, the characters' "dance" was realistic and transparent, integrated into the every day motions of people going about their lives. As de Frutos explains, "It was all based on real activities. It's real life. We call it pedestrian, but real life is really not pedestrian when you put it to music. It becomes almost a dance. But 'almost' is a very important word here - it should never become a dance. I'm talking about degrees of colouring that are actually quite subtle."
The subtlety of his work in London Road sits alongside the dynamic and provocative work he has been known and awarded for including The Most Incredible Thing, his collaboration with synth-pop duo Pet Shop Boys, for which de Frutos won the Evening Standard Award and the Critics Circle National Dance Award in 2012. The Most Incredible Thing is a fairy-tale pop ballet based on the Hans Christian Andersen story and will be revived with the Charlotte Ballet in North Carolina, United States, in March 2018.
De Frutos is seeing out 2017 with a full slate of premieres and revivals of highly acclaimed and awarded shows. On September 21 the touring production of Cabaret opened in Wimbledon, a revival of the 2006 West End production that won de Frutos the Olivier Award for Best Choreography.
October 10 sees the world premiere of Fourteen Days, by the International Emmy Award-winning all-male dance company BalletBoyz, with a season at Sadler's Wells followed by a UK tour. Featuring the work of four celebrated choreographers, the challenge was given to create a world-class ballet in just two weeks, set to music by singer/songwriter and pop legend Scott Walker.
On October 19 de Frutos unveils the revival of his award-winning Elsa Canasta for the Charlotte Ballet, with the Tony Award Winner from Million Dollar Quartet, Levi Kreis, singing and playing Cole Porter in a ballet inspired by Porter's life. The singer appears to tell the story through song as the dancers act out the lively world of the times that inspirEd Porter's memorable life and lyrics.
De Frutos believes that dance must continue to evolve in order to stay relevant. Explaining that from the earliest times ballet was created and staged with musical works from composers that were contemporaries of the choreographers, de Frutos continues that tradition by creating vibrant works which look to engage new audiences with unique collaborations using the most accomplished singers, songwriters and musicians of our time.
He pushes boundaries and challenges audiences with unique and thought provoking storytelling and superb inspiring dance.
Javier De Frutos was named by the Evening Standard as one of the most influential people of 2016. He is one of only three artists in the history of the Olivier Awards to have received nominations in all of the dance categories - Best New Dance Production, Outstanding Achievement in Dance and Best Theatre Choreographer. In addition to his Chita Rivera Award for Best Choreography in Film (Theatrical Release) for London Road, his previous awards include the Olivier Award for Best Theatre Choreographer for Cabaret; an Evening Standard Award and Critics Circle National Dance Award for The Most Incredible Thing in collaboration with Pet Shop Boys; Critics' Circle National Dance Awards for Milagros with Royal New Zealand Ballet and Elsa Canasta with Rambert; a Time Out Award for Sour Milk with Candoco Dance Company; and a South Bank Show Award for Grass.
The numerous other accolades for his work include Fiction for BalletBoyz being named Best of Dance by The Arts Desk and Top 10 by The Guardian for 2016. His choreography for From Here to Eternity, staged on the West End, was nominated for the WhatsOnStage award for Best Choreography; and The Anatomy of a Passing Cloud for Royal New Zealand Ballet was nominated for both an Olivier Award and a National Dance Award.
De Frutos was born in Caracas. He trained at the London School of Contemporary Dance and the Merce Cunningham Studio in New York. He has been a resident of Britain since 1993. In 2000 he became one of the first Fellowship recipients The Arts Council of England, through which he studied extensively the works of American playwright Tennessee Williams for more than two years. He also represented Britain at the Venice Biennale in 2006.
Winner of the Chita Rivera Award for Best Choreography, London Road is available at Amazon.com.
View the London Road Trailer here: https://youtu.be/I8NxcsH9o4A.