BWW Review: YANK!, Charing Cross Theatre

With this year's Pride still fresh in Londoners' minds, there couldn't be a more appropriate time for Joseph and David Zellnik's musical about gay US soldiers in World War Two to open in central London. It runs not far away from another high profile LGBT production, Rotterdam, which will finish its short residency this weekend.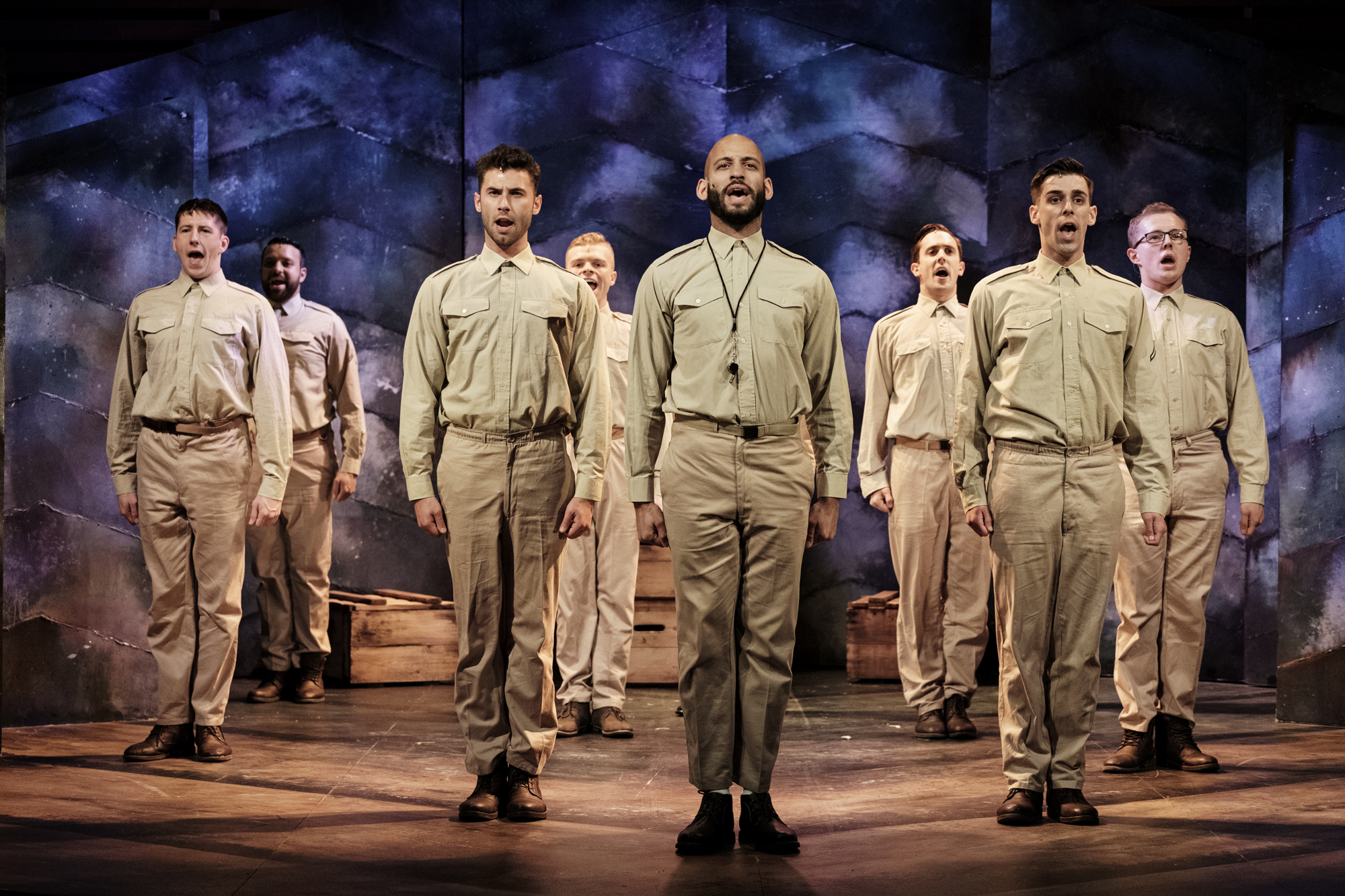 Stu (Scott Hunter) begins his army training, but immediately feels completely out of place. The other recruits are older, fitter and stronger than him; he can't even relax in the company of a group of men. When Mitch (Andy Coxon), the most popular guy in the squad, helps him out and tries to include him in the group, Stu starts to wonder if they could be more than just friends... But as their relationship sours, Stu finds a way out in the form of Artie (Chris Kiely) and the chance to be a Yank magazine reporter. They travel the world, staying out of danger and opening up a world Stu never knew existed. However, when he hears that Mitch and the squad have gone through a traumatic incident he rushes to see them, opening up a great risk of his homosexuality being discovered - a punishable offence in the US Army.

The whole story is framed by a young man in San Francisco, who finds the journal Stu kept during his time in the army in a junk shop and buys it. Not only is this a neat way of opening and closing the show, but it also reminds the audience of how stories from the past can still be relevant now. 2017 is the 50th anniversary of the Sexual Offences Act, which partially decriminalised homosexual activity in Britain. It is important to mark this anniversary, telling stories of what people went through, to see how things have changed. And what better way than an all-singing, all-dancing musical? With influences of Big Band and Broadway, the show has an old-school sound but feels incredibly fresh.
Its vigour comes largely from Chris Cuming's choreography, with the standout tap number "Click" that makes you want to tap along in your seat. There are lots of recognisable period-specific dance moves in there, such as Lindy hop, but the energy that comes from a male ensemble gives it an original touch.

As the only woman in the company, Sarah-Louise Young works hard to portray every female character in the story - most often this involves her singing a song on the wireless or in a film that entertains the troops, though she's also formidable as Louise (the only lesbian servicewoman in this story).

Scott Hunter and Andy Coxon lead the cast with aplomb. They have a great chemistry, and their voices combine beautifully when they sing together - Coxon also has a stunning solo in "Rememb'ring You". Hunter is reprising the role of Stu from the show's run in Manchester, bringing a real emotional depth and a quiet determination.

Whilst the central plot is quite bittersweet, and inevitably soaked in sadness, there are plenty of hugely enjoyable moments throughout. The production's ability to tell a story through both music and dance should be applauded, and goes a good way towards depicting the physicality of a World War Two soldier. Its message that there are many different kinds of bravery is strong and inspiring - one that should be shared with as many people as possible. Quick march to the Charing Cross Theatre before this limited run ends.
Yank! is at the Charing Cross Theatre until 19 August
Picture credit: Claire Bilyard