BWW Review: WOMAD TAKEOVER, National Theatre River Stage Festival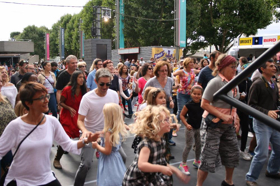 At its very heart, WOMAD (World of Music, Arts and Dance) is a celebration of the arts: in every form, from every country, for everyone. And what better way to celebrate the arts than a festival? Part of the National Theatre's free series of River Stage takeovers, WOMAD brought live music, workshops and dance from around the world to the heart of London.
An international arts festival in their own right, WOMAD are no strangers to this format. Founded in 1980, they host international events and run an annual UK based festival in Charlton Park. As such, the River Stage takeover felt well-programmed on the whole. A variety of activities was on offer for audiences, all for free. My only critique of the programming would be the distinct lack of drama or literature based arts, a normal feature of WOMAD events (such as the World of Words).
Afro Cluster kicked off proceedings in style, the first of many highlights from the weekend. The Cardiff based band had audiences on their feet with their afro-funk and hip-hop beats, while Mr Benn kept the party going late into Friday night, accompanied by Souls Liberation and Bongosan.
Following a wild start to the weekend, the family elements became more apparent with workshops on Saturday and Sunday. Ripton Lindsay combined music, moves and maths, leading initially sparse crowds in morning workouts. (They weren't sparse by the end though, with passersby literally jumping in.) Beat box champion Grace Savage led a session for little (and big) kids. Savage in her delivery and speed, Grace herself is anything but. Witty and welcoming, "Wow, that is a lot of kids", she jokes as five children are handed live mics to join her on stage. The NIMBA workshop proved a stand out moment though, weaving personal stories with beautiful choreography.
Performances from the rest of the weekend ranged from the ten strong Bollywood Brass Band to a one man set. Audiences were entranced by Msafiri Zawose's solo performance, a rare moment of silence from the festival. The Brass Band brought Bollywood to Bankside, playing some recognisable hits including "Jai Ho" and "Dhoom" (from the popular film series). BroadwayWorld ended the weekend on a high, listening to Amira Kheir. Fusing traditional Sudanese music with jazz, her signature sound sang out across the river, drawing more and more passersby in.
This is one of the joys of this stage. Anyone walking along the river can happen upon the festival, dipping in and out for a session or two. Those there for the whole weekend are equally able to do this, knowing there will be a cushion, deckchair or dance space for them upon their return. I was there for all three days and took a few breaks myself, to go and recharge my camera's batteries (and my own).
During the weekend, WOMAD quite literally took over the stage. You'd almost be forgiven for thinking the National Theatre was not involved at all. But involved they were. Allowing WOMAD to take centre stage, they played a supporting role. Food and drink are available from the National, as crucially are toilets. Our recommendation: grab a Mermaid from The Apothecary Cocktail Bar, something from the Pizza Van, and head up to the terrace. Beautiful views and amazing food.
It would have been nice to see the National play more of an active role on the stage. A collaboration or panel with figures from both organisations may have drawn even more crowds. But then again, there is a weekend dedicated to the National's own work as part of this series...as the National Theatre takeover the National's Theatre's River Stage!
No drama was to be found this weekend (unfortunately for the programming, but fortunately for proceedings). WOMAD wowed audiences with a successful and stimulating weekend of dance and music, doing what they do best.
The River Stage Festival runs every weekend until 28 August, National Theatre.
Find out more about WOMAD and their international work.
Check out our Photo Flash from the WOMAD River Stage Festival!
Read our interviews from the weekend with Ripton Lindsay, Grace Savage and Afro Cluster.
Photo credit: Rona Kelly
Related Articles View More UK / West End

Stories

Shows