BWW Interview: Russell Evans, Sam Robertson & Hugh Parry talk AFRO CLUSTER at WOMAD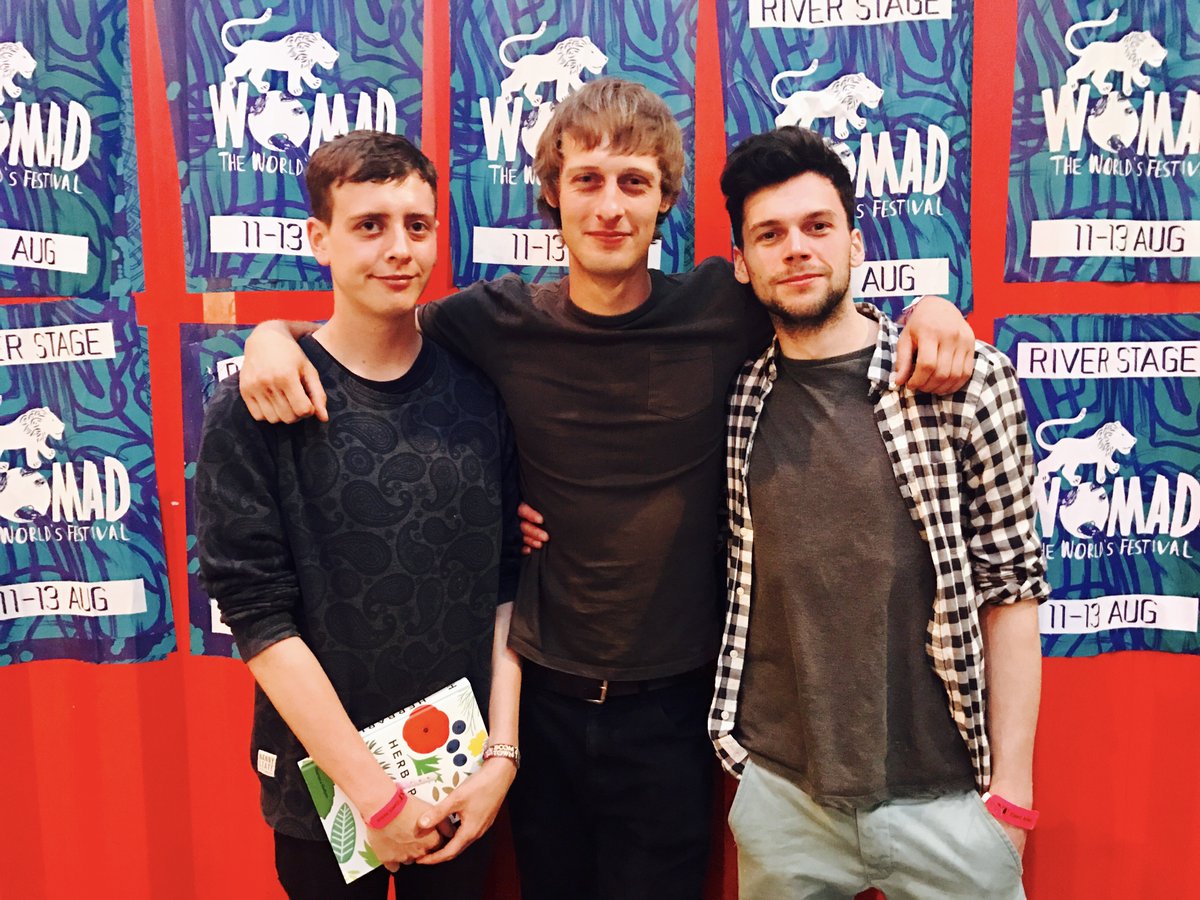 The River Stage Festival returns this summer to the National Theatre. Different companies and groups takeover the South Bank each weekend, from The Glory to the National itself.
This weekend, WOMAD (World of Music, Arts and Dance) takes residence with a stellar line up featuring Afro Cluster. Band members Russell Evans, Sam Robertson and Hugh Parry spoke to us about their influences, WOMAD and the touring life.
Can you tell us a bit about Afro Cluster, and the style of music?
Hugh Parry: So our band's always been a mix of several different genres. We mix afro-funk, hip-hop and disco, all sorts of different elements, depending on the mood of the band and how we're jamming at the time. The main aim has always been to create music we all enjoy and the crowd will enjoy too. And that was evident today when everyone got up and danced with us!
Russ Evans: Yes. We've got a variety of different influences, we all come from different backgrounds. It was just the Cardiff music scene and more specifically Jam Nights that brought the initial framework of the band together. And it's been evolving since then. Every time you have a membership change or we progress as a band, the influences change and our outputs change.
Sam Robertson: I've only been in the band for maybe a year and a half, two years now. I met Russell playing at a jazz festival and sleeping by a lake, which is quite nice! But it's been nice to have that writing process where everyone's allowed to bring in something that they've enjoyed listening to and work it in. We chat about it, there's never really any argument...I mean, Russell often calls for a lot less jazz! But apart from that, it's pretty good.
You've just got off stage at the WOMAD Takeover for River Stage. How was it?
Sam: Yes, really fun! It's a really good crowd, really uplifting after being tired from Boomtown as well.
Russ: It was a great response from the crowd, we didn't know what we were going to get (as you often don't when you play an outdoor gig in London!) How cool do people think they are? Will they eventually get up and dance? And they did, which was very gratifying!
Hugh: Exactly that! It was lovely to see everyone getting up on their feet and joining us. Even synchronised dance moves! It was brilliant.
And how was Boomtown?
Russ: It's quite a contrast to what we did today: being in London to being in a field! It was very good, but for different reasons. It was very tiring obviously. So we had very little sleep, some in the van on the way! It was freezing cold last night too, then it was boiling hot (as is the case in a tent)! We got here in quite a mess, to be quite frank. And it was only the fact that people got up and danced and responded well that kept us alive for that set.
Sam: Hugh brought me wellies! I'm just immensely grateful for that!
You didn't bring wellies to a festival?!
Sam: He brought me wellies from my house, I wasn't there. He saved me, my feet are dry. I have so much to be thankful for today!
Hugh: I just neglected to bring any myself...
Sam: Russell spent half of the festival giving Hugh piggy backs round! He was wearing really nice shoes, they're the ones you've got on today. You can see they've not really made it! They'll be on eBay later, signed!
What does it mean to have been part of WOMAD this weekend?
Russ: This is something we've been very excited about for a while now. We've all been aware of WOMAD for a number of years and we've been trying to get on the bill. And today we made it! And we're just hoping we can continue in that vein, because it's so suited to the music that we make lyrically as well as musically. So we're over the moon to get on board with WOMAD.
Sam: It's nice to go to it as well, to hear some other people play their music. It really broadens your horizons too, musically. I love it.
And where can we expect to see you guys next?
Hugh: Our next gig is Camper Calling Festival. And following that, we'll be playing in Cardiff at the Hub Festival which is a music scene all joined together on one street: Womanby Street.
Russ: It's going to be one hell of a home gig! It's always nice actually, after travelling round the country and doing festivals, to play a Cardiff gig.
Touring the country, gig to gig, do you have any stories from tour which you can share!
Russ: Not which are PG! All of our stories have a higher rating!
Afro Cluster tours the UK - find out where they're playing next here
Photo Credit: Rona Kelly

Related Articles View More UK / West End

Stories

Shows