BWW Review: WITH A LITTLE BIT OF LERNER, Royal Festival Hall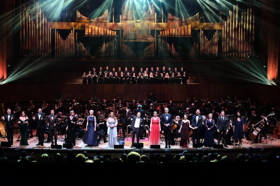 With A Little Bit of Lerner combined an outstanding group of performers with the BBC Concert Orchestra to present an exciting variety of many of Lerner's well-known and lesser-known songs at Southbank Centre's Royal Festival Hall. It celebrated the centenary of great American lyricist Alan Jay Lerner's birth in 1918.
Lerner is best known for his work with composer Frederick Loewe. Together they created hits like My Fair Lady, Brigadoon, Gigi, and Camelot. Lerner also worked with other composers on both stage and film musicals. He passed away in 1986, but his widow Liz Robertson was a performer at the concert.
The concert was structured by show, with some warranting a few tunes and others only one. It juxtaposed Lerner's most popular work with songs from often forgotten shows like Lolita, My Love and 1600 Pennsylvania Avenue. Jamie Lambert and Samantha Bond served as the night's hosts, in addition to performing themselves, and did a great job of adding context about Lerner and sharing who had performed each song.
The talented Larry Blank conducted the BBC Concert Orchestra to bring these beautiful songs to life. The orchestra was stunning, as usual, and were also accompanied by the Guildford School of Acting Choir for several songs. They sang a lovely medley of title songs from some of Lerner's shows that Blank arranged.
The concert had a wide variety of established West End performers including: Christine Andreas, David Bedella, Samantha Bond, Matthew Ford, Ben Forster, Alexander Hanson, Linzi Hately, Rob Houchen, Alexia Khadime, Jamie Lambert, Julian Ovenden, Charlotte Page, Liz Robertson, Caroline Sheen, and Rachel Tucker.
One of the highlights was the My Fair Lady section, which featured three songs including Rob Houchen's stirring version of "On the Street Where You Live". In addition to hosting, Jamie Lambert performed "If Ever I Would Leave You" from Camelot beautifully.
Other highlights include Matt Ford's "Come Back to Me" from On a Clear Day You Can See Forever which was wonderfully bouncy and Alexia Khadime's "Why Him?" from Carmelina which was hilarious and gorgeously sung. Julian Ovenden gave a predictably lovely version of "Almost Like Being in Love" from Brigadoon.
The show ended with Rachel Tucker bringing the house down with the title song from On a Clear Day You Can See Forever. The encore, "With a Little Bit of Luck" from My Fair Lady, sung by David Bedella had the crowd clapping along and was definitely one of the best numbers of the night.
A touching moment of the show was when Liz Robertson, who was married to Lerner for the last years of his life, spoke about him and sang "Another Life". He wrote the song for her to perform as part of Dance a Little Closer, which flopped horrendously in 1983. She explained that she felt the show was too progressive for its time. Robertson is a talent in her own right, but it was moving to hear her sing her late husband's work.
The Royal Festival Hall was a great venue for the concert and the lighting was beautiful, particularly in numbers like the Paint Your Wagon overture. The sound balance between the vocalists and orchestra was ideal.
With a Little Bit of Lerner employed a great group of talented West End performers to show off the range of Lerner's work in honour of the anniversary of his birth. Even as a Lerner fan, I heard songs that I wasn't familiar with which was refreshing. And, of course, any concert with the BBC Concert Orchestra is well worth seeing.
With a Little Bit of Lerner occurred on 23 May at Southbank Centre's Royal Festival Hall. It will be broadcast on BBC Radio 3 on 22 June at 7:30 pm.
Photo Credit: BBC/Mark Allan