BWW Review: THE TEMPEST, St Paul's Church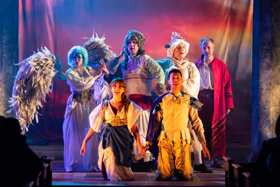 Iris Theatre's The Tempest at St Paul's Church is an outdoor promenade production of one of Shakespeare's great comedies, though it is fairly traditional in every other way. The audience follows the actors around four different locations during the course of the show: three outdoor and one within St Paul's Church. However, despite this staging, the production feels a bit too predictable and even plain.
The Tempest is a story about magic, love, and revenge. Prospero is a man with magical powers who formerly was the Duke of Milan but through the scheming of his brother and the King of Naples, is stranded on an island with his daughter Miranda, his sprite Ariel, and his slave Caliban. When he conjures a storm to shipwreck his enemies' ship, he has the chance to exact revenge and allow his daughter to fall in love with Ferdinand, the Prince of Naples.
This production, directed by Daniel Winder, features a few fun magic tricks and lots of music, performed mainly by Ariel. The Tempest features a masque, a 17th century tradition of courtly entertainment. The masque takes place inside the church, which is fitting considering the church's architect Inigo Jones was an influential designer of royal masques in the early 1600s, as the programme points out.
It's always popular to perform Shakespeare outside during the summer, but this production sets itself apart by the audience moving around to follow the characters to a different theatre set-up. Be warned however to pick your seat wisely: at times, you may sit in one place for a half hour and the wooden benches aren't that comfortable.
Much of the action takes place amongst the flowers of the garden of St Paul's Church, though at times it's hard to ignore the noise from Covent Garden and the birds occasionally swooping through. The actors' lines are also sometimes hard to understand because of the outdoor setting and lack of mics.
It's always interesting to see theatre done without the typical lighting theatregoers are used to. There was something about seeing the opening scene of the people on the ship experiencing the storm in broad daylight that felt a bit like watching children (albeit talented children) play pretend.
The costuming for the show, designed by Anna Sances, was traditional Shakespearean fare for the most part. Only Ariel's fantastical outfit stood out, with her blue wig and blue mask setting her apart from the human characters. Caliban's outfit was interesting, though not the deformed monstrous depiction we often see.
Charlotte Christensen's Ariel was easily the highlight of the show. Aside from her flute playing and singing which shows off her operatic training, the way she flits around the stage (and sometimes the audience) is a bit entrancing. With her blue hair and odd style of movement, she is every bit the sprite imagined in fairy tales. She also puts real desperation into Ariel's desire for freedom and builds a complicated relationship with Prospero whose approval she craves at the same time as she resents his authority over her.
Linford Johnson is similarly charming as Ferdinand and builds a very sweet prince without ever losing his believability. Joanne Thomson at times seems to be overacting as Miranda, though it may have been a result of trying to compensate for the space and it worked much better for her second role as Gonzalo.
Many of the actors play two roles, including Prince Plockey who portrays both Caliban and Antonio. It's a nice bit of symbolism for him to play both the actual monster and the horrible brother who ousted Prospero, however, he never seems to make either character appear that bad. He is rather funny in the scenes in which Caliban is drunk with Stephano and Trinculo, though those scenes did feel a bit long.
I found Jamie Newall's Propsero to be a bit of an enigma. While he certainly was a dignified wise man with magic, his callous treatment of Caliban, Ariel, and even at times his daughter never seemed truly redeemed.
While it was a solid production, I wish that Iris Theatre had made more of a statement. It seemed very traditional compared to previous productions of the show in which Prospero has been played by a woman or they've interpreted the play through a colonialist lens. The Donmar Warehouse recently mounted a production as part of their Trilogy in which the play was set in a women's prison. This felt like a missed opportunity to take a risk and parts of it were, I hate to admit, bland.
I do recommend bringing a jacket as it gets surprisingly chilly by the end of the show despite the summer weather. If you like outdoor Shakespeare, The Tempest is a fun take on how to stage it even if the production itself isn't anything particularly new.
The Tempest is on at St Paul's Church to 28 July.
Photo Credit: Nick Rutter