BWW Review: THE MERRY WIVES OF WINDSOR, Royal Shakespeare Theatre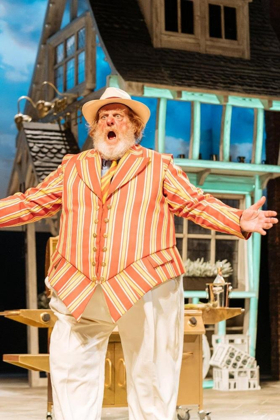 I guess enjoying something while you're watching it but looking back and thinking, "Well, it wasn't really that good was it?" pretty much defines the Guilty Pleasure. So, with that thought in mind, I'm happy to label Fiona Laird's production of The Merry Wives Of Windsor a guilty pleasure - and why not?
We're in Essex (as the grating accents relentlessly remind us) but this is 21st-century TOWIE Essex and not 20th-century Made in Dagenham Essex - the feminism is political rather than Political. The women totter about on heels in leopard-print lycra, the men know that the future's so bright they gotta wear shades (indoors), and the handymen are Polish students with more education than Billericay's entire electoral roll.
It's quite fun - for a while at least - spotting the Birds of a Feather bits, the Joan Sims/Barbara Windsor-inspired interplay, the roles that would suit Sid James, Kenneth Williams and Bernard Bresslaw, which Kardashian is being caricatured now etc. etc. etc.
But it does rather carry on, particularly in a 90-minute first half that tested out seats as well upholstered as the Wives' corsetry. It was nice to get a break from all those comedy references and the endless funny accents (ol' Shakey was never one to turn down a chance to 'Allo 'Allo! it for a cheap laugh or ten).
But, somehow, you forgive it! The show bowls you along with its bonhomie, its sight gags and its wit - though if, as the prologue suggests, Shakespeare did indeed write the script in a fortnight for a Royal Command Performance (and I mean command), you wouldn't be surprised.
David Troughton has great fun as Sir John Falstaff, suited up and looking like Fat Bastard from the Austin Powers movies (and who knew that Michael Myers and Beyoncé owed so large a debt to Shakey?).
Of course, the comedy is very broad, but it's laugh-out-loud funny and we don't hear enough laughter in theatres - hell, we don't hear enough laughter in life. I particularly enjoyed Lez Brotherston's MCC egg and tomato motif for the benighted knight's ever more pantomimic costumes, having spent the last four days amongst that demographic at Lord's - there's still a Falstaff or two in the Pavilion in 2018.
The fat man pursues, and is utterly outmanoeuvred, by the eponymous wives (Rebecca Lacey and Beth Cordingley, lovin' it), who make merry with Falstaff's irrepressible libido. There's good work too from David Acton as a pugilistic Welsh parson and Jonathan Cullen as - would you believe it? - a lascivious French doctor.
As usual for me when it comes to Shakespeare, there's always a subplot or two too many and, while the pursuit of the glamourpuss with the poodle (pouty Karen Fishwick) produces its fair share of giggles, Luke Newberry has to work very hard to get anything out of his nice-but-dim suitor, Fenton. At least it gives Tom Padley the chance to ham it up, in show-stealing form, as his milksop rival Slender, clowning like a Cairoli!
But this is not a production that bothers to look back too much nor forward either, despite the Brexit joke that you know is coming, but is still quite fun when it does. It's a show that you feel pretty much does what Shakespeare wanted it to do back in 1597 - brightens a world that needs it with a couple of hours or so of raucous ribaldry. After all, there's plenty of time for Othello when the long nights draw in.
The Merry Wives of Windsor continues at the Royal Shakespeare Theatre, Stratford-upon-Avon until 22 September.
Photo Manuel Harlan
Gary Naylor is chief reviewer for westend.broadwayworld.com and feels privileged to see so much of London's theatre. He writes about cricket at for 99.94 (nestaquin.wordpress.com) (read more about this author...)