Review: THE CROWN DUAL, King's Head Theatre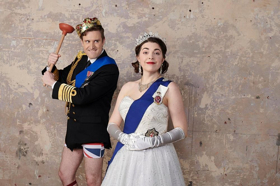 It's trite to say that in grim times one needs comedy more than ever, but, in grim times... Well clichés are clichés because they're true.
So be upstanding not so much for Her Majesty, but for the joy of laughter, sustained and deep, echoing round the old backroom of the King's Head. How I, we, the world needs it right now.
It's all the more welcome for being somewhat unexpected. I haven't seen a minute of Netflix's smash, The Crown (this show starts out as something of a parody thereof) and I've never even seen five minutes of a Royal Wedding. Such is my Royalophobic tendencies that I didn't much care for Mike Bartlett's hit play, King Charles III, when I saw it round the corner at The Almeida. So I gritted my teeth a little as the lights went down.
But writer, Daniel Clarkson (of Potted Potter fame) knows that parody is only the vehicle for the gags and not enough in itself. I may have missed one or two in-joke references, but if there's a laugh every 20 seconds for 70 minutes all-through, that's hardly a problem.
That said, Clarkson only provides the threads - the cloth is woven by director, Owen Lewis, who maintains a frenetic pace throughout and his two actors, whose energy is remarkable.
Rosie Holt's Princess / Queen Elizabeth (the plot is focused on her accession) gives us the inevitable wave, but delivers a turn that proves to be a full rounded, hilarious caricature of the woman we know, the humour leavened by a certain respect for the sheer weight of responsibility unexpectedly placed on the shoulders of a sheltered 25 year-old. Holt's best work is done in the guise of a neglected Princess Margaret, who gets her fair share of laughs without ever whitewashing the appalling treatment she received for the crime of falling in love with the wrong man.
Funny in her own right, Holt does have a role feeding jokes to Brendan Murphy, who plays a range of other roles from a pitch perfect Winston Churchill to an Anthony Armstrong-Jones seemingly modelled on Sham 69's Jimmy Pursey. And an oft-slighted Duke of Edinburgh, as gauche as ever.
Murphy has a background in improvisation and that's invaluable in a show that crashes through the fourth wall whenever it chooses - royal prerogative I suppose. Some of his best lines were ad libs and even the laborious setting up of a little audience participation proved worth the trouble (though I think we were lucky with the stooges on Press Night).
Maybe the framing device (Holt is aiming to replace Claire Foy and Murphy is her useless agent) is a little unnecessary and perhaps one or two running gags run out of gas on the third repeat, but that's quibbling really.
One simply does not hear this level of laughter in a theatre very often - and, for that gift, I bow my head to everyone involved in this Crown inspired caper.