BWW Review: THE CHERRY ORCHARD, Bristol Old Vic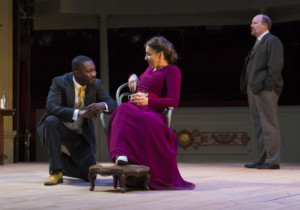 The Bristol Old Vic has opened its 'Year of Change' in spectacular fashion in this riveting new translation of Chekhov's final play - The Cherry Orchard.
With former RSC Artistic Director Michael Boyd taking the directorial reigns, we watch as the winds of change sweep through this decaying aristocratic estate that is soon to be auctioned to pay off the mounting family debts. The axe is about to swing.
Within its walls is a rich and delicate tapestry of people who are all experiencing change of some kind. Against a backdrop of the abolition of serfdom in Russia, this new translation from Rory Mullarkey skilfully retains the essence of Russia without unnecessary complication.
There's a towering performance from Jude Owusu as Lopakhin - he enters as this cocksure, newly rich man with sartorial choices to match. His painful, unspoken love for Ranevskaya (Kirsty Bushell) manifests itself in his increasing exasperation for his efforts to rescue her situation and avoid the sale.
After the auction is complete, however, he delivers the stand-out moment. A moment when he wishes that his grandfather and father, previously slaves on this same estate, could see what he has become. It's a moment that hits square in the chest in Bristol - a city that also struggles with its relationship with its slaving past.
Enyi Okoronkwo as Trofimov is exquisite as the wide-eyed perpetual student, frequently seen as prefiguring the rise of left-wing politics in early 20th century Russia. Today, too, he could just as easily be one of a new breed of young, political activists. He might even have a Momentum membership card alongside his roubles.
Kirsty Bushell captures the deeply flawed Ranevskaya, in mourning for her son and the collapse of her estate but still unwilling to change. It's a terrific performance that brings humanity to the aristocracy.
It's frequently heralded as a tricky challenge to balance Chekhov's original comedic intentions with the tragic underpinning, but Boyd and Mullarkey navigate a path that finds both elements present and correct.
The Cherry Orchard has always been a great play, but this company elevate it further and will bring this vital version to a new audience. The Year of Change has started very brightly indeed.
The Cherry Orchard at Bristol Old Vic until 7 April
Photo credit: Jon Rowley