BWW Review: THE BORROWERS, Tobacco Factory Theatres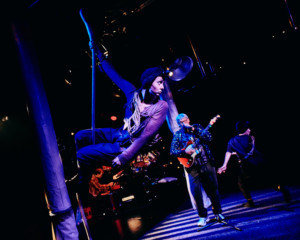 This Christmas, instead of merely treading the boards at Tobacco Factory Theatres, the actors are treading in between the boards in a delightful adaptation of Mary Norton's The Borrowers, a story about a family of tiny people, no bigger than a crayon.
By borrowing all manner of discarded items from the 'human beans', the Clock family of Borrowers have been living happily in an empty house in Bristol, until one day a new family moves in. The thumping sound of footsteps above rattles the auditorium and the borrower's world.
Suddenly, the Clocks must deal with Mrs Driver and her extreme cleaning routine. Her sparkly vacuum cleaner is a Borrower's worst nightmare and leads to one of the most memorable sequences in this delightfully whimsical show.
That it is such a delight, is in no small part down to Bea Roberts' skilful adaptation- full of delicious made-up turns of phrase that sound even better in a Bristolian twang. Making Pod into a worrier who thinks he's lost the art of borrowing gives Tobacco Factory stalwart Craig Edwards plenty of opportunities for fun and mischief.
The ever-reliable Lucy Tuck gives us a wonderfully snooty Mrs Driver who threatens the borrower's very existence, much to the horror of her nephew Eddie who has found a friend in young Arrietty Clock. Wide-eyed Arrietty (Jessica Hayles) is amazed by the simple pleasures of the blades of grass in the garden, little and large collide wonderfully in Rosanna Vize's inventive design.
Indeed, the set is there to be played on (hence why signs are dutifully erected by ushers at the interval saying 'Only Borrowers can climb') and this sense of play permeates Nik Partridge's production- it's a fun-packed frolic through this magical tale. Whether it's a giant duster sweeping across the heads of the audience or dancing fluff balls about to be hoovered up, this show is ready to smack a big smile over your face.
David Ridley's original music helps drive the show from his glittery bandstand and alongside bandmates Simon Armstrong and Ellie Showering they integrate seamlessly in and out of the action.
The trend for dark re-tellings of classic stories has thankfully been given a well-earned rest this year and in its place is this fantabulously (to ahem...*borrow* a phrase) fun piece that is sure to delight families this Christmas.
The Borrowers at Tobacco Factory Theatres until 20 January 2019
Photo credit: Mark Dawson