BWW Review: THE BAY AT NICE, Menier Chocolate Factory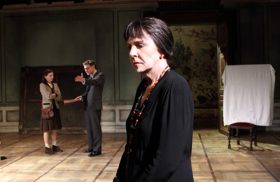 Over 30 years after it first premiered at the National Theatre, David Hare's The Bay at Nice is back in London at the Menier Chocolate Factory.
Directed by Richard Eyre and starring one of Britain's finest actresses, Penelope Wilton, it's set in 1950s Russia where an old count has bequeathed a piece of artwork to a museum which he claims was painted by famed artist Henri Matisse.
Valentina Nrovka (Wilton) is called in as an artistic expert, who was well acquainted with the artist as one of his students, to verify whether or not the piece is authentic or a forgery.
At the same time, Valentina's daughter Sophia (played by Ophelia Lovibond) comes to her mother to ask for her help. She's fallen out of love with her husband and wants to escape with her much older lover Peter (David Rintoul). He's the polar opposite of her current husband, who is a high-flying and powerful member of the Party.
Wilton showcases her versatility as an actress in this production. With her withering putdowns and wry humour, Wilton's Valentina exercises restraint and stillness even when Sophia yells at her in frustration.
Though her daughter looks to escape and live a free life with the person she loves, Valentina chose a very different route. While she could have stayed in Paris after the birth of her daughter, she decided to return to her home country, knowing that she would be returning to a life which would impact her art.
Lovibond's Sophia becomes childlike around her mother, though as she argues her case for wanting to leave her husband and enjoy her life, she becomes much more self-assured and determined.
Rintoul is endearing as the modest Peter, with his calm nature, and Martin Hutson is eager as the assistant curator, keen to discover if the painting is indeed the work of Matisse. The realistic set, designed by Fotini Dimou, is spacious and sparse, allowing the attention to remain focused on the drama unfolding on stage.
As much as this is about what happens to art in a totalitarian state, the focus shifts to the relationship between a mother and her daughter and the complications of that. Initially part of a double bill with companion piece Wrecked Eggs, The Bay at Nice also works well as a standalone 75-minute piece.
The Bay at Nice at Menier Chocolate Factory until 4 May
Photo Credit: Catherine Ashmore