BWW Review: TAMBURLAINE, Swan Theatre, Stratford-upon-Avon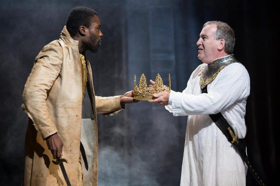 Bloody Hell!
I mean it - it really is a bloody hell. But that's a while coming.
We first meet Tamburlaine as a shepherd cum bandit, a man as charming as he is ruthless. He has soon won over Theridamas, sent by the hapless King of Persia to put the rebellion down and Zenocrate, the captured daughter of the Egyptian Soldan. Tamburlaine possesses the rare gift of seeing exactly what each man or woman wants instantly, then, almost as quickly, delivering it, with only a Don Corleoneish unsaid request for "favours" required in return. And so the mean son-of-a-sheepdog rises to command armies and conquer worlds.
Christopher Marlowe's play was a sensation in the late 16th century (we shouldn't be surprised - Game of Thrones stirred the same pot at the start of the 21st to similar effect) and it's as thrilling and scary to witness today as it must have been back then. With a minimum of props and little more than a bare stage and platform to work with, director, Michael Boyd, could easily have delivered this production back then too - and it's all the better for that absence of bells and whistles (though there are a lot of drums).
So, the whole production turns on whether we believe in Tamburlaine as this charismatic, bloodthirsty, Philosopher-King with a cudgel, who can quote like a Classics professor as he slits throats to inspire and intimidate.
Jude Owusu has the understated strut of those who don't really need to strut, the slow smile that chills rather than thrills and the capacity to turn the anger up to 11 in the blinking of an eye. Sure this upstart is an alpha male, like so many cookie-cutter heroes and anti-heroes, and sure the arrogance is overbearing - but we like him and we can see why others do too, from thugs to princesses. Klaus Kinski, in Werner Herzog's Aguirre, The Wrath of God, plays a similar character as a psychotic dreamer, but Owusu gives us a man very much in control of his destiny and that of countless others.
Most of the cast play multiple roles, some returning to the stage with a nod and a wink (literally, a nod and a wink) and some bearing their previous character's fatal wounds. It's as if Tamburlaine keeps meeting and defeating the same types over and over again, the outsider vanquishing insiders as their orthodoxies collapse in the face of vaulting ambition. Of course, such a rise of a heartless, arrogant, amoral disrupter with no regard for established norms of political behaviour could never happen today...
Amongst the support cast (Owusu is on stage for almost the full three hours running time in an extraordinary display of stamina) Rosy McEwen is excellent as Zenocrate, falling in love with Tamburlaine's outrageous chutzpah, knowing that she has power over him, but discovering, when she pleads for her father's city of Damascus to be spared, that his bloodlust is unappeasable.
There's a comic turn or two from James Tucker as a succession of Sir Humphrey Appleby like civil servants swept aside in the violence and Mark Hadfield as a succession of kings grown soft in mind and body on the comforts of rule. Riyad Richie and David Rubin catch the look and half-swagger of the loyal henchman well, as they profit from their leader's conquests. (Then, as now, paying soldiers plenty and on time was a good idea).
It's all good intellectually nourishing fare, but the plot is curiously linear - Tamburlaine keeps on winning. The narrative lacks tonal range - here's another army that outnumbers Tamburlaine's, but is defeated and another king to execute and / or humiliate. This empire grows inexorably as long as faith in its leader is strong - perhaps Marlowe knew who would be watching, as she dispatched emissaries to the very lands on which Tamburlaine had fought.
There's an even-handed skewering of religion's weakness in the face of weaponry, with Tamburlaine playing Muslim off against Christian and, like Roman emperors before him, pretty much proclaiming himself a God. It's only the fact that he's not, and made of flesh and bone like the rest of us, that gets him in the end.
It gets to us by the end of the near three and a half hours too, as the blood - buckets of the stuff in the post-interval Part Two - slosh about and the body count (and dry cleaning bill) mounts to stratospheric levels. Maybe (nah, definitely) Tamburlaine himself would scoff at my British sentiment, but it would have been nice to see him face a setback or two at some point - the relentless victor's relentless victories feel a bit, well, too relentless after a while.
Tamburlaine continues at the Swan Theatre, Stratford-upon-Avon, until 1 December.
Photo Ellie Kurrtz