Review: SONDHEIM ON SONDHEIM, Royal Festival Hall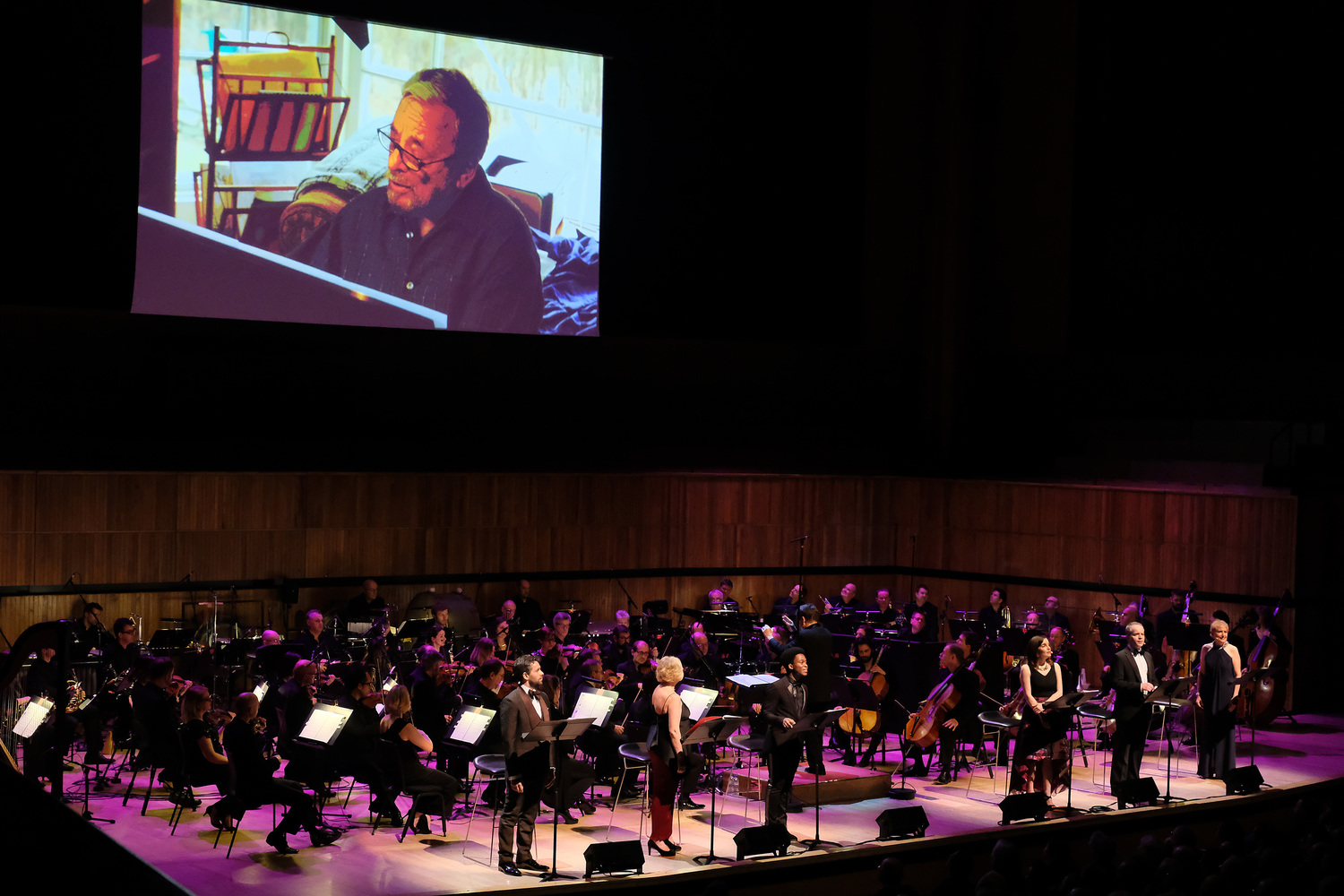 Having run on Broadway in 2010, this week James Lapine's Stephen Sondheim revue, Sondheim On Sondheim, was staged for one night only with the terrific BBC Concert Orchestra and a cast of West End talent.
Featuring projected footage of Sondheim discussing both his career and personal life, the revue took the audience on a swift journey through some of Sondheim's most popular shows and poignant moments. Musical numbers were neatly positioned throughout and the pace was strong - never did the revue focus on a particular Sondheim show for too long.
Of course, it would be impossible to feature all of Sondheim's most popular songs in one show. The song list was far from predicable - there was a good number of classics alongside a few gems the majority of the audience would have been less familiar with.
Under the leadership of Keith Lockhart, it was a treat to hear the BBC Concert Orchestra playing Sondheim's music - they sounded glorious throughout. Staged by Bill Deamer, some songs were performed in context whilst others stood alone, complementing Sondheim's different stories.
The cast of six took to the stage with great charm, performing a huge contrast of numbers. The star of the show was Tyrone Huntley who, most recently, received great acclaim for his performances in the Open Air Theatre's revival of Jesus Christ Superstar and West End premiere of Dreamgirls.
Huntley proved there is no song he cannot sing; his voice soared throughout. But it was his truly special rendition of "Being Alive" from Company which drew the evening's biggest cheer from the audience of adoring Sondheim fans.
Damian Humbley had a standout moment with his masterclass performance of "Franklin Shepard Inc." from Merrily We Roll Along, a musical number he performed every night whilst starring as Charley Kringas in the Menier Chocolate Factory's 2012 revival of the musical, which went on to transfer to the West End the following year.
Elsewhere, West End icons Claire Moore and Liz Callaway both had some superb moments, with the pair uniting for a beautiful medley of "Losing My Mind" from Follies and "Not A Day Goes By" from Merrily We Roll Along.
Rebecca Trehearn, who won an Olivier Award for her performance in Show Boat, showed off some dazzling vocals, but it was a shame she wasn't featured more throughout the show - she needed a big solo number - whilst Julian Ovenden was on hand to charm the audience with his fierce vibrato, including a rendition of "Finishing The Hat" from Sunday in the Park With George.
No matter how many evenings I spend appreciating Stephen Sondheim's extraordinary work, I will never be able to quite put my finger on the secret to his success. Sondheim's music is so varied, yet so easily identifiable - it's complicated and detailed but sometimes simple and raw.
Sondheim fans were certainly given a night to remember, and I'm sure many will tune in when the performance is broadcast on BBC Radio 3 on Tuesday 20 March. It just seems a shame Sondheim On Sondheim was only staged for one night - let's hope the revue makes a return to London in the near future.
Sondheim On Sondheim will be broadcast on BBC Radio 3 at 7.30pm on Tuesday 20 March and available for 30 days after broadcast via the Radio 3 website.
Photo Credit: Mark Allan