BWW Review: SON OF A PREACHER MAN, King's Theatre, Edinburgh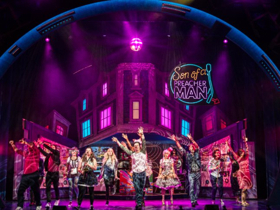 Son of a Preacher Man has quite an odd opening. Kat has recently lost her gran and the mood is very sombre. There are actor/musicians onstage who keep appearing out of nowhere with trombones, and I'm not sure what the desired effect of this was - but it probably wasn't supposed to make me laugh as much as it did.
The storyline is just bizarre and full of plot holes. Kat is in love with someone from an online dating site who she has never met or even spoken to. Paul is harbouring feelings for someone he knew 40 years ago when they were both teenagers. Alison, a fortysomething widow, has perhaps the most uncomfortable storyline of them all as she has fallen for the A-level student she's been tutoring.
The three have heard that there is a preacher man in Soho who can help them with their problems and, coincidentally, they all turn up independently at his old shop at the exact same time.
Normally played by Diana Vickers, the lead role of Kat was covered by Jess Barker for this performance. Barker has a great voice and does the best she can with the script. Debra Stephenson plays an appalling character as well as she can and has the best vocals in the cast, but clearly isn't used to her full capacity. What Michael Howe's character Paul lacks in convincing lines, he makes up for in sheer unbridled enthusiasm for the part.
One of the many, many odd things in the production was that one of the actors who was playing a plumber was Scottish, and turned up in his kilt to fix the pipes. Initially, I thought it was some sort of misguided nod to their visit to Edinburgh, but looking at the trailer for the show that appears to just be his regular costume.
Son of a Preacher Man is exactly the kind of show that gives jukebox musicals a bad name. The songs have been shoehorned into the script with no relevance whatsoever. The programme states that "The Look Of Love" is performed three times, but I could have sworn it popped up more often. With no effort to even try and make "I Just Don't Know What To Do With Myself" seem like it belonged, three ensemble cast members performed it while grinding on chairs for an excruciating four minutes.
The talented cast deserve so much better than this. The script is appalling, the jokes fall flat, and scenes that are meant to be serious are unintentionally laughable. The posters for the show boast direction and choreography from Craig Revel Horwood, but I saw no sign of either; the cast paces around the stage in circles for the duration of the performance. During "Stay Awhile", those poor chairs are dragged out again for another bizarre grinding session.
One thing that does set Son of a Preacher Man apart from other nonsensical musicals is that it is never predictable. I really did not have a clue where it was going throughout the entire production and I suspect the writers didn't either. It's unclear who this is meant to appeal to. While it has nods to the Sixties, it's set in present day - yet somehow manages to feel outdated.
With the iconic music of Dusty Springfield this show could have been a lot of fun. However, her songs are lost amongst the utter shambles of a script. An excellent cast is the only redeemable thing about this production.
Son of a Preacher Man is at the King's Theatre in Edinburgh until 21 October.
Related Articles View More UK / West End

Stories

Shows
Natalie has been an avid theatre goer since her first London production of Blood Brothers when she was 12. Based in Glasgow, she also reviews (read more...)