BWW Review: SHINING CITY, Theatre Royal Stratford East
Conor McPherson's celebrated play proves a gruelling, if intellectually nourishing, watch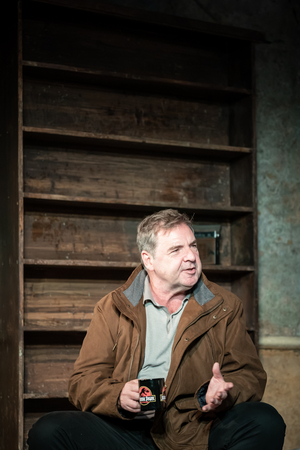 The entryphone doesn't work, so John and Ian fail to connect in their first attempt to communicate and things don't improve much for a fair while. Ian is a psychotherapist getting started in Dublin after recently leaving the Church (if it were Brecht, someone might walk across the stage waving a gigantic red flag) and John is grieving for his wife, tragically killed in a car accident. He has "seen" her in their family home and the visions (not unsurprisingly) have prompted the visit to the shrink.
It's 17 years since Conor McPherson's play was first staged to critical acclaim at the Royal Court and this is its first London revival since, a period in which McPherson has added many awards to his collection - and this feel like an award-winning play. That said, at nearly two hours without an interval, it's a gruelling watch, largely a series of monologues, a set of two-hander scenes in which one character speaks very little.
Guilt clings to John like hives he cannot scratch. We learn (eventually, via industrial quantities of necessary, but still tedious, "Yer knows...") that the love has seeped away from his childless marriage and that he's had a non-fling with a married woman and a non-encounter with a sex worker in a brothel. Ian, for all his shabby office and almost mute approach to therapeutic appointments, does get this out of John and helps set him straight, but if it's dull listening to a man explain his mid-life crisis, it's even duller teased out over so many missteps and false starts. Men and their inability to express their feelings eh?
Ian proves that the red flags were not without cause in a hideous scene in which he rejects his fiancé's need for him to do more to support her emotionally with their new baby and later when we get a sledgehammered hint as to what lies at the bottom of his own problems. Perhaps that was more relevatory, more shocking in 2004, but it's a resigned shoulder shrug in 2021 after what's emerged about abuse in the Catholic Church.
It's all well done of course. Brendan Coyle gives us a rounded portrait of John, the man fearful of going mad, the man wracked with thoughts of the transgressions that might have been, the man aching for human contact, physical, social and mental. Rory Keenan spends a lot of time nodding rather than speaking as Ian, but his conversation with the mother of his child, Neasa (Michelle Fox, feisty and forthright) shows enough cruelty for us to know its cause is more than a love affair fizzling out. Curtis-Lee Ashqar extracts some darkest comedy from his cameo, the working class lad inarticulate but communicating far more effectively than the two more sophisticated men we meet.
There's a category of work in all aspects of culture that you're glad to have seen even if you did not enjoy it at the time (kale smoothies if you will), and Shining City falls into that niche. I'm not sure I could stand to spend another evening in the company of John and Ian, but I suspect that I'll reflect on what I learned from them long after the overpowering desire to get away from their misery has been forgotten.
Shining City is at the Theatre Royal, Stratford East until 23 October
Photo Marc Brenner