Review: SCARY BIKERS, Trafalgar Studios

Yorkshire enjoys its cycling almost as much as it enjoys a curmudgeonly disquisition on the State Of The Nation, so why not combine the two with an added speck of spicy Brexit? John Godber's Scary Bikers does just that and, contrary to the popular song, the subjects do make for a stylish marriage on this bicycle made for two.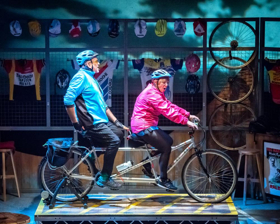 Don and Carol (you can tell how old they are from those names alone) haven't got over the loss of their spouses, with bereavement groups and bucket list compiling hardly helping. They bond over a love of cycling in The Dales and soon, with nothing to lose, they're off to Florence, two-up on a tandem. On 26 June 2016 - Referendum Day.
John Godber's two wheeler hander isn't really about cycling, nor is it about Brexit (although the rationale for Leave voters' motivations is made more effectively by Godber - himself a Remainer - than any journalist, politician or gammon-y audience member on Question Time) it's really about the isolation that can come in late middle age.
We see a man and a woman with money, plenty of creature comforts, sons and daughters at the end of a mobile phone, yet they are emotionally emaciated, their worlds filled with technology and worry, not community and empathy.
Their generation (mine too) have the NHS, few debts (if any) and the wherewithal to spend £2000 on two weeks biking in Europe, but no gossiping on the doorstep, no corner shop in which to natter, no pub in which to smoke and grumble. Nobody meant it to turn out like this, but here it is - and it's not going to get much better any time soon.
For all that social commentary - socialist commentary at times - it's all terribly funny. Married in real life, Godber and Jane Thornton are so natural, so at ease in each other's company that we feel, especially in this intimate space, more like eavesdroppers than audience.
Both show vulnerabilities, but never emote (they may be in Pisa, but though you can take the Yorkshireman out of Yorkshire...) and both create characters so believable that you long to know a little more about their relationship as it stands now (the story is told in flashback, but there's not quite enough there for us to be sure that they're happy-ever-aftering).
Of course, acting is much easier if the script is as tight as this one, barely a word unrequired and with pauses and looks as eloquent in their storytelling as any jibe or rejoinder. One could see a film producer thinking "Hmm... Bill Nighy and Julie Walters, picturesque Tuscany and David Jason as the eccentric owner of the cycling cafe they stop at just outside Ghent..." But no - let's keep it as perfectly formed as it is.
Maybe the politics is old school - class and community are more important than identity and tribe, the journey is a real one not a psychological one and accents are unapologetically Northern - but some of us still think like that.
Perhaps if more of those whom we send to Westminster did, we wouldn't be here in the first place.
Scary Bikers is at the Trafalgar Studios until 27 April
You can read BWW's interview with John Godber here
Photo Antony Robling