Click Here for More Articles on ALL ABOUT EVE
BWW Review: ALL ABOUT EVE, Noel Coward Theatre

Fasten your seatbelts! Ivo van Hove has taken on the ultimate quotable backstage melodrama: Joseph L. Mankiewicz's 1950 Oscar-winning film about a celebrated actress and her young wannabe assistant. And the modern star power is assured: Gillian Anderson succeeds Bette Davis, while Lily James follows in the scheming footsteps of Anne Baxter.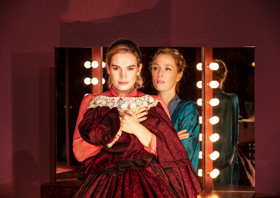 It's smart meta casting for a thoroughly meta experience - Anderson, who has called out Hollywood ageism, and is here essentially reprising parts of her Blanche DuBois; and James, whose wide-eyed ingenue roles include Juliet, Cinderella and Natasha Rostova. Plus the theatrical drama is now actually in a theatre, and the cited autograph-hunters are present and correct outside.
Margo is a successful stage actress who fears that she's ageing out of leading roles (her playwright collaborator insists on creating thirtysomething protagonists), and is also insecure in her relationship with director Bill, eight years her junior. The arrival of superfan Eve, who quickly insinuates herself into Margo's life, fuels her paranoia - particularly as Eve's ambition is clear only to Margo.
Thankfully, Mankiewicz's majestically savage satire - based on a short story by Mary Orr, which was itself drawn from reality - interrogates the female archetypes, so that the tale becomes less about catty rivalry and more of a psychological portrait of industry pressures, particularly on women, and the damage wrought by celebrity. Albeit one with a glorious supply of stinging one-liners.
Van Hove's two-hour version follows the original pretty faithfully, using direct-address narration to fill in gaps, plus his trademark hand-held cameras to lead us backstage and spy on domestic spaces. Some of these filmed sections feel unnecessary, however, particularly party scenes packed into a tight space, which just distract from the more intimate exchanges on stage.
More convincing are the cameras behind dressing-table mirrors, giving us raw close-ups of Anderson and James as they examine their reflections, and - with some clever effects - visualising Margo's greatest fear, and Eve's darkest wish.
The theme of identity is writ large, with giant pictures of Margo and plenty of blurring between real and unreal, theatre and life, character and actress, star and actual person. Unhappily, most of the gender commentary still feels resonant - in a devastating confessional, Margo explains that the toughness she's needed to get ahead is now an impediment in her relationship: "The things you drop on your way up the ladder...you'll need them again when you get back to being a woman".
Similarly, it's hard to argue that the industry has improved greatly in how it (mis)treats people, whether taking advantage of younger actresses or shelving those with more experience - or branding the few who manage to accrue power 'difficult'.
Here, the language is telling, with Margo's fears dismissed as "hysteria", usually by the men charmed by Eve's carefully crafted vulnerability and flattering hero worship. Margo's response is complicated by the otherworldly, temperamental diva role she feels compelled to play - including making a very theatrical scene at Bill's birthday party. But the reality, captured on screen, is much bleaker: Margo drinking in the bath, and then staggering over to the loo to vomit.
Anderson is outstanding, showing us all the messy layers of Margo the person and the performer - whether posing in a silk robe, cigarette in hand; drawling deadpan insults in a tone as dry and lethal as gunpowder; crooning a song while drunk and maudlin; nastily crowning Bill with her wig; or honestly searching for a sense of self. It's a witty, sad, bravura turn.
Eve's is the more predictable (and, ironically, oft-imitated) journey, but James finds some fresh notes in it: when sneakily trying on Margo's costume, she breathes in the fabric and takes her pretend bows with a sense of fevered reverence. However, this relatively passive, perhaps too sane Eve doesn't really feel a match for Anderson's magnificent Margo.
Monica Dolan is superb as Karen, married to playwright Lloyd and friend to Margo, but not herself a creative. She also narrates the tale and understands its tragic arc - a job well suited to her role as rational outsider. Dolan handles the whip-smart script with aplomb, as well as demonstrating that there are real emotions at stake.
Sheila Reid is great fun as Margo's assistant Birdie, the former vaudevillian who's seen it all, and there are good turns by Julian Ovenden and Rhashan Stone as the blinkered director and playwright respectively, though both parts feel comparatively thin.
The real show-stealer (and there may be a certain bias here) is Stanley Townsend as malevolent critic Addison DeWitt, who manipulates others in queasy fashion, but also turns his bile inwards - he proclaims his profession as essential to theatre as "ants to a picnic". Yet he's the most clear-eyed about the "abnormalities" needed to commit to this industry.
Van Hove's production is unmoored from any particular period, which speaks to the timelessness of these themes, but there was perhaps a missed opportunity to bring the work fully up to date - to place the action in a world of constructed online identities, posed selfies, 24-hour celebrity, and an industry now more alert to the mental health issues suggested by DeWitt's barb. And it would make the (over)use of filming more fitting.
It also feels like it's missing that revelatory take on the tale, and there are some predictable visual touches, like Margo's red dress contrasting with Eve's innocent white, or Jan Versweyveld's set coloured in pinks for this feminine showdown.
PJ Harvey's music is effectively mournful, but too unvarying for a work that originally balanced tragedy with snappy satire - the latter not given enough prominence in van Hove's relentlessly artful, slightly chilly framing, which muffles both the wit and the dramatic tension.
However, it's certainly apt restoring this theatrical horror story to its own medium, and some sterling performances - led by a powerful Anderson - make it well worth a visit to this "stone jungle".
All About Eve at the Noel Coward Theatre until 11 May. The production is also broadcast worldwide via NT Live on 11 April
Read our interview with Monica Dolan
Photo credit: Jan Versweyveld