BWW Interview: Tamara Lawrance Talks THE TELL-TALE HEART
In the three years since leaving drama school, Tamara Lawrance has accomplished a lot. As well as playing alongside Ian McKellen in King Lear at Chichester Festival Theatre, the actress has featured in acclaimed productions on the London stage.
The Tell-Tale Heart marks Tamara's third appearance at the National Theatre. Reuniting with writer Anthony Neilson, Tamara gives us an insight into his rehearsal room, how they've adapted what was originally a six-page story, and what audiences can expect from the play.
What is your earliest memory of theatre?
I think it might be War Horse...when I was in secondary school, which is weird because it's actually back in the building now! My most vivid memory of the production is the moment when Joey is learning to gallop, and he goes from being a foal to an adult horse.
Did you know you always wanted to get into acting?
Yes, from as early as eight years old I'd say.
I also watched crime drama with my Mum and at some point, I think I entertained the idea of doing something round that. I'm still interested in things like psychology and the way in which the mind works, but that all ties itself very nicely to acting.
Knowing you wanted to do it from a young age, how did you then get into the business?
So at GCSEs and A-Levels, I picked Drama. But it was only when I got to the latter end of secondary school that I first heard the mention of drama schools. And my tutor at A-Level had gone to the Central School of Speech and Drama, so I had a lot of advice and coaching that helped me in my auditions that year.
That was three years ago...it's kind of wild to be on the other side of it.
And what a three years! This is your third time at the National, you've played Chichester, the Royal Court. And you're now reuniting with Anthony Neilson, who you worked with on Unreachable. A lot of that was devised in the rehearsal room, right?
Yes. My audition even was just a conversation, because there was no text or anything.
Devising sounds great but a lot of actors really don't like improvising; it's quite hard - it's exposing. And there are times when the air gets stagnant and the ideas get stale and there's lots of silence. It was really scary the first time.
But it can be great when you're on stage with script in hand. It brings it back to using previews as they're meant to be used, rather than it being about having a glossy, finished product.
That must have been a great opportunity for you, being in that experimental a rehearsal room a year out of drama school.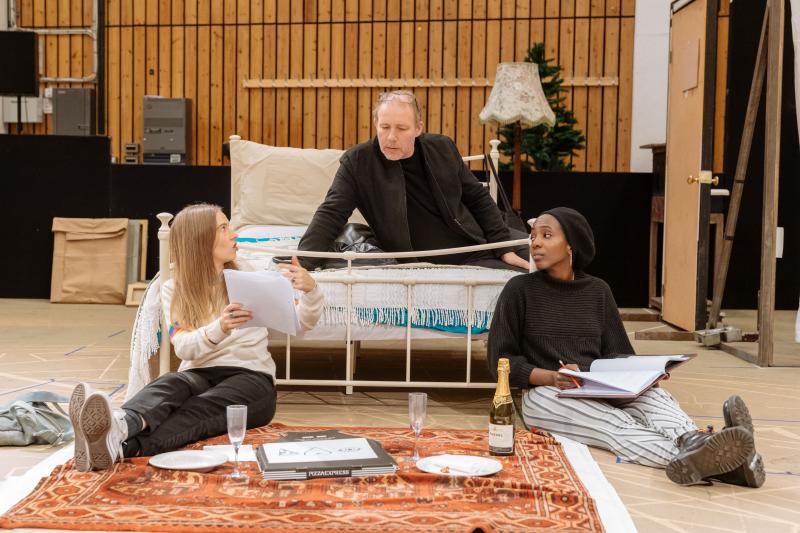 Yes it was, and it was good for confidence. I had a lot of social anxiety a couple of years ago. Having to be in a room where you have to pitch in really challenges your group dynamic. It forces you to not always be the observer or the person in the background and quiet. So now I'm much more open about my thoughts than I used to be.
And it taught me a lot, working with people who push theatre to its extremity. It's easy to put on a safe play that everyone already knows. But to take a risk and be like, "We don't actually know if this is going to be a good play, but he's going to write it and we're going to go on regardless", that's pretty... I don't want to say radical because it shouldn't be, but it's subversive.
The last three years have seen you on screen as well as stage, with King Charles III. You weren't in the London cast were you?
Not the London stage cast, no, but I felt so welcome. It was reassuring to be among people who were so familiar with the text already. And I had the honour of watching the late Tim Pigott-Smith work. I also went on to work with Oliver Chris and Tim McMullan straight afterwards in Twelfth Night!
And since then, The Long Song is another brilliant screen job I've had with the BBC. It's a TV version of the book by Andrea Levy, set in Jamaica on the eve of Emancipation. It airs the week before Christmas.
And now you're back at the National for The Tell-Tale Heart. How familiar were you with Edgar Allan Poe and that Gothic genre?
A bit from English Literature, we studied a lot of Gothic texts at A-Level: The Bloody Chamber, the Brontës etc.
I was familiar with one of his other stories, The Raven. But not this one. It's terrifying.
What drew you to the project?
The opportunity of doing this kind of story in combination with Anthony again, I thought, "This is bound to be insane!" I think it will be a fun show, full of twists and turns.
And what he's done with it, those six pages. You know, for the first little while as always there's nothing, and then something comes in and it's like, "Okay..." Then he rewrites the same three scenes for a few weeks, and he won't be in rehearsals for a few days, and then eventually he'll come in after a weekend with something new and be like, "Ah... it's shit, it's kind of stream of consciousness, I just wrote it in a few hours." And it'll be amazing!
So it's very exciting to work with him again and we all knew what to expect. There's been slightly less fear because of that.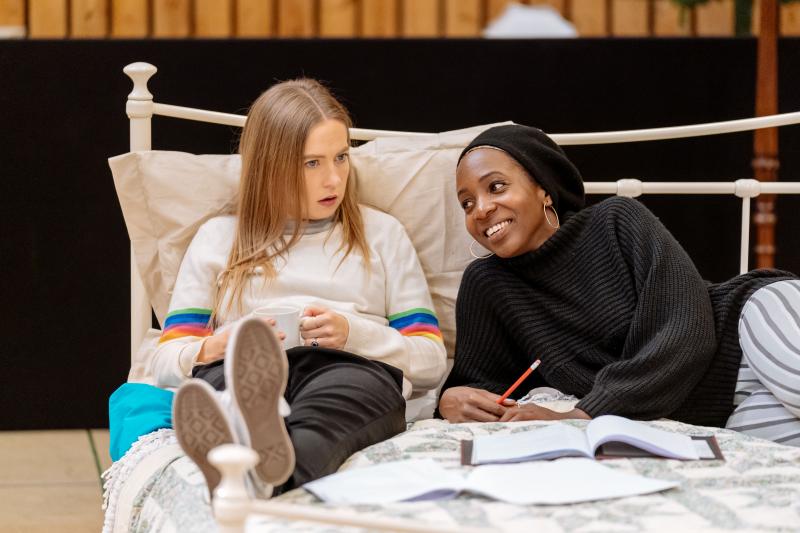 So it's similar to Unreachable then: being written as rehearsals are going on.
Yes. It's been tough for us all, it's been tiring, but now we're finally getting closer to a whole script. And so begins an intense amount line learning!
People always ask, "How do you learn your lines?" But learning lines is a relatively mundane part of it. If you think about how many song lyrics we remember from when we were ten years old, it's just repetition, there's nothing glamorous about it.
Can you tell us a bit about the role you play?
I play the Writer, who is somebody who has had a recent success and she's sort of suffering from second album curse and thinking, "Okay, was it a fluke?" She's got to prove to herself and other people that she can write and that she deserves to have a career, now that she's blown.
So she's suffering with that kind of anxiety and takes herself away for some respite and to clear her writer's block. And she befriends the landlady of the house that she's staying in, then their relationship intensifies and...the rest ensues! I can't reveal too much more.
Spoilers!
Exactly. And also because we're waiting for more scenes as well! So I don't even know!
It must be so interesting for you and Anthony: approaching this play about writing, him writing it himself, and you playing that writer.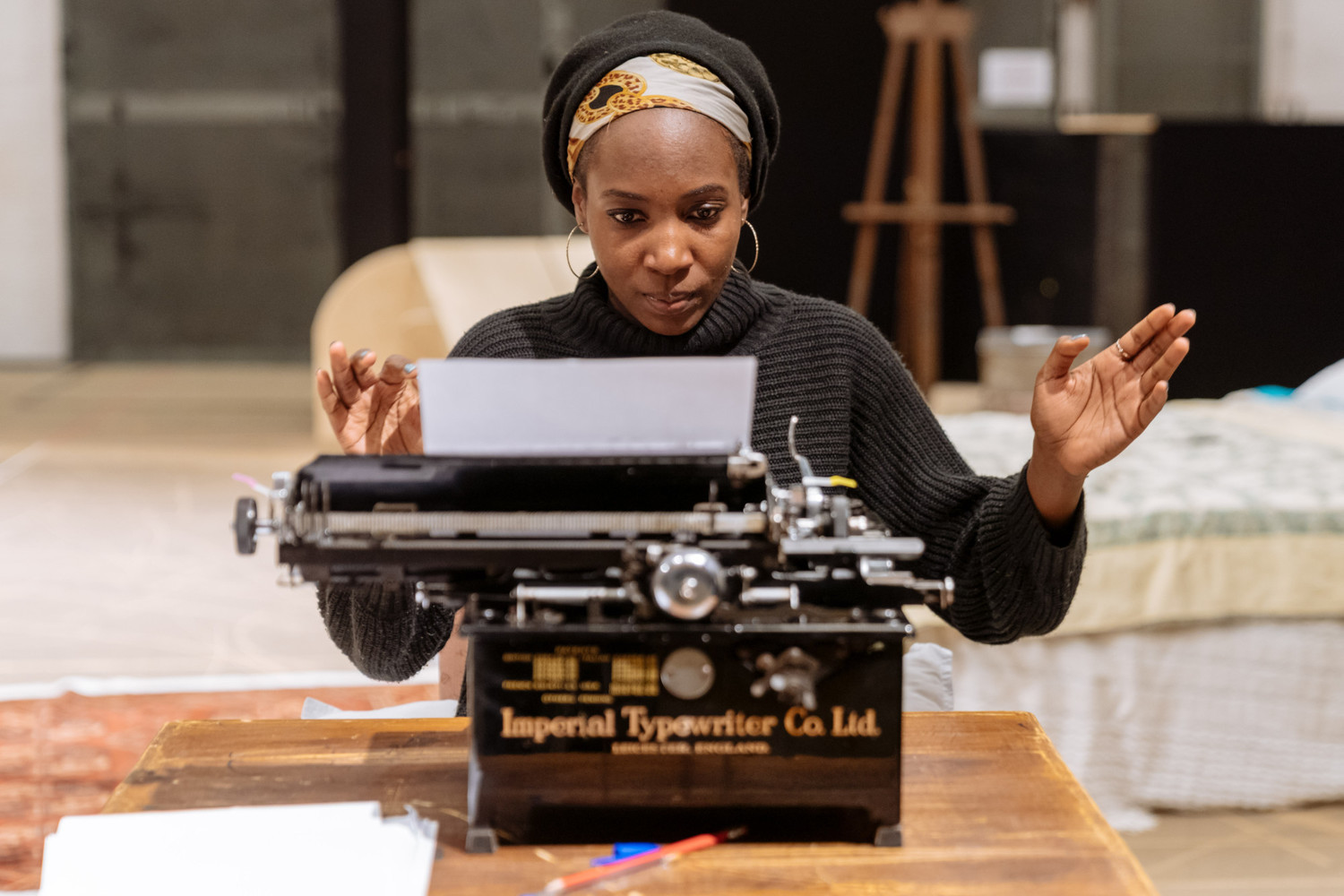 It is! I have been bearing that in mind, that a lot of what I'm playing might be how he feels about this particular project. I'm not thinking, "Oh, I guess I'm playing Anthony!" But I'm aware somewhere in the back of my mind that he's kind of written a day in the life of his shoes. It's interesting.
It's a very layered play, he's really clever. But I don't think he tries to be, like in a pretentious way. There is symbolism and themes that obviously he wants the audience to understand but ultimately he wants you to be entertained. But I do hope people pick up on all of the detail.
As well as reuniting with Anthony, you're working again with Imogen Doel who was also in Twelfth Night with you last year.
Yes, it's lovely and David [Carlyle] and Imogen were friends from before, so we all know each other. It's been very chilled working with them, we're very supportive of each other, as is Anthony and the whole creative team.
After this show, you'll have worked in all three theatres at the National: the Olivier, the Lyttelton and the Dorfman. Have you had a chance to get on stage yet?
We haven't been up there yet, but I'm looking forward to it - it's such a cool space. I've seen it in lots of different configurations between Love and Barber Shop Chronicles and Nine Night. Our set is wicked and a lot of surprising things happen in the piece.
No spoilers again!
Nope! Honestly - whatever you think it might be, it's even crazier than that!
The Tell-Tale Heart at the National Theatre, 5 December-9 January, 2019
Photo credit: Manuel Harlan
Related Articles View More UK / West End

Stories

Shows